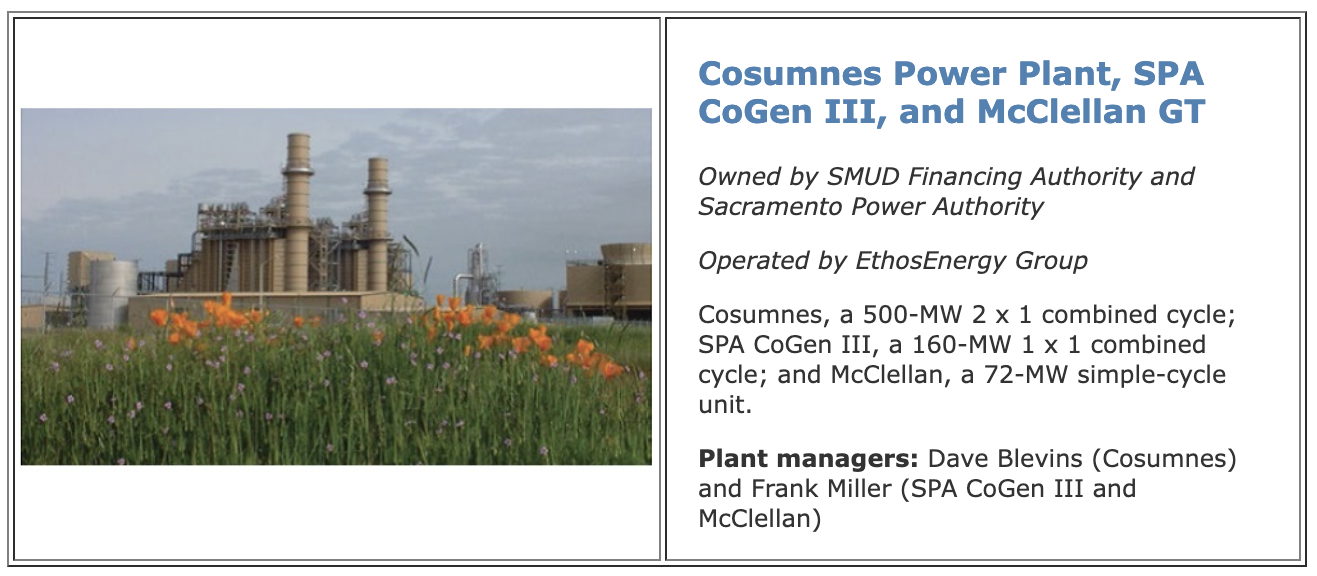 Controlling O&M deficiencies key to higher reliability, profitability
Best of the Best Award
Challenge. In today's competitive powerplant O&M market, maintaining contract availability and high net-capacity percentages poses an increasing challenge for third-party operators—particularly those managing large global fleets. Success hinges on the ability to effectively maintain managed assets in a manner that ensures maximum reliability and profitability. Any deviation from full contract compliance can have significant negative repercussions on business operations.
Solution. The business strategies EthosEnergy employed to successfully maintain high standards of performance at these three Sacramento-area facilities can be applied by others to improve their operations. They include the use of definitive preventive and predictive maintenance procedures, a standard computer maintenance management system (CMMS), and an O&M team of highly trained operators and technicians.
However, recognizing that use of a maintenance management system does not guarantee 100% contract availability and reliability, EthosEnergy developed a Quality Management System (QMS) to augment day-to-day operations and minimize the likelihood that a negative event would occur and impact facility performance. Various processes were implemented within the QMS—including a vendor qualification program, quality oversight, inspection (QC), procedure development and management, and a corrective action program (a/k/a NCR program)—more formally referred to as "control of nonconforming events, processes, and product."
The QMS used at the three California facilities has since been implemented, in part, within EthosEnergy's worldwide fleet. One of those components, the NCR program, was developed based on more than 30 years of industry experience. It provides the company and its customers the ability to identify, mitigate, and eliminate critical operational challenges through an administrative process that relies on the timely identification, control, disposition, and determination of root cause for each event. The program is centralized on its iShare site and accessible to all employees, owners, and asset managers from their offices, control rooms, or smart phones.
The primary goal of the NCR program is to identify, correct and eliminate deficiencies—including major events, such as forced outages and major equipment failures. It also encompasses so-called minor events: vendor issues, parts failures, procedural discrepancies, etc. The underlying goal of the program is to eliminate an event—whether major or minor—from recurring, thereby having a positive impact on performance.
When an event occurs, site personnel document it and the immediate actions taken. The report is distributed automatically to facility management, owners, and corporate management. The event then is evaluated to determine its root cause and dispositioned accordingly, based on sound engineering and industry standards.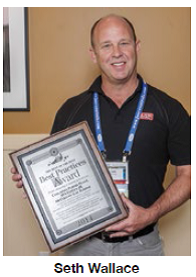 All NCRs are assigned at least one individual to coordinate and verify completion of corrective action. The NCRs are closed only by management following a thorough review and completion of all corrective action. They are quantified with respect their monetary impact to operations, and to the customer. That information is tracked and evaluated by site and senior management. Finally, NCR findings are shared with other facility managers via user groups for the purpose of minimizing the possibility of the same issue recurring at another asset managed by EthosEnergy.
Results. Overall performance improvement results associated with implementation of the NCR program are difficult to quantify. But at SPA CoGen III only one event has recurred to date; at Cosumnes there have been no recurrences. Although specific performance data are proprietary, both facilities have met their contract availability, reliability, and net-capacity expectations since the program's inception.
With respect to the number of NCRs issued, both facilities have generated a total of approximately 200 NCRs over the past five years. The program provides employees, as well as owners, accountability for actions taken, responsibility to control and eliminate deficiencies, a customer focus, and transparency.
Project participants:
Eric Poff, SPA Cogen III O&M manager
Eddie McCormick, Cosumnes O&M manager
Seth Wallace, EthosEnergy O&M quality manager

Adding cost-effective and noninvasive fire protection
Challenge. With our facilities' fire protection system requirements becoming more stringent, including systems that were not originally designed with fire protection, it can be hard to find a traditional system that can be installed practically and cost- effectively. Cost, time, monitoring ability, fire-protection effectiveness, and ease of installation were all factors that posed a challenge on these legacy units.
Solution. Plant personnel researched fire suppression systems used in many industries and found a solution from Firetrace International LLC, Scottsdale, Ariz. This system uses a tubing detection system for fire that can detect and direct suppression to a specific point where a fire starts. Fig 1 shows the installed cylinders containing the suppression agent, NOVEC 1230, which is safe to humans and can be used on several classes of fires including electronics. Fig 2 shows the Firetrace line wound throughout motor control centers requiring fire suppression.
Once fire contacts the Firetrace wire, the bottle containing the suppression agent opens to dump its contents. This offers the ability to provide localized protection which is easily integrated into a plant's annunciating system for remote indication of activation. Installation of the system was accomplished with a minimum of outage time.
Results. The Firetrace system provided both a practical solution to assure compliance with fire protection requirements, including NFPA, and enhanced safety for plant personnel and equipment.
Project participants:
Pedro Juarez
Eric Poff
Oleg Sergeyev
Daniel Smith
Self-generating nitrogen system improves safety, saves money
Challenge. Large nitrogen dewars (196 liter capacity) were used for blanketing the HP, IP, and LP drums in SPA Cogen III's heat-recovery steam generators to prevent corrosion. Over time, the plant, which was not commissioned with a permanent rack of nitrogen cylinders, transitioned from base-load to cycling operation.
The dewars required weekly change-out by plant operators to maintain the protective nitrogen blanket in all three drums. Frequent manipulation of compressed-nitrogen cylinders exposed plant personnel to the risks of back injury associated with lifting.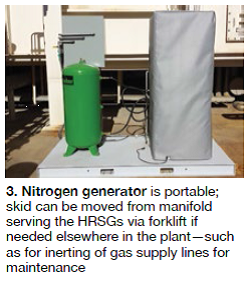 The additional cylinders necessary to maintain a nitrogen blanket also caused the facility to incur high rental and delivery fees. Plant personnel began to explore the options available to reduce the risks associated with cylinder handling.
Solution. Working with a local Parker/Balston rep, the plant purchased a low-pressure nitrogen generator and site personnel designed and built the final skid to work with the plant's existing distribution system (Fig 3).
Additionally, distribution piping was run from the top of the HRSG supplying the drums, to a bottom header (constructed by site personnel) where it was coupled to the nitrogen generating skid. This eliminated the need for an operator to continually navigate the HRSG stairwell to adjust flow settings at the drums.
Site personnel also worked with an insulation company to make a custom blanket that protected the generator from inclement weather. In addition to eliminating the need for daily cylinder management, the permanent skid eliminated the weekly nitrogen cylinder delivery.
Results. After the nitrogen generating skid installation project was complete, the facility began to see immediate advantages to the new arrangement. Operator man-hours required to receive and handle full compressed nitrogen dewars were eliminated. An added advantage is use of the skid for jobs that require inert gas line purges during scheduled outages. The skid was also constructed so it could be easily moved via forklift to various locations in the plant.
The bulk hydrogen tank also saved money. The total cost of the project was less than $25,000. The payback is estimated at a little over two years with current operations while the annual savings will continue through the life of the facility.
Project participants:
Justin Osborne
Pedro Juarez
Eric Poff
Oleg Sergeyev
Seth Parks
Daniel Smith
Roger Lairy