Eight Bells: Charlie Zirkelback, 77
News of Charlie Zirkelback's passing on July 8, 2016 reached us only recently. The Pascagoula (Miss) native, a graduate of Mississippi State University (1965, mechanical engineering), died at his home in Port Lavaca, Tex, after a long battle with Parkinson's disease.
Charlie Zee was a "character." He both taught and entertained at Frame 6 User Group meetings where Charlie may have been best known professionally outside Union Carbide/Dow Chemical. He worked at UC/DC for 39 years and was recognized by the chemical giant with the title of Corporate Fellow for his valuable contributions. Charlie was a "plant guy," traveling to company facilities worldwide as a trouble-shooter and problem-solver. He experienced most everything having to do with power and process operations and maintenance in his career.
Charlie believed there was nothing he couldn't fix or make work better. CZ put industry icon Marmaduke Surface blow to shame, Rube Goldberg as well, with his creative solutions. And once he got control of the mic at Frame 6 meetings it would be non-stop Charlie until the next scheduled break or meal. Loved and respected by colleagues, he was honored with the Frame 6 User Group's 2006 John F D Peterson Award for his contributions to the industry and the user organization.
Top-entry ball valves facilitate maintenance
Conval Inc's Camseal® metal-seated, cartridge-style, top-entry, zero-leakage ball valves are designed for long life and inline access to internal components for ease of maintenance and repair. A recently released 12-page brochure provides plant managers, engineers, and maintenance personnel all the information required for purchasing decisions—including Cv values, operating torques, working-pressure charts, dimensions, materials, fire-safe test data, quality certifications, etc. Download your brochure at www.conval.com. While on the site consider viewing the short video (less than four minutes) posted in the News Spotlight; it brings key points in the brochure to life.
Inspection guide for drum-level instrumentation
The 2017 edition of "Boiler Inspection Guidelines for Drum Level Instrumentation," issued by Clark-Reliance Corp, concisely presents inspection requirements for ease of reference by O&M personnel. The basis for the seemingly indestructible, spiral-bound 5.5 × 8 in. book is Section I of the ASME Boiler & Pressure Vessel Code (current edition). It includes requirements for water columns, water gage valves, gage glass, remote level indicators, magnetic water-level gages (MLGs), and water-column isolation shutoff valves.
New to the guidebook this year is content pertaining to the use of MLGs, a topic which may have generated confusion among plant personnel in the past. The standard use of MLGs available from most manufacturers could result in a Code violation and safety hazard. Code compliance is assured by following guidelines presented in the Clark-Reliance publication.
The information presented is completely up-to-date and incorporates the 2015 Code changes and CSD-1 requirements, as well as recommendations from Section 7. Additionally, it identifies the most common non-compliant drum-level equipment arrangements and recommended solutions. The book is free to qualified recipients; visit www.boilerinspectionguide.com.
Duct balloon protects gas turbine during layup
This is not news to industry veterans, but newcomers might benefit from a review of this best practice for gas-turbine protection during layup. A major international company in the oil and gas industry was dealing with materials wastage and other issues in a gas turbine located at a refinery near the seacoast and subjected to long-term layups.
The existing inlet damper was ineffective and a duct balloon was installed to stop the ingress of moisture-laden air and sea salts. A dehumidification system was added to increase the level of protection and together they are doing the job intended. Installation of the balloon takes only minutes and removal is quick and easy (photos). Dekomte (UK) Ltd subsidiary, Intech, handled system installation for US supplier G R Werth & Associates Inc.
Emerson makes the virtual powerplant a reality
With the introduction of what Emerson says is the industry's first integrated control and simulation platform, the company has positioned plant owners to fundamentally change how they operate their facilities. Emerson reports that sales of Ovation™ high-fidelity embedded simulation have more than doubled in the past year, confirming significant interest in the "virtual powerplant" and its value in minimizing operational risk and in improving reliability.
In the virtual plant, the Ovation simulator runs in parallel with the Ovation control system. This allows operators to test control logic changes in advance, based on real-time plant data, ensuring those changes won't disrupt operations. Other Emerson technologies—such as pattern recognition, Pervasive Sensing ™, and analytical tools—enhance the virtual experience.
Finding experienced operators for today's advanced plants is one of the industry's biggest challenges and an opportunity for Emerson given its controls advancements. Bob Yeager, president Power & Water, Emerson Automation Solutions, told the editors, "Emerson is improving operator effectiveness and confidence while reducing operating risks through intelligent control systems, more realistic training and simulation platforms, and easier-to-use technologies."
Mitsubishi Hitachi Power Systems update
The OEM reports that its global fleet of 146 advanced gas turbines had accumulated more than 4 million operating hours by the end of 1Q/2017.
Paul Browning, president/CEO of MHPS Americas, announced during Carnegie Mellon Energy Week that the university's new index measuring carbon dioxide emissions from the nation's powerplants reflects a cleaner environment, which is attributed to the replacement of old coal-fired units with efficient gas-fired capacity and renewables.
Grand River Dam Authority completes the first fire of its M501J-powered Grand River Energy Center, east of Chouteau, Okla, March 14. The engine is the first such machine to operate in the Western Hemisphere. The 495-MW 1 × 1 combined cycle is said to have the potential to become the most efficient plant of its type in the US when fully operational.
The M501JAC, an enhanced air-cooled gas turbine, is designed to produce 540 MW at 63% efficiency. As of mid-December 2016, the machine had demonstrated 99.5% reliability during 11,000 hours of commercial operation.
With an order for two M501J machines from Iberdrola SA's El Carmen combined-cycle plant in Nuevo Leon, Mexico, MHPS now has 47 J engines on order and 23 such units operating globally. The fleet had accumulated 335,000 hours of commercial service at 99.3% reliability through 2016.
Entergy Louisiana LLC orders two MHPS 501GAC gas turbines to power its 980-MW St. Charles Power Station, scheduled for operation in 2019.
MHPS expands its global relationship with OSIsoft to drive further development of the digital powerplant. The latter's PI will serve as the core for new interactive, cloud-based analytics services provided by the OEM. As part of this strategic alliance, the two companies will collaborate to define and promote new integrated digital solutions that add intelligence to powerplants worldwide, using best-in-class software while leveraging their respective knowledge.
Dominion Virginia Power breaks ground for its 1588-MW Greensville County Power Station, which will be equipped with three 1 × 1 combined cycles powered by M501J gas turbines.
Thumbnails
Advanced Turbine Support LLC's Director of Field Services, Mike Hoogsteden, (the handsome guy in the center of the photo) is all smiles participating in a Ride 2 Recovery event to raise money for wounded (visible or hidden) veterans.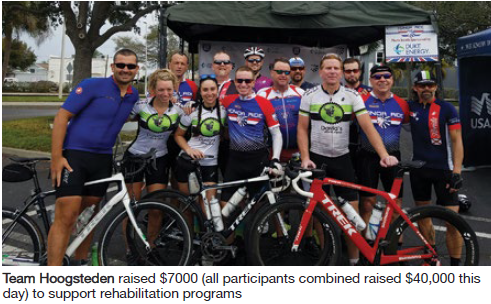 ANZGT Field Services and Engine Cleaning Technology (ECT) sign a distribution agreement giving Air New Zealand access to ECT's efficient compressor technologies—including the R-MC family of gas-turbine cleaners, injection equipment, and inlet conditioning systems.
BASF Corp announces the availability of Camet™ ST, a sulfur-tolerant oxidation catalyst designed to prevent the deactivation of catalyst systems installed on units burning gas with fracked and biogas components.
Clarcor Inc's announced acquisition by Parker Hannifin Corp was completed at the end of February. The strategic transaction creates a combined organization with a comprehensive portfolio of filtration products and technologies.
NV Energy and Apple have agreed to build 200 MW of additional solar power generation capability in Nevada to support the latter's Reno data center. This is in addition to the 491 MW of universal solar resources in the state currently serving the utility's customers.
3M Industrial Group's Liqui-Flux® ultrafiltration modules offer an alternative to conventional treatment steps—such as flocculation, sedimentation, and multimedia filtration—to remove turbidity, suspended solids, and pathogens from raw water streams.
Heart of the Liqui-Flux module is the company's UltraPES™ polyethersulfone membrane which is said to reduce the potential for fouling. High caustic resistance and free-chlorine tolerance are two attributes of the modules, which can operate at pH values between 1 and 13.
Clark-Reliance Corp announces a new line of coalescing filter elements for the gas processing industry. VertexCore™ filter elements are designed to eliminate unsafe filter-element change-out techniques while increasing filtration efficiencies.
Power Services Group Inc, a provider of turnkey MRO solutions for steam and gas turbines, integrates the capabilities of its affiliated companies—Airco Inc, Turbine Generator Maintenance, and Orbital Energy Services—to serve the power-generation and process industries.