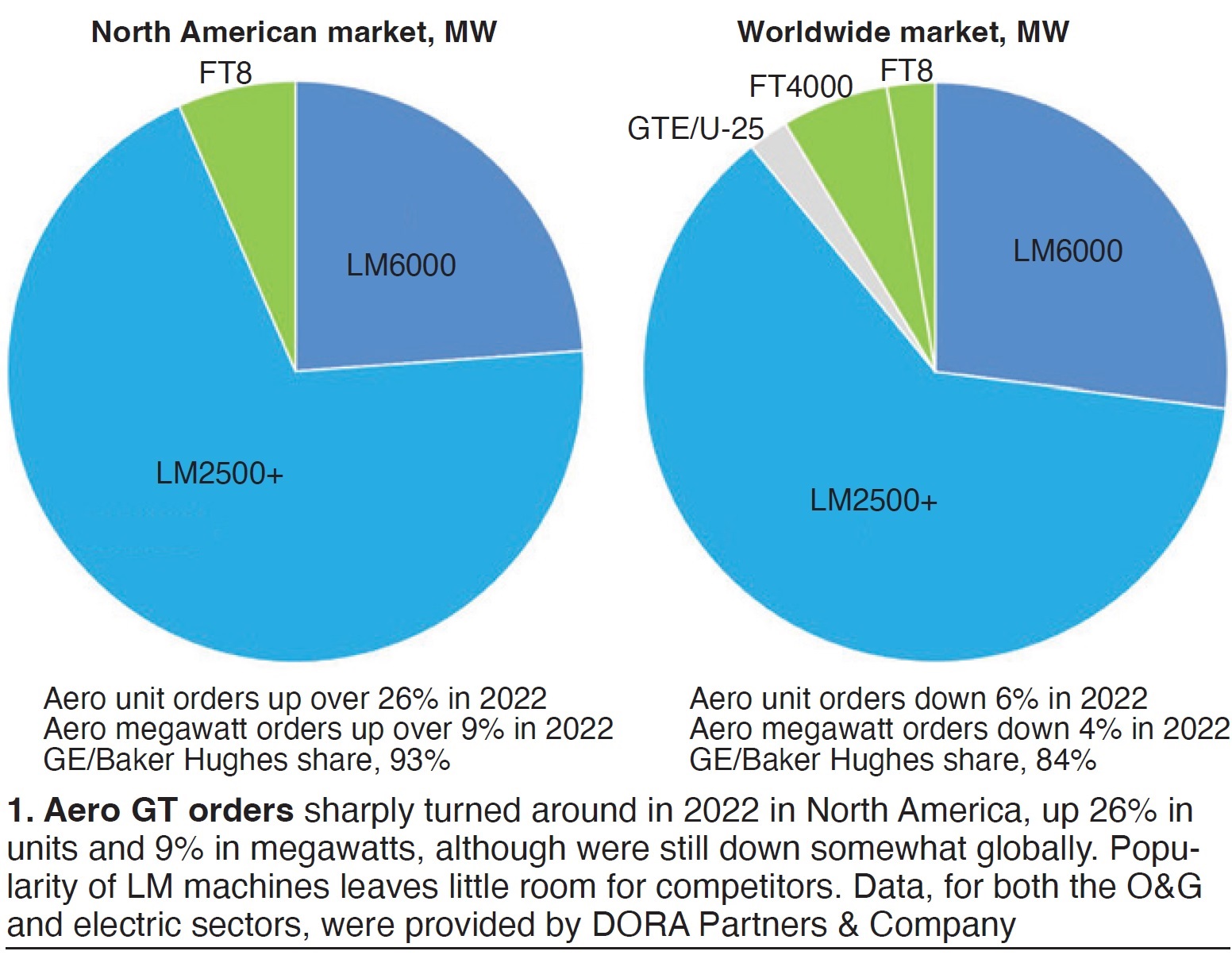 The war in Ukraine quite dramatically shifted the geopolitical energy scene in February 2022. In the US, the government has "declared war" on fossil fuels, yet backing alternatives with $340-billion under the guise of the oddly named Inflation Reduction Act (IRA). Even if "total activity in the aeroderivative gas turbine (GT) market has dropped off over the last 15 years," the long-term prognosis for aeros is "pretty good."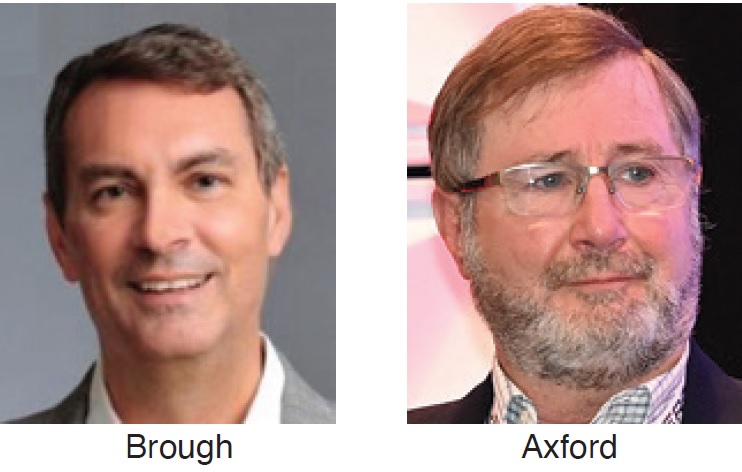 These were the salient conclusions of opening remarks given by Mark Axford, Axford Turbine Consultants LLC, and Tony Brough, Dora Partners & Company LLC, at Western Turbine Users Inc's (WTUI) 32nd Annual Conference in San Diego, March 12-15, 2023.
Brough opened by running through reams of statistics and graphs depicting the global gas turbine market. (Access to the Axford and Brough PowerPoints is limited to WTUI members and a few others. Request permission by writing Webmaster Wayne Feragen at wferagen@wtui.com.) Overall, GT orders (aeros plus frames) were up on a megawatt basis in 2022 but flat on number of units. Other Brough conclusions include the following:
GE/Baker Hughes continues to strongly dominate the aero market (as Fig 1 reveals) with the new LM9000 machine having "long term potential."
Solar Turbines has introduced the Titan 350, aimed squarely at the LM2500+ market.
Activity in hydrogen has heightened but "much needs to occur on the supply side to truly impact the gas turbine market."
Global expansion of LNG continues to rely on aeros as the critical driver.
Solar PV is experiencing huge growth with 17 GW of utility-grade capacity added in 2022 and 30-40 GW scheduled to start up in 2023.
LM turbine owners are seriously looking for alternative (as in unapproved by GE) service providers.
Mobile, trailer mounted power generation, requiring "no forklift and no crane," is a growing trend.
There have been two consecutive years of improvement in the upstream (oil/gas) market for aeros.
If Brough was the straight man, Axford's remarks were delivered with less data and more humor. He introduced himself by creating a new pronoun in an opening slide: "I identify as a turbine."
The big headline from last year was that the huge Nord Stream Pipeline carrying natural gas from Russia to Europe (via Germany), and vital to European energy supply, was blown up. This act of sabotage shifted the global energy supply picture, while later events resulting from the war in Ukraine, such as sanctions on Russia, shifted them even more.
Axford invited his audience to ponder who was responsible for Nord Stream by showing a slide with a photo and quote from President Joe Biden, a photo and quote from US National Security Council Coordinator John Kirby, both sandwiching a photo and quote from Sergeant Schulz of Hogan's Heroes, "I know noth…ing!"
Another aspect of the war on fossil fuels, said Axford, is that permits for offshore oil/gas drilling, which have to be renewed every five years, are being held up, as are permits for new drilling projects in Alaska. Axford then pressed the humor button again by playing the opening audio from "The Twilight Zone," while showing a slide and narrating, "Imagine if you will. . .a world where people believe that the temperature of the planet can be controlled by giving more money to the government."
Axford then borrowed a phrase, the "trilemma," from Daniel Yergin, author and vice chairman of S&P Global, uttered at the recent CERA Global Energy Conference. It refers to the need to maintain security while providing energy sustainably and affordably.
This "energy transition," which many experts call it, is not the first one the world has been through, Axford noted, referring to, for one, the century-long transition from wood to fossil fuels. However, it is the first, he believes, in which the old energy sources are being banned or discouraged by government intervention at the same time the new ones (solar, wind, and hydrogen primarily) are being developed by the market, albeit with generous government subsidies.
"It's all too much too fast," Axford suggested.
Regarding the GT supply chain, Axford focused on these developments:
Siemens AG spun off Siemens Energy into a separate shareholder company, officially ended the Trent line of machines, and closed the remaining Dresser-Rand factories in the US.
GE acquired Baker Hughes (BH) in 2016, but then restructured it beginning in 2018, divested it, and today BH trades on the Nasdaq. BH exclusively supplies GE's turbines to the oil/gas sector.
GE announced it is spinning off the gas, steam, and wind turbine businesses into a new separately listed company called Vernova; it is expected to be completed in early 2024.
BH acquired the generator business of Brush Electric; Brush units are apparently a fan favorite of LM users.
Mitsubishi is heads down on its large GT business; Axford wondered aloud if a spin-off of its aero division is in the offing.
Axford also spot-lighted two lesser-known names in the GT supply chain. Dynamis Power Solutions, which has been supplying DT35 mobile turbines for fracking applications and is a channel partner with BH. The company is now building the "no forklift, no crane" units for anyone who wants one. Relevant Power Solutions, also a channel partner of BH for TM2500 units, is building new trailer mounted LM2500+G4 gensets for lease or purchase. He also highlighted ProEnergy's 81 LM6000 gensets in service or on order.
An interesting factoid from the offshore wind-turbine market segment of the talk is that blades are approaching 350 feet in length. Together with the tower height, total height is approaching that of the Empire State Building!
The three biggies in gas turbines—GE, Mitsubishi, and Siemens—also participate in the wind-turbine business, which Axford said "bled red ink" in 2022, and are facing "soaring materials costs," shortage of rigs for installation, and "logistical nightmares" as machine size keeps growing. In the offshore wind market, the US is way behind China and Europe.
Chinese manufacturers dominate the wind-turbine market, capturing 70% of the global business in 2022. Note that the 95,000 MW bought from Chinese wind-turbine OEMs was nearly twice the worldwide gas-turbine order book last year (Fig 2).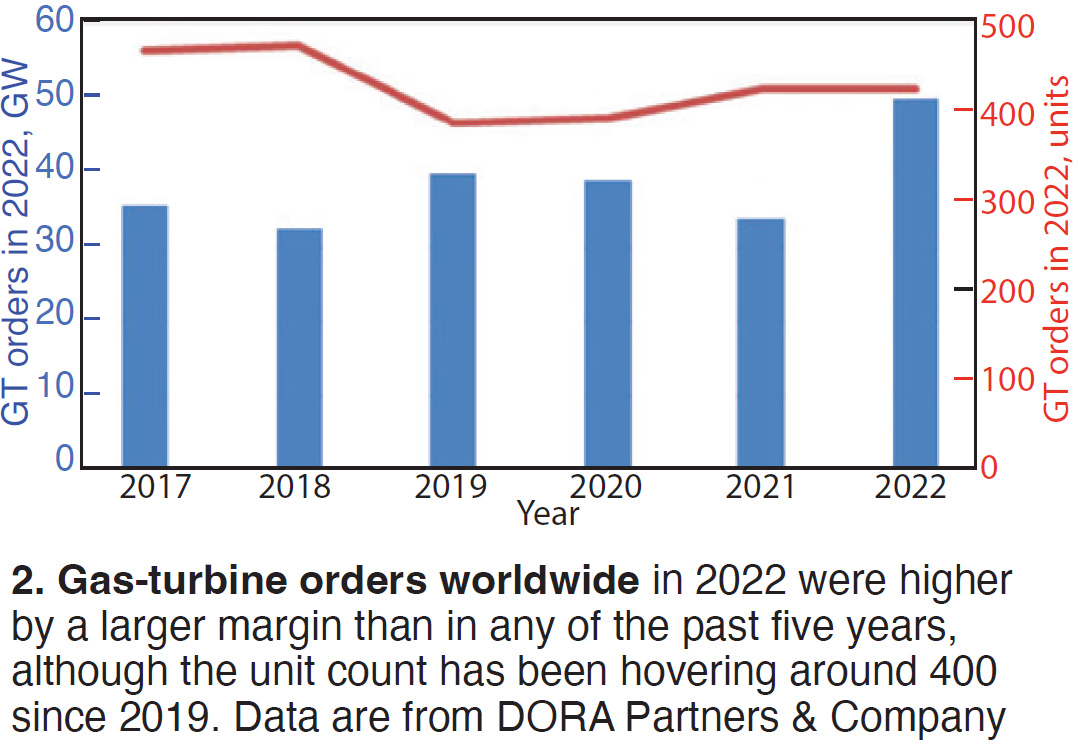 In the competition for GT business, Axford reminded his audience not to discount gas-engine gensets for peaking power and balancing services. Wartsila, for example, won over 500 MW of engine genset orders in 2022.
In his remarks on storage, batteries, and electric vehicles, Axford dispelled a myth out there that China has most of the world's lithium deposits. In fact, Australia, Argentina, and Chile do. What China has is the lithium refining capacity.
In other comments, he noted that lithium ore costs had been steadily declining for at least five years, but in 2020, this reversed with a vengeance. Axford forecasted that lithium-based storage would never reach the goal set for automotive applications of $100/kWh. In 2022, lithium prices dropped by 30% but were still sixfold higher than the January 2021 figures.
The storage market "needs a lower-cost alternative to lithium," Axford stressed. He apparently offered one by highlighting Form Energy and its iron-air battery (the process of rust formation and its reverse), Form's $760-million factory being built in West Virginia, its 2 × 100 MWh demo sites in Colorado and Minnesota, and the investment of none other than Bill Gates.
In covering H2 activity, Axford predicted that in 20 years, the hydrogen market will be like the ethanol market and gasoline: blending with natural gas up to 15% on a volumetric basis, but not a big displacement of NG by H2 (15% H2 by volume equates to only 4.5% on an energy-input basis). Much of this will be driven by the generous subsidies for H2 in the IRA, but especially the "double dip" tax credit (assisting a whopping $10-billion of deal flow)—one for producing green H2 through electrolysis and one for displacing carbon-bearing material in an energy conversion process (Fig 3).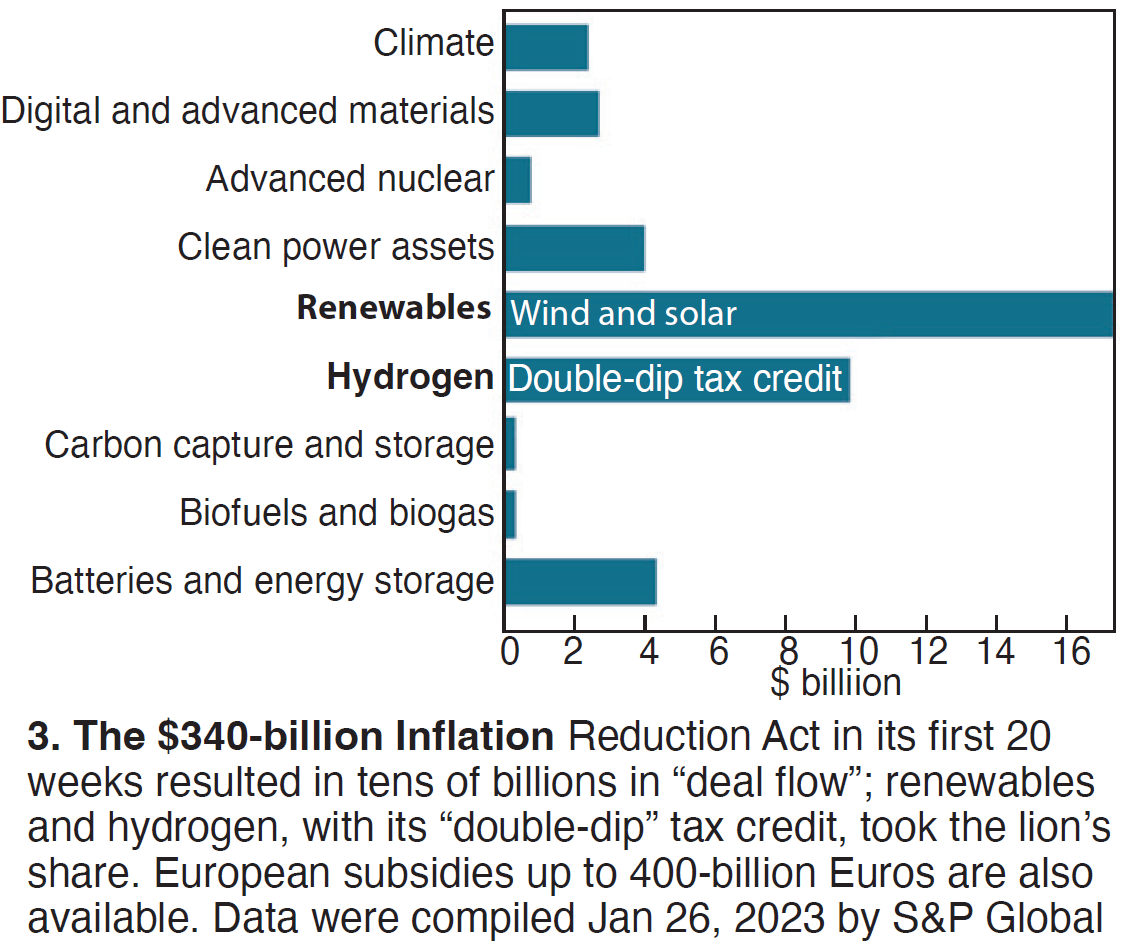 Leaving the best for last and keeping the attendees in their seats, Axford closed by forecasting that the GT market in 2023 will end down by about 20% compared to 2022. He added a few caveats, like all forecasters should, and invoked Yogi Berra's quote, "the future ain't what it used to be."