When Paul White crossed over to the spiritual world from the physical Nov 16, 2017, he was well prepared for the journey and certainly was welcomed by those who had preceded him. White was a deeply religious man who taught Sunday school and gave church activities his full support—all while excelling in his engineering day job, and contributing to gas-turbine user-group initiatives with his deep technical knowledge and considerable people skills.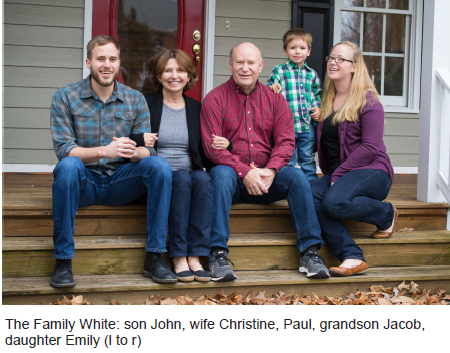 The challenge in writing an obituary for an exemplary human being and professional is that it never really meets your expectations, and likely those of the many readers who knew White well—there's so much to say. Perhaps the best way to honor such an individual is to keep him in your conscious mind to help guide your thinking. You might ask yourself when dealing with a knotty problem: What might Paul have done in this situation?
The editors knew White best from his involvement in gas-turbine user groups. His highlight reel includes leadership roles in the following organizations:
7F User Group steering committee member from just prior to the millennium until retirement as a full-time Dominion Resources Inc employee in the first quarter of 2013. He was a past chairman of that august organization.
Combustion Turbine Operations Technical Forum (CTOTF™), leadership committee member for many years—including several as chairman of the GE Roundtable and the Siemens Roundtable.
Combustion Turbine & Combined Cycle User's Organization (CTC2), past chairman of the steering committee.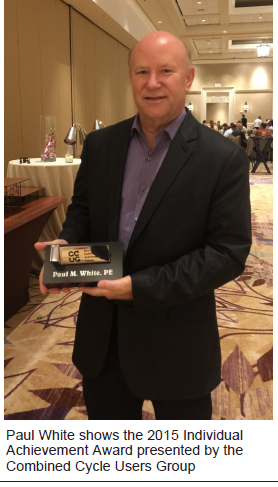 White was among the industry's best discussion leaders and a great asset in any Q&A session having to do with gas turbines. He was successful in getting his point of view across without raising his voice or denigrating anyone's opinion. His approach was debate, yes; argue, no. White's technical knowledge and calm demeanor earned him industry-wide respect. One example: He was recognized by the Combined Cycle Users Group in 2015 with its Individual Achievement Award.
White took great pride in his ability to recognize talent from afar, recruit those individuals, and mentor them to the point where they could advance on their own and expand the capabilities of the gas-turbine technical support organization he led. White made it a point to bring new members of his team to user-group meetings and introduce them to as many participants as he could. He knew well that building a proper network to aid in decision-making was vital to success for both the employee and employer.
The registered professional engineer (North Carolina) also knew that he could not properly motivate and lead without keeping up with generation technology. White participated in many technical symposia over the years, several focusing on new materials and cooling schemes for gas turbines.
Consider that from the time he graduated from North Carolina State University in 1974 with a BS in Mechanical Engineering—two years after the nominal 52-MW GE Frame 7B was introduced—until he retired from Dominion as a part-time employee in December 2016—shortly after the 384-MW GE 7HA.02 became available—turbine inlet temperatures increased from about 1800F to 2900F.
Career profile
1974—Bechtel Power Corp, nuclear focus, design and field engineer.
1978—Duke Power Co, senior engineer, gas turbine (and steam turbine) technical support.
1997—Duke Energy North America, director of engineering, responsible for strategic turbine expertise in both current and developing technologies.
2000—Dominion Resources Inc, manager of O&M, provide technical support and strategic management for a fleet of about 75 gas turbines, spanning legacy to advanced technologies.
2016—GT & ST Consulting Corp, shop build surveillance on complete component and unit assembly tasks for Dominion's first J machine.
Remembrances from. . .
Bob Kirn. Amidst the early 7F Users Group meetings that were more of a fruitless slugfest between the OEM and a handful of owners suffering from bucket munching turbines,  there emerged an individual who, while already known as a steady hand and cool head, would become one of the stalwarts of the gas-turbine industry.
Paul White, with his steadfast, oft-repeated belief that problem resolution could be best accomplished through cooperative efforts punctuated by full disclosure and free discussion, was quickly recognized by the user community as one who could be trusted to not only "find the solution" but to—and of such greater importance—"share the solution."
His successful method of cooperative effort was so widely recognized that even GE invited him to speak to their services group in the company's efforts to foster a more cooperative approach to customer service. Paul had made a lifetime of sharing his talent and he agreed to participate, and with the same level of honestly and enthusiasm that he approached everything.  No doubt the subsequent and on-going success of the 7F Users Group is a legacy to the open-forum structure he promoted and to the personal qualities that he so strongly displayed.
For more than two decades, Paul and I exchanged information, sought and offered advice for never-ending calamities and frequently crossed paths on the user-group circuit.  His commitment to finding solutions and providing the best information possible to anyone who asked never wavered; nor did my personal pleasure in seeing him at meetings and being able to swap stories, bounce new ideas, or just share a genuine handshake.
Christa Warren. Paul was the best manager and mentor I ever had, and will always remember what I learned from him. Thanks to Paul, I had to opportunity to join the gas-turbine industry and work with him. He created a legacy that will live on through all of his mentees. Wherever and whenever his name comes up it always results in a positive comment; no matter whom you talk to. Even I catch myself thinking, "What would Paul have done?"
He presented himself and his team with such class, humility, and respect he made everyone around him feel valued and respected. I will never forget how he would refer to all colleagues as his friends, and how when he described your role on our team he made you feel like a million dollars. It is sentiments like this that make people remember Paul for who he was. Although he will be deeply missed, the impact he made on those around him will continue to resonate through the years.
Sam Graham. Of all the good things I can say about Paul White, the one that stands out the most is his wonderful character. Paul was a true gentleman in every sense of the word, which was obvious to everyone around him; he was a genuine pleasure to be with. Paul worked constantly to mentor younger engineers and to make a positive impact on the 7F Users Group. He was a great contributor to the user community and a long-serving member of our steering committee.
You could always rely on Paul to provide a composed and thoughtful voice to any situation. His wisdom and self-control were vital during the hard conversations required with the OEM when these machines were in their infancy. Paul could be counted on when times were rough, always with a warm heart and a smile. This industry, and this world, could certainly use more people like Paul. He will be greatly missed.
John Gundy. We remember Paul White as a loving and devoted family man, mentor, and friend. Not only was he caring and compassionate, Paul was humble, adventurous, and enjoyed life, sharing his faith with those around him—which was something special. His contributions to the industry and willingness to teach others from his life's lessons were priceless. I was blessed to be hired by Paul, and he mentored me before I took on the role of engineering manager for Dominion Energy's Combustion Turbine Operations. Paul will be missed at Dominion Energy and by the many friends he made throughout his career.