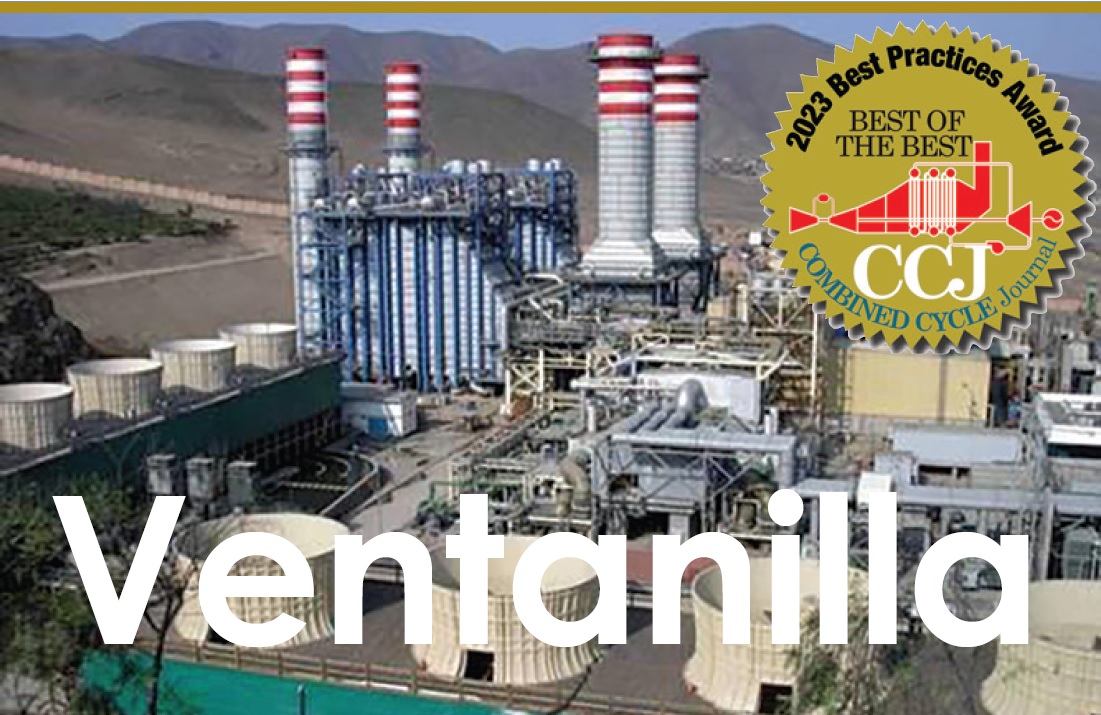 Ventanilla Combined Cycle Power Plant
Owned and operated by ENEL Generacíon Perú
427 MW, 2 × 1 SGT6-4000F-powered dual-fuel powerplant, located in Callao, Perú
Plant manager: Dany Alcantara
Plant background. Endesa SA, Spain's largest electric utility, won a tender in December 1995 to take control of Empresa de Generación Termoeléctrica de Ventanilla (Etevensa), the genco operating the Ventanilla thermal plant in Perú's Callao Province, Lima Region. Etevensa had been spun off from Electroperu SA.
Endesa was the lead company in Consorcio Generalima, which also included two Peruvian companies. According to Christopher Bergesen, a Maryland-based consultant with deep knowledge of the global electric power business, the consortium bid $US120 million and agreed to modernize the plant.
The plant was upgraded in 1997 when the OEM of record supplied and installed a pair of 170-MW gas turbines, replacing the 110-MW 501D5 engines installed in 1993.
Endesa took full control of Etevensa in August 2003 and the following year converted Ventanilla to combined-cycle operation by adding a supplementary-fired HRSG downstream of each GT and a 184-MW steam turbine.
In September 2004, Ventanilla, now owned and operated by Endesa successor company Enel Generación Perú, began burning Peruvian gas and producing power for distribution via the national grid. In January 2021, Enel commissioned a 14.6-MW battery energy storage system—Perú's first—using lithium-ion technology.
Challenge. Ventanilla's No. 2 cooling tower had deteriorated to the point that a total failure was a distinct possibility. Loss of a tower would force the plant into a 1 × 1 configuration with a loss in revenue of about $100,000 daily.
A thermal study conducted in 2018 revealed the following:
An increase of 1.4 deg C in cold-water temperature compared to historical data. Causes included clogging of circulating-water circuits by sediment and leaks.
A thorough inspection in 2019 identified severe structural wear and tear (Fig 6).
A flow imbalance between the two towers which caused non-uniform heat transfer and operational inefficiency.

Solution. A complete overhaul of the tower (Fig 7) was necessary to increase cooling-air flow—including fill replacement—and to reduce the temperature of circulating water flowing to the condenser.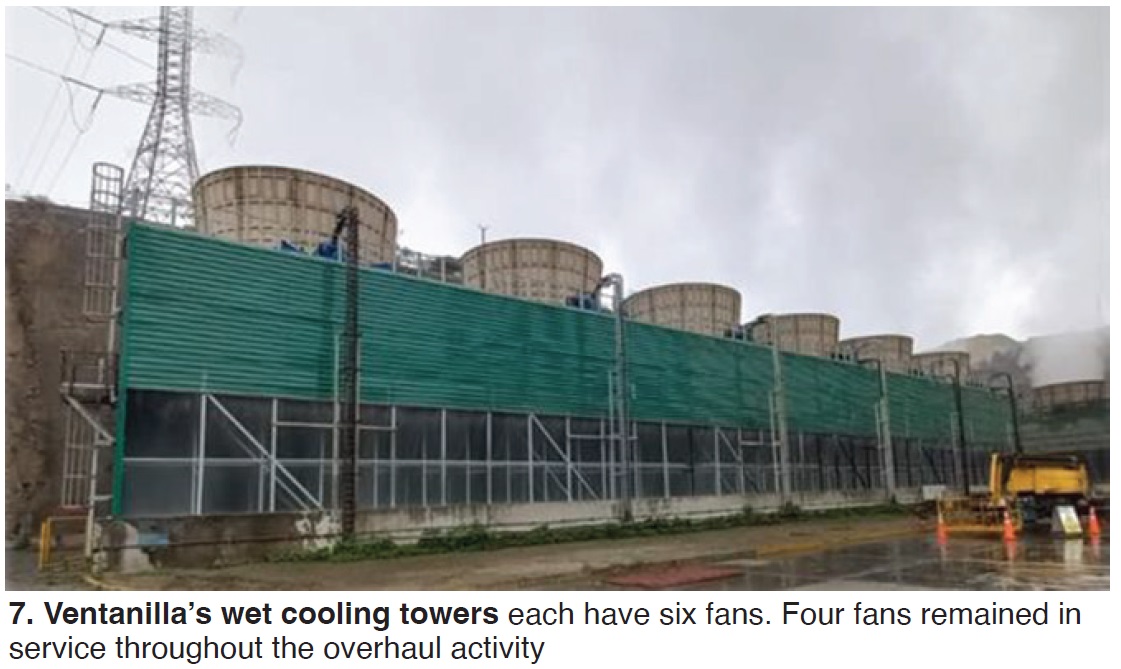 To increase air flow, it was necessary to stabilize the tower by reducing the vibrations attributed to worn/broken structural members. But because the entire structure was in poor condition, plant management decided to replace it, changing the structural material from wood to glass-reinforced plastic (Fig 8, left and center).

The upgrade work was conducted in a manner to keep the plant operating. This was done by removing only two cells from service at a time, leaving four in operation.
Also, to guarantee the circulating-water temperature at its design value of 2200 m³/h, the orifice plates for each cell in the six-cell tower were resized for a balanced supply condition and even distribution in all cells.
Result. Increasing cooling-air flow and changing fill improved tower performance to deliver 0.7 MW of increased generation. The financial impact was an additional $134,000 in energy production annually plus a $41,000 boost in capacity payments.
By removing two cells from service at a time, rather than all six, saved an estimated $6 million.
Enel project participants:
Ivan Jimenez, mechanical specialist and project manager
Carloandhre Pareja, mechanical supervisor
Marco Rivera, responsible person for plant maintenance
Sandro Garcia, responsible person for operational optimization
Jose Soto, operational optimization specialist
Richard Mejia, safety supervisor
Ventanilla 2023 Best Practices