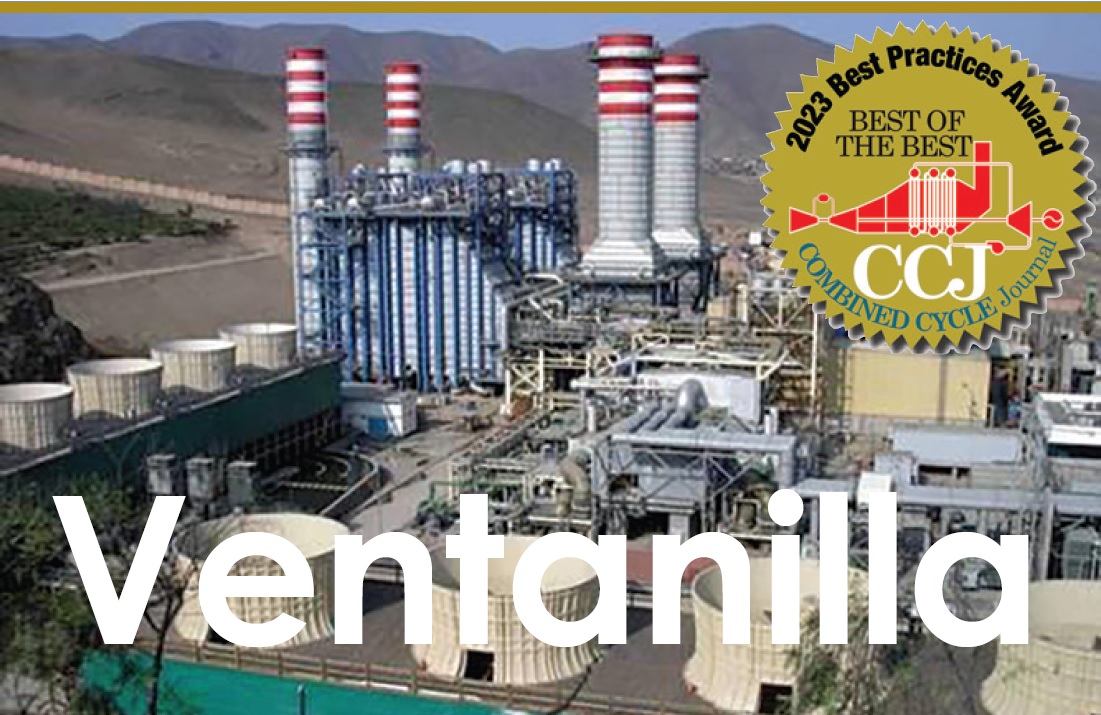 Ventanilla Combined Cycle Power Plant
Owned and operated by ENEL Generacíon Perú
427 MW, 2 × 1 SGT6-4000F-powered dual-fuel powerplant, located in Callao, Perú
Plant manager: Dany Alcantara
Plant background. Endesa SA, Spain's largest electric utility, won a tender in December 1995 to take control of Empresa de Generación Termoeléctrica de Ventanilla (Etevensa), the genco operating the Ventanilla thermal plant in Perú's Callao Province, Lima Region. Etevensa had been spun off from Electroperu SA.
Endesa was the lead company in Consorcio Generalima, which also included two Peruvian companies. According to Christopher Bergesen, a Maryland-based consultant with deep knowledge of the global electric power business, the consortium bid $US120 million and agreed to modernize the plant.
The plant was upgraded in 1997 when the OEM of record supplied and installed a pair of 170-MW gas turbines, replacing the 110-MW 501D5 engines installed in 1993.
Endesa took full control of Etevensa in August 2003 and the following year converted Ventanilla to combined-cycle operation by adding a supplementary-fired HRSG downstream of each GT and a 184-MW steam turbine.
In September 2004, Ventanilla, now owned and operated by Endesa successor company Enel Generación Perú, began burning Peruvian gas and producing power for distribution via the national grid. In January 2021, Enel commissioned a 14.6-MW battery energy storage system—Perú's first—using lithium-ion technology.

Challenge. Prevent the recurrence of a transformer forced outage suffered by Ventanilla a few years ago when an HV bushing failed (Fig 1).
Solution investigated was the installation of an online monitoring system capable of detecting changes in critical operating data that might suggest an impending failure. The daily cost of a transformer outage at Ventanilla is about $100,000.
Investigations by plant personnel pointed to Camlin Energy's Totus system, which is said to monitor all key components of the transformer, providing a picture of transformer health. It integrates dissolved gas analysis (DGA), partial discharge (PD), bushing monitoring (BM), through fault currents (a/k/a short-circuit currents), and transformer analytics into a single system.
The following instrumentation was installed on transformers serving the gas turbines: bushing sensor (Fig 2), load current monitor, communications mod bus TCP/IP, temperature monitor, oil leak detector, DGA, PD. Gases dissolved in the transformer oil, both analyzed and trended are hydrogen, ethylene, acetylene, CO₂, CO, ethane, methane, moisture, oxygen.
PD monitoring of transformer windings identifies amplitude, repetition rate, and PD persistence—the last to avoid a false alarm and provide reliable information. A PD-status level (scale of 1 to 10) is determined using amplitude and repetition rate.
Bushing health is tracked using tan delta and capacitance data. Leakage current from each bushing is monitored and variations in current amplitude and angle between adjacent phases calculated.
Recall that tan delta test results help gauge the condition of transformer insulation and determine how close it may be to a fault condition. There are two ways to evaluate insulation health during a tan delta test, according to information provided by Altanova, a Doble company:
The first is to compare current results to those from previous tests, thereby determining the impact of aging on deterioration.
The second is to determine directly insulation condition using the tan delta value. If the insulation is perfect, the loss factor will be about the same for the range of test voltages. But if the insulation is less than perfect, the tan delta value will increase as the test voltage increases.
Results. Since Ventanilla's online monitoring program was implemented, there has not been a forced outage attributed to a transformer failure. Plus, plant personnel are more aware of the positive impact their vigilance can have on operating costs, as well as the safety benefits of avoiding a fire or explosion caused by a short circuit.
Enel project participants:
Gustavo Rodriguez, electrical specialist and project manager
Fernando Sarmiento, electrical supervisor
Eduardo Salinas, electrical supervisor
Ventanilla 2023 Best Practices