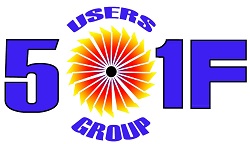 The 501F Users Group returns to in-person conferencing in 2022 with a year of experience in the virtual meeting world under its belt. The organization's 22nd annual conference convenes in New Orleans at the Hyatt Regency on Sunday, February 20, and runs through noon on the 24th (Thursday).
Sunday is reserved for socializing. There's a golf tournament at TPC Louisiana starting at noon and a welcome reception from 7 to 9 in the evening.
Work begins in earnest Monday morning at 8:25 with the group's interactive safety roundtable—following breakfast, welcome, and introductions. Chairman Russ Snyder will be missing from the podium for the first time in 11 years, replaced by Ivan Kush, Cogentrix Energy Power Management. Snyder retired from his day job as VP generation operations at Cleco Power LLC at the end of 2021. No longer employed by a 501F owner or operator, he had to resign his volunteer position at that time as well.
February 20 – 24
Hyatt Regency
New Orleans, La

Officers and Board of Directors

Chairman
Ivan Kush, principal CT and controls engineer, Cogentrix Energy Power Management

Vice Chairman
Carey Frost, program manager, Duke Energy

Secretary and Board Member
Brian Berkstresser, plant manager, Liberty Utilities

Board Members:
Blaine Gartner, principal engineer, Xcel Energy
John Burke, O&M manager, Cottage Grove Power Plant, NAES Corp
Dave Gundry, senior engineer, Xcel Energy
Greg Dolezal, managing director, Klamath Energy LLC (Avangrid Renewables)
Jaime Oliveira, O&M senior manager, Norte Fluminense, EdF
Vendorama begins after morning refreshments and runs until 3 p.m. with a break for lunch. It comprises 20 half-hour technical presentations by third-party services providers, selected by the steering committee (Sidebar 1) to bring attendees up-to-date on equipment and services of primary interest to the 501F community. The Vendorama program is arranged in four tracks, each having five concurrent presentations. The vendor fair from 4 to 7:30 features exhibits from about 70 manufacturers and service firms (Sidebar 2).
Tuesday's first hour is reserved for a user's closed session, followed by a generator roundtable.  Siemens' presentations to users starts after the morning break and runs until lunch at noon. PSM presentations begin after lunch and go until 5 p.m. A three-hour evening event, hosted by PSM, starts at 6:00.
The group gathers again Wednesday at 8 a.m. Hour-long roundtables on inlet/exhaust and compressor are followed by rotor and HGP roundtables—also an hour each—completing the morning program. Owner/operators of advanced F frames have a breakout option in place of the first two roundtables. Mitsubishi Power owns the afternoon, presenting from 1 to 5.
Three roundtables Thursday morning—combustor, auxiliaries, and outage—budgeted for 60 minutes each, complete the 2022 program by noon.
Several vendors committed to assuring attendees wouldn't go hungry by sponsoring meals Tuesday and Wednesday. They are LPG Industries and AGT Services (breakfast) and ARNOLD Group and Mitsubishi Power (luncheons).
2021 conference review
The 501F Users Group's first virtual conference was conducted over seven 6-hr days, Feb 15-18 and 23-25, 2021. Owner/operators of 501G engines, and Siemens H and V frames, were invited to participate in selected sessions as well.
Day One featured the annual safety roundtable and 30-min Vendorama presentations by ARNOLD Group, Allied Power Group, Dürr Universal, AGT Services, and National Electric Coil. A big benefit of the virtual meeting is that it enables all attendees access to all presentations. Recall that at 501F in-person conferences the Vendorama program is comprised of several tracks, each with several presentations conducted in parallel.
Day Two began with a generator roundtable; presentations by Braden Filtration, Donaldson Company, Frenzelit, Parker Hannifin, and C C Jensen followed.
A 90-min vendor fair was conducted at the end of both the Day One and Day Two programs, with only the Vendorama presenters for each of those days participating.
Day Three started with an inlet and exhaust roundtable; 501G and advanced-frame owner/operators had the option of participating in concurrent breakouts for those machines. Next, National Electric Coil conducted a 60-min training session, Generator Rotor 101, with non-generator SMEs (subject matter experts) in mind. A two-and-a-half hour PSM super session for F users closed out the day.
Day Four was much the same as Day Three except that the 501F compressor was the subject of the opening roundtable and NEC's training session focused on the generator stator. Mitsubishi Power's super session followed.
The programs for Days Five and Six (Week Two) were arranged like those on the first two days but with rotor and combustion roundtables the opening sessions on these agendas. Vendorama presentations by Voith Turbo, ORR Protection Systems, SVI Dynamics, Shell, Reliability 360, and Nord-Lock (four-way joint) were featured on Day Five; Nord-Lock (coupling bolts), EMW filtertechnik, ARNOLD Group, Doosan Turbomachinery Services, and GE presentations were conducted on Day Six. Both days ended with vendor fairs featuring the Vendorama presenters.
Day Seven, the final day of the 2021 conference, with no pressures imposed by hotel checkouts, traffic, airline schedules, etc, began with two roundtables (HGP and auxiliaries) and concluded with Siemens' super session.
Another benefit of virtual conferences is the ability to record their proceedings. PowerPoint slide decks and recordings of all the presentations and roundtables from the 2021 meeting are accessible to registered 501F users at https://forum.501fusers.org/ (search the user-only forums for "2021 Conference Materials"). That is, all presentations except for those made by Siemens, which are available only through the company's Customer Extranet Portal.
The next section of this report provides precises or thumbnails of all vendor presentations, enabling you to see what you might have missed—or don't remember—and might want to follow up via a simple search on the user group's website.
Finally, the last portion of the report features best practices submitted by 501F users for CCJ's 2021 awards program. The successful plants: CPV Valley Energy Center, South Point Energy Center, Klamath Energy LLC, and Rolling Hills Generating LLC.
Vendor presentations
Two dozen of the leading third-party suppliers of products and services for the 501F fleet made nominal half-hour presentations at the user group's 2021 virtual conference. They are available for viewing by owner/operators of 501F engines who are registered on the organization's website at https://forum.501fusers.com. To access the presentations, look through the user-only forums for "2021 Conference Materials." Precises of selected presentations follow.
Advanced steam-turbine warming systems to increase startup flexibility
Pierre Ansmann opened his presentation on "the most advanced turbine insulation combined with a high-performance heating system to improve startup flexibility," by summarizing its value proposition thusly:
Increased in-market availability.
Lower startup costs.
Reduced thermal fatigue and longer mean time to repair for critical components.
Increased operating flexibility.
He reviewed alternative warming-system arrangements, rejecting those integrating the heating circuits in insulation blankets, installing the heater on a thin mattress below the blanket, and using glass-fiber-insulated heating cable. The optimal system for the upper casing, they said, is heater on metal mesh baffle, for the lower casing, permanent mounting of heating cable below the split line.
The ARNOLD system features interlocking high-performance blankets which conform perfectly to the turbine surface. High-quality materials and manufacturing, and long-term high-temperature resistance, allow the company to guarantee reuse of its insulation system for 15 outages without a decrease in efficiency.
Dozens of thermocouples, strategically located on the turbine, ensure proper heating. Each of the 18 or so heating zones has t/cs installed on the heating wires to double check if the zone is responding correctly and at the specified temperature. Below every heating zone, multiple t/cs are mounted on the casing to confirm even heating of the turbine.
Ansmann said a properly maintained ARNOLD insulation system can maintain your turbine in a hot-start condition for at least four or five days after shutdown. No preheating of the turbine is required prior to a start within this time period, reducing startup fuel consumption and auxiliary power.
Combining high-quality insulation and warming systems enables tight control of casing-to-casing and rotor-to-casing expansion during shutdowns. A goal for operations personnel to aim for, Ansmann said, is a homogeneous cooldown to maintain the temperature difference between the upper and lower casings to less than about 100 deg F.
A case study presented attested to the value of a warming system for a 4.5-day shutdown. Major concerns with the turbine analyzed were the following: casing-to-casing and rotor-to-casing expansion issues during startup; rotor fatigue attributed to differential-expansion control mechanisms; and valve thermal fatigue caused by the turbine startup procedure to deal with thermal expansion.
The solution described in a series of charts included preventing casings and valves from going into cold conditions, plus reducing heat loss to maintain casing and rotor elongation.
Generator high-voltage connection, bushing box, and bushing inspections
Jamie Clark's well illustrated presentation focused on these three areas:
High-voltage connection inspections, answering the questions most often asked by users: How/why do HV connections overheat? He covered flexible connections, the importance of tight surface contact, hardware (bolt/nut, washers, etc) selection, and connection restoration.
HV bushings for pressurized gas-cooled generators: What to look for in bushing inspections and how to locate gas leaks.
Main-bushing construction methods—addressing porcelain insulators, flange designs, and conductor designs.
Asked what type of bolts AGT Services uses on HV bushing mounting flanges, Clark responded thusly: Typically carbon steel, but sometimes duronze. Stainless-steel bolts are avoided because they tend to gall on aluminum or stainless terminal plates or nuts/hardware.
He went on to say that tight connections are critical for keeping HV bushings cool, recommending the blue-checking of electrical connections at disassembly and reassembly and verifying proper alignment.
When bushings must be replaced, Clark said pre-planning is key to a successful project. For example, be sure to arrange for access to both the inside and outside of the bushing box and be familiar with plant auxiliary equipment removal and lockout/tagout requirements, scaffolding needs, foreign material exclusion, etc.
Outage results, experience with first 501F FlameTOP7, hydrogen, future developments
PSM's session, at two and a half hours, was about the same length as the other major players on the 2021 program: Siemens, Mitsubishi, and GE. President Alex Hoffs led off with an overview of the company's activities and safety program.
Chris Johnston, director of product execution, followed with a review of PSM's outage experiences in the US, Asia, and Mexico—positive outcomes despite Covid-19 challenges. Field service hours worked in 2020 established a new record for the firm. One of Johnston's brief case histories involved emergency support to deal with a generator exciter failure.
Brian Micklos, senior manager, project management, directed the longest presentation on the program—an in-depth review of the first 501F FlameTOP7 installation, at SRP's Desert Basin Generating Station, a 2 × 1 501FD2-powered combined cycle. It should be of interest to most, if not all, 501F owner/operators given the detailed comments on the project by SRP's Jess Bills and Moh Saleh, both long-term participants in the industry's leading users groups.
Recall that FlameTOP7 essentially integrates the gas-turbine optimization aspects of GTOP7 with the output and efficiency improvements from the FlameSheet combustion system, with AutoTune thrown in for good measure. GTOP and FlameSheet are hardware upgrades, while AutoTune embodies advanced controls.
Highlights of the project provided by Bills and Saleh include the following:
Combustion conversion to FlameSheet™.
Hot-gas-path upgrade to GTOP7—exchange of all capital components.
Installation of an upgraded exhaust system—cylinder and manifold.
Installation of an inlet bleed heat system.
Controls logic upgrade to include AutoTune and Part Load Performance features.
ARNOLD insulation upgrade for the gas turbine.
Detailed planning of the project work scope, critical for others considering a FlameTOP7 upgrade, was part of the presentation. Project results and recommissioning highlights closed out this portion of the PSM session.
The company's experience in the combustion of hydrogen and mixtures of it and natural gas followed. A look ahead at developments being pursued by the company's engineers closed out the PSM program.
Remote monitoring of lube oil and diesel conditioning
Oil conditioners/kidney-loop filters are known for their ability to keep oil, and the machines relying on it, clean and healthy. In his presentation, Axel Wegner shows you how to keep lube, diesel, and transformer insulating oils in top condition; plus, how to receive alerts as soon as anything oil-related drifts out of spec—such as cooling-water temperature, excessive wear of machine parts, ISO particle count, etc.
Wegner's message is clear: The optimal condition-monitoring and filtration system for any machine and oil type allows you to identify problems remotely and to take action before they get out of control. This presentation is one you might want to consider sharing with your plant's O&M staff during a lunch-and-learn session.
Technology solutions providing more power to you
The Donaldson presentation opened with an overview of the company's capabilities and moved quickly to a review of its "Three Pillars of Filtration" methodology for rating gas-turbine inlet air filters. HEPA filtration and efficiency testing was next, followed by a look at the company's quick-lock yoke technology which helps enable rapid filter changeout and its secure installation. A brief summary of Donaldson's connected solutions to help users better manage their filtration and reduce operating costs closed out the program.
First, a refresher on "Three Pillars." Given the existence of several standards for the classification of gas-turbine inlet filters, which can cause confusion in the minds of at least some owner/operators, Donaldson has developed a user-friendly filter rating system with the goal of building a consensus to support adoption of its three-part rating system industry-wide.
The three performance factors most important to selection of the proper filter for your plant are efficiency, water-tightness, and, in pulse-cleanable applications, pulse recovery rate. Think of them as the key filtration "pillars" that support optimal gas-turbine operation. In most cases, all three performance factors are important, but their ranking may vary depending on the local environment and operating conditions.
The "Three Pillars" are described as follows:
Efficiency. The proportion of particulates entrained in the inlet air and captured by the filter is the most widely recognized performance metric. Because higher-efficiency filters have associated costs, operators need to determine an efficiency rating that delivers the best return on investment (ROI).
Water-tightness. In humid or ocean-front locations, resistance to moisture becomes a high priority. Salts and other dissolved solids carried by water can be highly corrosive and oftentimes more detrimental than airborne contaminants.
Pulse recovery rate. How readily filters regain peak performance after pulsing is a third key concern. High pulse recovery rises to top priority in desert or arctic environments, where there is either continual exposure to dust, snow, and ice buildup, or potentially sudden episodes of heavy loading.
Careful and objective evaluation is necessary on a case-by-case basis to determine the ranking of these factors for a local situation and operating budget. Identifying priorities enables the most appropriate inlet design and filter combination to be incorporated into your gas turbine system.
Next topic was the success the company has had with its TurbO-Tek™ H2O+ HEPA grade filters which feature very high capture efficiency, water tightness, high dust holding capacity, durability, and insensitivity to humidity/moisture plus coastal and offshore environments. A couple of dozen slides attest to the high performance of this filter in several areas of the country as well as in Asia. The filter is suitable for use in pulse systems.
Generator 101 rotor and stator
W Howard Moudy, director of operations at National Electric Coil (NEC) presented two tutorials of lasting value at the 2021 501F conference, one on the basics of generator rotors and the other on stators. Plant managers, O&M managers, and other responsible parties might consider these presentations among their assets for training staff.
The rotor tutorial first. Moudy began at the beginning—in this case with William Sturgeon's finding in 1823 that current running through copper wire wound around a piece of iron produces a magnetic field. He reviewed the basic components of rotors and their purposes. For example, the shaft, retaining rings, and wedges are of forged steel, the winding of copper. Then there's the insulation.
The photo nearby shows the slots machined in the rotor forging to hold the winding's copper turns. Wedge grooves, "fir tree-" or "T-" shaped allow wedges to hold copper turns in place during rotation. He went on to describe the various types/designs of retaining rings and the material preferred for them for holding the windings in place.
Cooling was Moudy's next topic. He covered conventional indirect cooled, inner-cooled conductors, inner-cooled coils and insulation, and GE's diagonal cooled windings. Details on coil-to-coil and pole-to-pole connectors for a variety of machines (Aeropac, Westac, Siemens TLRI, Alstom) followed.
Remaining segments of the presentation included end-turn blocking, rotor slot wedges, slip rings/collector rings, radial and axial connections, J-strap leads, rotor journals and bearings, and rotor fans/blowers.
The stator tutorial resembled a medical text showing all the body parts. The illustrations will benefit greatly O&M personnel who have never seen the machine apart. The stator, Moudy said, consists of the frame, core iron, and coils, the first "holding everything together." The core iron provides a magnetic path for the flux, while the coils carry the current generated by the induced voltage.
Illustrations of proper core clamping and the types of core laminations (GE's key-bar slot and the Westinghouse building-bolt design) followed.
Spark erosion then was explained and described with photos showing the progression of a failure. Side ripple filler was touted as a cure for SE and that fact was verified at two plants.
Final topics in this portion of the program: stator slot wedges, stator coil bracing, coil design, endwinding stability, phase leads and phase rings, main/neutral lead transitions, and bushings.
Business and technical updates
Mitsubishi's primary goal was to showcase its technologies critical to solving known fleet issues with turbine parts, exhaust section, compressor diaphragms, and the rotor torque tube. The company believes it offers the market's lowest lifecycle cost for these items based on its successes in both the M501F and W501F fleets.
The first two segments of the Mitsubishi program provided overviews of business and outage-execution improvements, and field-service performance—including metrics, dealing with Covid-19 challenges, outage-improvement initiatives, and safety. Even if these areas are not a top priority for you, the slides are worth perusing, if only for the responsibilities and photos of key personnel that plant staff wouldn't ordinarily see during an outage. Given the travel restrictions of the last two years, this material helps keep you "connected."
Subject matter of greatest importance to attendees with feet on the deck plates began with Matt McGough's rotor presentation. The product line manager reviewed the following:
Comprehensive rotor inspection, recommended at 100,000 hours of operation or 12 years, whichever comes first—what's involved and the importance of a pre-CRI assessment.
Rotor service options, including value/benefits and schedule impacts.
Historical rotor findings: dirt and erosion in cooling passages, blade groove wear from turning-gear operation, cracking of spindle bolt threads, corrosion, etc.
Upgrades for the torque tube and air separator.
Travis Pigon followed McGough with presentations on gas-turbine parts and exhaust-manifold and exhaust-cylinder improvements. The former reviewed the company's design and development cycle and how improvements now allow service runs of 32,000 hours/1200 starts for first-stage blades and vanes. Photos show these parts in excellent condition even beyond the recommended intervals. Combustor durability improvements were included in this portion of the program as well.
Pigon said that Mitsubishi's solutions for the W501F exhaust cylinder and manifold address recurring durability issues—such as cracking of the diffuser and strut shields. Improvements have been adopted from the successful exhaust systems on the company's advanced turbines which operate at higher temperatures than F engines.
Recall that the Mitsubishi Power two-piece exhaust cylinder is a drop-in replacement for the W501F; no changes to auxiliary piping and foundation are necessary. Experience shared by two customers pointed to no indications or abnormalities for this design in 83,000 equivalent operating hours in one case and 68,000 hours in the other.
Andrew Ogden then discussed performance upgrades and offered two case studies that quantified output and heat-rate improvements made possible by the upgrades.
The Turbine and Generator Repairs Organization closed out the technical portion of Mitsubishi's two-and-a-half-hour program with a 40-slide presentation on generators, including:
Stator diagnostics.
High-voltage bushing refurbishment or replacement.
Collector-ring inspection, machining, and replacement.
Reverse engineering of a generator rotor.
Air-cooled stator rewinds.
Stator rewinds.
Ansaldo stator design issues and solutions.
Planning HGP exhaust component upgrades
Scott Schreeg's presentation on gas-turbine exhaust systems, an afterthought in maintenance planning at some plants, is practical and easy to follow. A quick review of his dozen slides might help keep you out of unnecessary trouble. Visual (unit offline) and thermographic (unit in operation) inspections are important, Schreeg said, and can alert you to impending problems. He suggested an annual interval for this activity.
Expect your exhaust system to last between about 10 and 20 years, depending on the quality of design and construction, capacity factor, and level of maintenance since commissioning. OEM design issues—aerodynamic, thermal, acoustic, and structural—often are associated with problems encountered. Aerodynamics is a big deal, he said, but CFD modeling can point to issues associated with ductwork, silencers, gas recirculation, flow concentrations, pressure drop, etc. Oftentimes, corrections are relatively easy to implement at manageable cost.
Original equipment workmanship is another reason some systems do not last as long as expected. Inspections sometimes reveal use of the wrong weld wire, lack of weld penetration, use of dissimilar metals in construction, etc.
Whether you repair or replace/upgrade depends to a large degree on the extent of degradation found during the all-important inspection. Schreeg stressed the need to consider lifecycle costs when you're spending money. Justifying a bigger spend now could save later, he said.
Different GT filters, different compressor efficiency results
Florian Winkler's presentation provides users a methodology for selecting the optimal filter for their gas turbines. It does this by way of a series of performance charts that are easy to understand.
He begins by answering the question: Who is EMW filtertechnik? Then briefly describes his company's products and identifies some of its customers—a few likely more familiar to you by name than EMW.
One reason filter selection can be challenging is because five filter test standards may be involved—EN779, ISO 16890, Ashrae 52.2. EN 1822, and ISO 26463—and there are many filter classes (different ones for each standard as the handy table included in the presentation attests).
Add to this the product names used by the more than a dozen filter manufacturers serving gas-turbine owner/operators, and you can understand why plant personnel are often left scratching their heads when it comes to choosing the "best" inlet filters for their machines. After all, this is not their only responsibility and decisions on filter purchases typically are years apart.
For those not quite sure how much difference there is between one filter rating and another, there's a slide with comparison photos of compressor airfoils "protected" by F8, F9, E10, E11, and E12 final filters after 5000 hours of operation in a Siemens H-class gas turbine. It's an eye-opener. A bar chart confirms the differences.
A series of slides comparing the impact on performance of E10, E11, and E12 final filters installed in a Siemens SGT6-5000F are worth serious review. Winkler's conclusion from the data plots: E10 filters designed to the EN 1822 standard should not be considered as the final filter for a high-performance gas turbine. Better filtration pays for itself, he said, adding that in the near and long term an E12's efficiency is what users demanding maximum performance from their engines should select.
Other presentations of interest
APG, Extending the life and capability of a M501F3 R1 turbine blade through repair modifications. Reviews field experience of R1 turbine blades from several suppliers, design/repair related issues, repair process, coatings.
Dürr Universal, Field evaluation of combustion turbine exhaust and inlet systems. Inspection basics supported by excellent photos of key components and their associated issues.
National Electric Coil, Key generator considerations for 501F applications. The five key considerations addressed in the presentation: spark erosion, speed cycling (starts/stops), endwinding support system, partial discharge, and global VPI.
Braden Filtration, To pulse or not to pulse. "Functionalization of cartridge filter technologies." Asks: How do you judge performance? What are you trying to address—pressure drop, turbine protection, filter life? Explains how pulse filters work and what makes a good pulse filter. Identifies new surface treatments and composites. Highly informative, fast-moving presentation.
Frenzelit, Expansion joint upgrade for legacy 501FD units. Photos describe the steps in removing the existing exhaust manifold, surface preparation of mating surfaces, welding of a new scalloped TEM flange, installation of insulation and new expansion joint.
Parker Hannifin, Challenges and solutions for gas-turbine fluid systems. Covers the development of custom gas-turbine check and ball valves used to control fuel, water, and purge air in challenging turbine-compartment environments.
Voith Turbo, Options for legacy 501F starting systems. Reliability improvement is the focus of the presentation.
ORR Protection, Improving the life safety of CO2 fire extinguishing system water mist technology. Checklist of CO2 system safety features and introduction to water mist systems—including the hybrid water mist system which uses nitrogen to atomize the water to a sub-10-micron level.
Shell, Interpreting oil analysis. Thumbnail descriptions of laboratory tests—including color/clarity, viscosity, trace metals, water content, total acid number, infrared analysis, and particle count.
Reliability 360, Oil condition monitoring digital solution. Fluid (lube oil, diesel oil, and other liquid fuels) condition monitoring using optical technology focuses on reducing downtime and operating expenses of critical equipment.
Nord-Lock Group, 501F 4-way joint solution. Describes the company's Boltight™ and Superbolt technologies for mitigating leakage at the four-way joint—typically in three shifts during an HGP or major inspection.
Solutions for turbine coupling bolt issues. Discusses through- and fitted-bolt issues and how the company's EzFit expansion bolts can eliminate them.
Doosan Turbomachinery Services, Turbine blade-ring assembly fundamentals.
Blade-ring disassembly and inspection details covers special fixturing and procedures believed necessary to assure proper repairs. A checklist of things to be aware of during shop work is included.
Advanced Turbine Support
AGT Services Inc
Allied Power Group
Alta Solutions Inc
American Thermal Solutions
Arnold Group
BBM-CPG Technology Inc
Bearings Plus
Braden Filtration LLC
Brüel & Kjær Vibro
C C Jensen, Oil Maintenance
Catalytic Combustion Corp
Conax Technologies
Conval Inc
Crossby Systems Inc
Cutsforth Inc
Donaldson Company
Doosan Turbomachinery Services Inc
Dürr Universal Inc
EagleBurgmann
EMW filtertechnik GmbH
Environex Inc
Environment One Corp
Falcon Crest Aviation Supply Inc
Filtration Group
Frenzelit Inc
Freudenberg Filtration
GE Power
Groome Industrial Service Group
Hilco Filtration Systems
HRST Inc
Hy-Pro Filtration
Industrial Air Flow Dynamics Inc
Intertek AIM
ITH Engineering
JASC
Koenig Engineering Inc
LPG Industries Inc
Macemore Inc
Mee Industries Inc
Meggitt/Vibro-Meter
Mitsubishi Power
Moog Industrial
National Electric Coil
Nederman Pneumafil
Nord-Lock Group
NRG Energy Services
ORR Protection Systems Inc
Parker Hannifin Corp
PowerFlow Engineering Inc
Precision Iceblast Corp
PSM
Rochem Technical Services
ROMCO Manufacturing Inc
Schock Manufacturing
Sensatek Propulsion Technology Inc
Shell Oil Products
Siemens Energy
Sulzer Turbo Services Houston Inc
SVI Industrial (SVI Dynamics/Bremco)
Tetra Engineering Group Inc
TOPS Field Services
Trinity Turbine Technology
TRS Services LLC
Umicore Catalyst USA LLC
Veracity Technology Solutions
Viking Turbine Services Inc
Voith Turbo
Voom