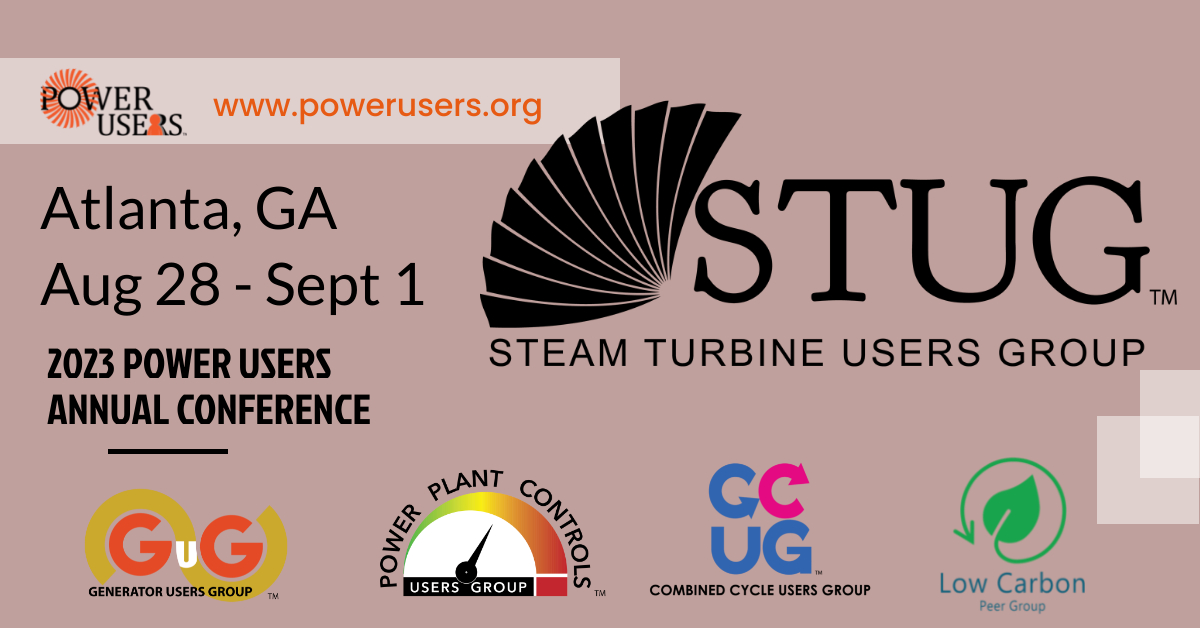 With the 2023 Steam Turbine Users Group (STUG) approaching August 28-31 in Atlanta, part of the greater Power Users Combined Conference, reviewing some of the content from last year's meeting should encourage you to attend or send someone from your organization to experience this valuable content in person. Presentation abstracts below are based on information available only to end users in the slide decks posted at www.powerusers.org. Those seeking deeper dives into specific topics should note the presentation titles in italics at the end of each summary and access the source material on the website.  See part one of the STUG recap series here.
Index of EPRI steam turbine resources
Eric Prescott, EPRI, followed his first presentation (immediately above) with an overview of EPRI's resource locator (released April 2022) for ST/Gs, organized by equipment subsystems (Fig 1)—including steam path, high-temperature rotors and casings, low-temperature rotors and casings, secondary piping and valves, bearings and lube-oil systems, monitoring and control, and others. Resources for each subsystem are then categorized thusly:
Operation, flexibility, and resilience.
Maintenance.
Component health and condition monitoring.
Inspection
Materials and repair.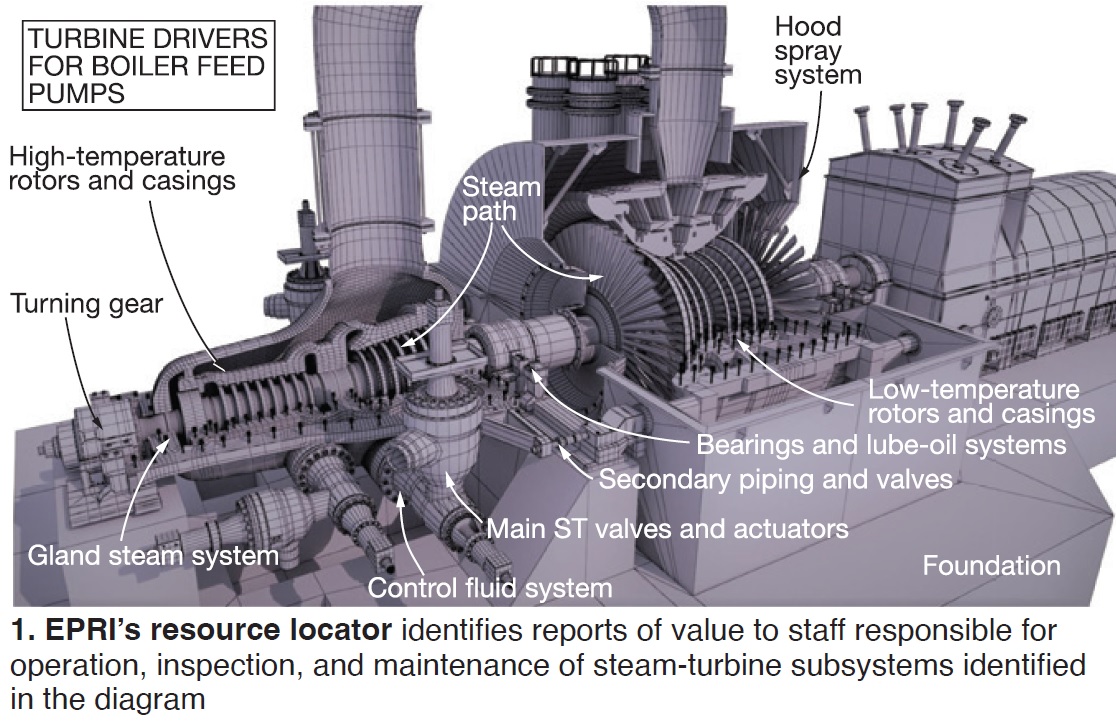 "EPRI Steam Turbine Resource Navigator P219, Steam Turbine and Auxiliary Systems"
Users' top concerns 'entering no-man's land'
The quandary many users feel about their ST/G assets was palpable during the opening roundtable discussion, perhaps best indicated by direct or near-direct quotes:
We're experiencing new failure mechanisms based on operating regime changes.
"Bang for the [investment] buck on combined cycles is really low."
We have a 21-year-old ST/G with 40,000+ hours that's never been opened.
We've entered "into a no-man's land on some of this stuff—we have no data points in our fleet."
"I'm worried about 'Sanford & Son' engineering being applied to these assets online."
"Old timers' knowledge is no longer available."
"How can we 'feel better' about operating these assets?"
Money for the sunset assets is being deferred, even though their end-of-life dates are being pushed farther out.
Other interests expressed included how best to laser-scan reheat stop valves in preparation for an outage, managing salt-induced damage at outside installations near the ocean, and learning of any experience with a particular vendor's combined HP-IP turbine section. A few users were concerned with future issues like how the need for process steam in carbon-capture systems will change ST/G operating conditions and potentially require new components.
Turning gear, motor reliability may need a fresh look
The almost incalculable value of a great user's conference presentation is learning about a forced outage or safety event that happened at someone else's plant and making sure it doesn't happen at yours. In that category is surely one from the Steam Turbine Users Group (STUG) on turning-gear reliability. The utility presenter was a steam-turbine expert with decades of experience.
There were two important threads woven together in this presentation: (1) A description of a catastrophic failure of a TG motor (Fig 2) at one of his utility's plants, and (2) the larger implications for maintenance, sparing, and even the impact on the industry as a whole.
Regarding the second, the presenter noted that the TG (Fig 3) could be a "pinch point" for ST/G reliability in plants that are, or will be, starting and stopping much more frequently to follow renewables.  It's easy to forget, he added, that the TG probably was designed to operate perhaps 10 times a year, but under future operating scenarios that could increase to 500 or more (multiple starts per day).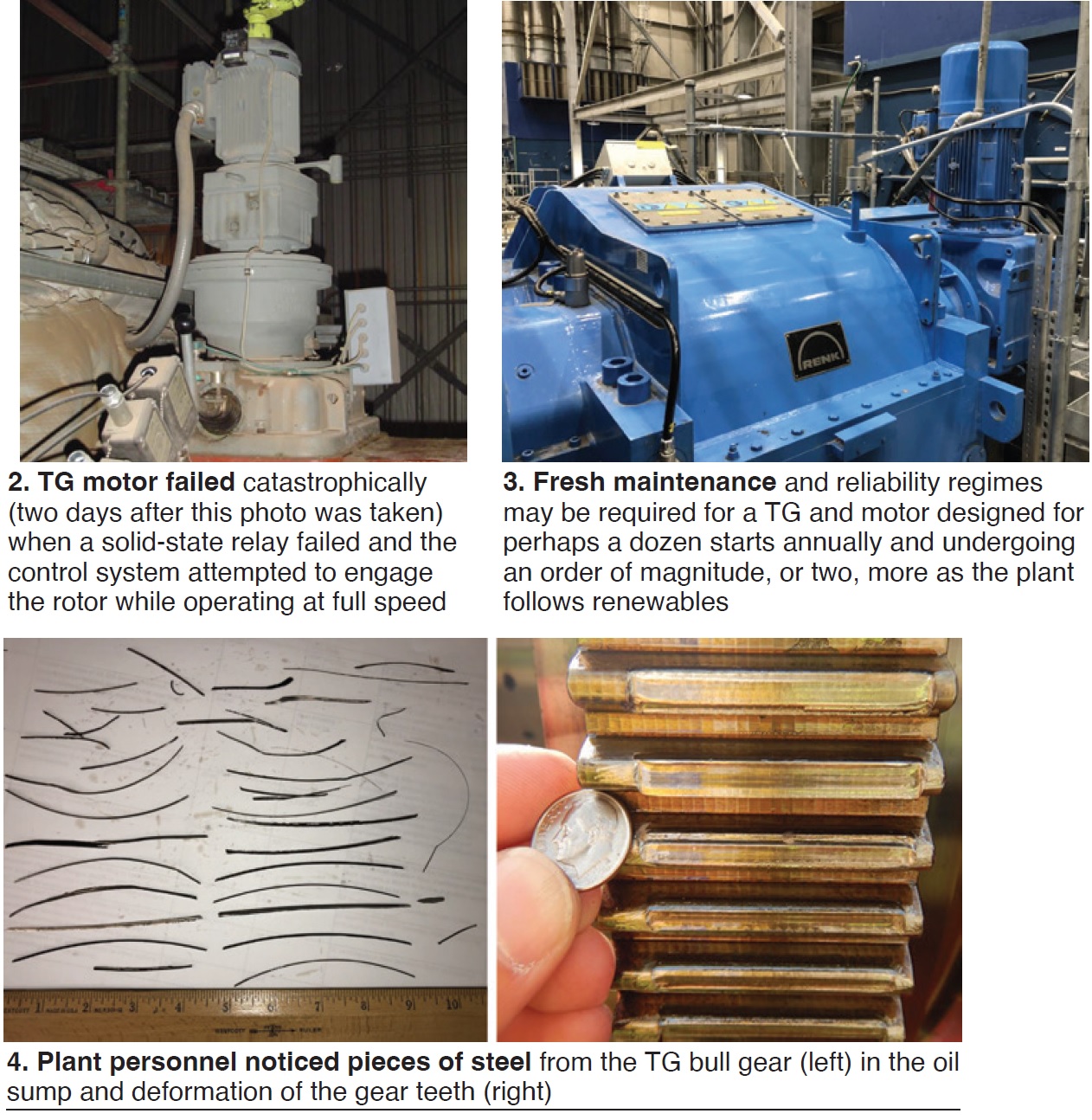 The utility in question has many 40- to 55-year-old ST/Gs from a variety of OEMs. Unfortunately, all four of the utility's steam-turbine experts, each with 40+ years of experience, left under an early-out program. Now the utility is planning to have 16 GW of solar and 5 GW of wind over the coming years. These are conditions familiar to many utilities. But the catastrophic failure of a TG motor caused by imbalance set off alarm bells, especially since a spare motor was not available and the unit was out for an extended period.
In spring 2019, plant personnel noticed pieces of steel from the TG bull gear in the oil sump (Fig 4 left), and deformation of the gear teeth (Fig 4 right). The root cause was determined to be an attempted engagement of the TG by the control system during full-speed operation resulting from the failure of a solid-state relay.
With this event as a backdrop, the presenter then turned to a tutorial of sorts on the function of the TG, basic nomenclature, different types of gearing and motors, motor interlocks, the importance of the air or hydraulic supply in the lock out/tag out (LOTO) boundary, proper tools for rigging a bull gear, and other topics.
Some of the recommendations for adjusting TG maintenance and sparing include:
Have a spare motor, ideally one that could serve several different ST/Gs; spare bull (ring) and pinion (clash) gear; chain (if your unit has one); and several solenoids, even a complete assembly.
Install a black-start unit with permanent reaction arm.
Identify proper tools and their location so they can be available quickly in the event of an unexpected outage.
Discuss issues with operations and visually inspect at least once a year prior to an outage.
Measure and set correct backlash during outage.
Inspect the lubrication system during outages or more frequently.
Pull the TG out during major outages for a complete test.
Have a battery pack to turn the rotor as backup.
To dive deeper into keeping your TG reliable, the presenter suggests obtaining a copy of EPRI Report No. 1019645, "Turbine Generator Auxiliary Systems, Volume 6: Turning Gear Maintenance Guide," published in 2010.
"Turning Gear Maintenance and Failure"
Inspect LP crossover bellows at every opportunity
If you have aging ST/Gs from this particular OEM (check out the slides to find out), be aware that several units with over 100,000 operating hours have experienced significant recent failures of the LP crossover bellows. Two presenters from two different utilities teamed up to describe failures and remedies at three units in their respective fleets (not all are combined cycles). One presenter advised the audience to "inspect these components at every opportunity."
When the staff at one plant pulled the cover and insulation off of an "indoor unit with a generous turbine deck," he described what was found: "It was ugly." At another plant, an unexpected steam leak was heard, although the unit operated for an additional nine days. Cause was determined to be metal fatigue caused by repeated expansion and contraction and steam-pressure stress (Fig 5); no operational data anomalies were identified around the period of the event.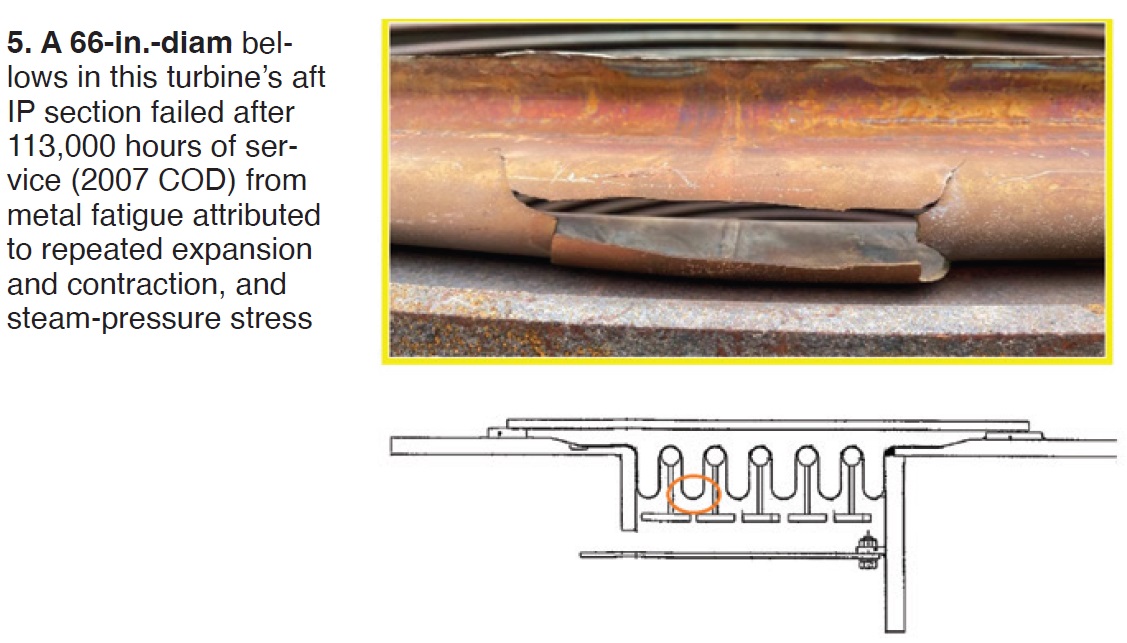 At one plant, the replacement component was upgraded to 2-ply Inconel 625. At another, the 2-ply 16-gage Type 316 stainless steel was upgraded to 2-ply 16-gage Inconel; a third unit ended up with 18-gage Inconel because of supply-chain issues.
These are not the only failures of this component worldwide the OEM has experienced.
"Crossover Bellows—Two Failure Modes"
User roundtable discussion
A variety of experiences were reported during the roundtable following the Day One presentations. One user reported having a bellows in the condenser gland seal piping "fall into the bottom of the condenser only two years after it was replaced."
Apparently, several to many users are experiencing issues with turning gears. Advice passed around the room: Watch amps on the motor; check bearing temperatures – bearing metal temperatures "can be deceiving"; check eccentricity; and pay attention to vibration. One user reported a bowed-rotor event resulting from a TG issue.
Another audience member asked if anyone was experiencing issues with the glands to the exhaust hood of a side-exhaust ST/G.