In today's topsy-turvy world of electric-power generation and delivery anything can happen, and it does. Recall that only a couple of years ago, the OEM with the largest position in the generation sector purchased a major competitor and tried to take by storm the industry's aftermarket business—worldwide. That might have led some to conclude that other companies would shy away from investments in outage, maintenance, and repair activities and there would be fewer options for powerplant owner/operators.
Not true. One example: Doosan Heavy Industries & Construction Co (Doosan), a 123-year-old company with deep ties in power generation, purchased privately held ACT Independent Turbo Services July 26, 2017, renaming it Doosan Turbomachinery Services (DTS) and establishing an aftermarket presence in North America to serve the world. The Korean firm did not have a formal gas-turbine repair group before acquiring ACT.
Doosan had a small footprint in the North American electric-power market at the time, which is why you might not be familiar with the company. But it has been a force in Asia, Europe and the Middle East for decades. Doosan may have been best known here for its fossil-fired boiler and combustion systems expertise and products gained through the company's acquisition of Mitsui's Babcock Energy Ltd in 2006.
More than 90% of Doosan's $16.4-billion revenue stream (2016) is generated by its infrastructure support activities divided among six business groups: EPC, turbine/generator (Sidebar 1), nuclear, power service, water, and castings and forgings. Doosan Turbomachinery Services reports directly to James Kim, director of the gas-turbine business unit in the turbine/generator business group.
1.Turbine/generator development highlights
Doosan was a pioneer in the development of steam turbine/generators, its work in the field dating back 114 years. The company has supplied more than 650 units worldwide (about half of those in Europe) for conventional fossil-fired steam plants, combined cycles, nuclear, etc, with a combined capability of more than 130,000 MW (about half that total in Asia). Milestones include the following:
1904—first steam turbine/generator, rated 412 kW.

1932—first reheat unit.

1965—200-MW reheat unit.

1976—200-MW nuclear unit.

1977—500-MW subcritical unit.

1991—1000-MW nuclear unit.

1993—500-MW supercritical unit.

2005—500-MW ultra-supercritical unit (3625 psig/1050F/1100F).

2007—700-MW supercritical unit, 1450-MW nuclear unit.

2013—1000-MW ultra-supercritical unit.
Today Doosan manufactures steam turbines and generators, and excitation and control systems, for industrial and utility customers with ratings up to 1500 MW (50 and 60 Hz), plus supporting Rankine cycle equipment (condensers and heat exchangers). Manufacturing centers are located in Changwon, Korea, and Doosan Skoda Power in Plzen (A/K/A Pilsen), Czech Republic. Together they can ship units with a combined rating of up to 9000 MW annually.
Gas turbines. Doosan has a gas-turbine manufacturing history that dates back to 1991, when it was licensed by GE. In 2007, it also was licensed to produce gas turbines by Mitsubishi Hitachi Power Systems (Sidebar 2).
2. Gas-turbine manufacturing
Highlights of Doosan's work as a licensee of GE and Mitsubishi Hitachi Power Systems include the following:
1996—two Frame 6Bs for the Hallim combined cycle in Korea.

2000—two Frame 6Bs for a project in Thailand.

2001—two Frame 6Bs for another Thai project.

2008—two M501Fs for the Yeongwol combined cycle.

2011—two M501Gs for the Pocheon combined cycle.

2012—two M501Fs for the Sejong combined heat and power (CHP) project.

2013—three M501Gs for the Hanam & Seoul CHP project.

2014—two M501Gs for the Dongtan CHP project.
Today the company is transforming itself into an OEM, expecting to introduce a 270-MW (60 Hz) engine to owner/operators in 2022. Full-scale/full-load tests are scheduled for mid-2019 to mid-2020 in Doosan's Changwon (Korea) manufacturing facility. Development of a 340-MW (60 Hz) H-class engine is well underway with design completion anticipated about a year after commercial introduction of the F-class machine. Previously the company developed and tested a 5-MW gas turbine/generator which was offered commercially in 2009.
Changwon is an "A to Z" manufacturing facility for gas turbines, as it is for steamers, handling everything from the production of producing castings and forgings through engine assembly and testing. A big plus for gas-turbine customers is the facility's capability in the manufacture of turbine and compressor discs for all legacy engines. Inconel discs are under development.
Changwon's hot-parts shop, equipped for manufacturing and repairs, does coatings, heat treatment, machining, welding, inspection, etc. The full-speed/full-load test rig has more than 3000 sensors to verify gas-turbine operational stability, structural integrity, and performance.
DTS, which opened its doors as Advanced Combustion Technology in 1996, expanded dramatically in both size and capability in the second decade of the new millennium and today has a global footprint among the industry's leaders in aftermarket gas-turbine services (Sidebar 3).
3. Milestones in DTS's history
1996—Advanced Combustion Technology (ACT) opens a 35,000-ft2 shop dedicated to the repair and rejuvenation of mature-frame nozzles/vanes, blades/buckets, transitions, liners/baskets.

2006—Fuel-nozzle flow test and repair facility added.

2010—ACT was sold to private-equity firm and renamed ACT Independent Turbo Services.

2011—Billy Coleman named CEO and president; certified as a Tier-1 advanced F-class component repair facility; 6-axis rapid-hole EDM, 3-axis sinker/ram EDM, and Schenck moment weigh machine commissioned.

2012—Phase 1 rotor shop opened in La Porte. Three Schenck balance machines and a Schenck-ESI static disc balancer installed.

2013—Certified to ISO 9001/OHSAS 18001; Phase 2 rotor shop expansion completed and 100-ton crane added; state-of-the-art stacking pit commissioned.

2014—Repair/upgrade solution developed for 501F two-piece exhaust system.

2015—Phase 3 rotor ship expansion completed; Certified as Tier-1 F-class rotor shop.

2016—Consolidated operations at LaPorte.

2017—Two coating booths commissioned; Doosan acquired ACT and renamed it Doosan Turbomachinery Services.

2018—Discs for 7EA manufactured.
Future plans include a cold-rotor coating facility and final expansion of the rotor building to 420 ft long.
Industrial gas turbine (IGT) component repairs were the company's bread-and-butter until 2012. The editors visited the original shop of the founding owner during a user-group meeting in the mid-2000s and the expanded facilities in the same location near Houston's William P Hobby Airport early in this decade after the company was purchased by an investment group.
The new, high-tech La Porte shop, toured by the editors in February 2018, dwarfs its predecessors with more than 100,000 ft2 of production facilities on an 11-acre site with room to expand (Sidebar 4). ACT had begun transitioning to La Porte under the direction of industry veteran Billy Coleman in 2012 with the opening of what it called its Phase 1 rotor shop.
4. La Porte facilities
Doosan's La Porte complex is divided into five active shop areas, with a sixth set aside for expansion when necessary:
Rotor bay with dual 30-ton cranes.

Rotor high-bays 1 and 2, each with a 100-ton crane and dual 30-ton hooks.

Component repair shop, 30- 10- and dual 5-ton cranes.

Thermal spray coating area with dual 30-ton cranes.
Particularly important to gas-turbine owner/operators are the rotor and heavy-mechanical capabilities added as part of ACT's expansion in the 2011 to 2017 period before the sale to Doosan, and since. Today, the company has a Tier-1 F-class rating by major power producers and ISO 9001 and OHSAS 18001 certifications.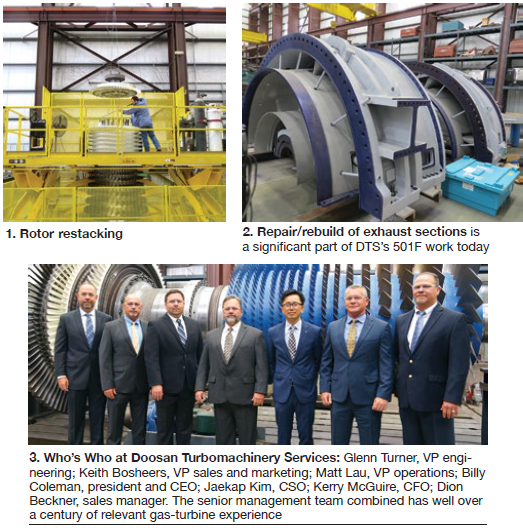 The La Porte team's accomplishments in rotor repair are a source of great pride at DTS. Forty GE rotors, Frame 3s through 7FAs, have been repaired there already—including five 7FAs in 2017, two with complete unstack/re-stack (Fig 1). One rotor had a long history of problems and was running with up to 6 mils vibration. Repairs reduced that to 1.2 mils, validating staff capabilities.
Doosan's first 501F rotor was at La Porte during CCJ's visit. Replacement of the torque tube and air separator were among the action items. Other noteworthy 501F work involves the exhaust system where issues abound, at least according to presentations and discussion at user-group meetings. Seven two-piece exhaust systems, overhauled and upgraded with Doosan's zero-hour mod, have been returned to service (Fig 2).
The management team (Fig 3) stressed DTS's wide range of repair experience on both new and mature engine technologies and its work in developing innovative engineered solutions to solve chronic issues facing users. The following stops were included in the shop tour:
Component repair.
Rotor unstacking/restacking, de-blading/re-blading.
Heavy mechanical—exhaust sections, for example—including rounding and jacking capability, dimensional correction, weld repairs, heavy-duty lifting beams and rigging, specialized fixtures.
New parts, including 7EA and 7FA rotor discs.
Cleaning and surface treatment conducted in large drive-through blast booth.
Rotor balancing up to 175.000 lbs.
Thermal spray booth.
Machining centers with lathes, boring mills (vertical and horizontal), blade tip and surface grinder, etc.
Electrical discharge machining (EDM) and CNC.
Welding booth.
Heat treatment.
Sonic-nozzle flow testing. CCJ