Rerouting plant infrastructure avoids unplanned outages from condenser tube leaks
Challenge. Pasco Cogen began commercial operation in July 1993 as a base-load cogeneration facility equipped with a zero-liquid-discharge system. The site incorporates two GE LM6000s, two Zurn HRSGs, and a 30-MW GE steamer. During its 20+ years of service, the facility has gone from base-load duty to cycling off peak to demand dispatch.
Pasco has always been proud of its excellent availability record, but starting in 2012 during the dispatch era, the main condenser began experiencing a large number of tube leaks which caused unplanned outages to plug the leaking tubes. Staff faced its biggest challenge: How do we continue to operate the plant with condenser tube leaks?
Solution. Pasco had installed water distillation units during its last years of operating as a cogeneration facility. The distillation units were sold off at the end of the first PPA, but some of the infrastructure still remained, which led to the following modifications as described in the diagram:
The 100,000-gal distilled-water tank could be used as an HRSG feedstock reservoir.
The distilled-water tank was cross-connected back to the condensate return tank.
A fill line was routed from the reverse-osmosis storage tank.
An emergency fill line was temporarily routed to the tank from the standby mixed-bed demineralizer.
A temporary chemical feed line was installed at the condensate return tank.
The hotwell condensate system was re-piped to the abandoned distilled-water circ-water return line. This allowed us to divert the hotwell water to the waste-tower heat exchanger when it was contaminated. This also provided extra heat load to help in brine concentration for the ZLD system.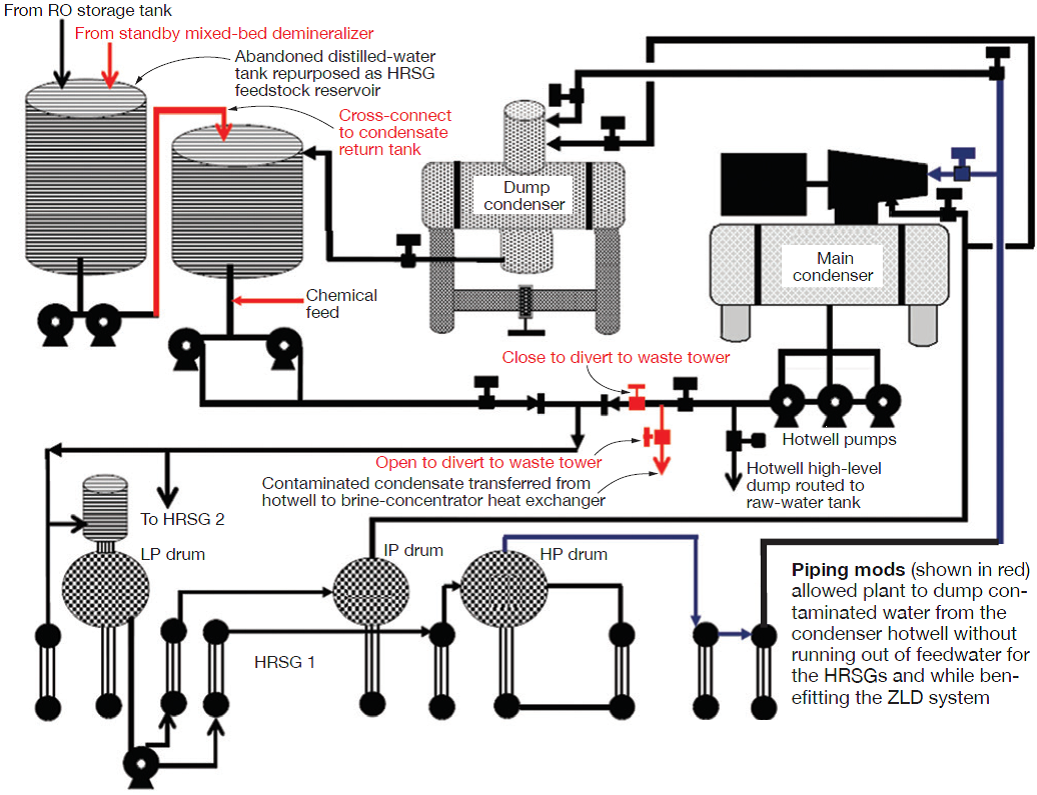 Results. We now had the ability to dump the contaminated hotwell with benefits to the ZLD system without running out of feedstock for the HRSGs. The facility was able to remain fully available during main-condenser tube leaks.
The existing distilled-water infrastructure enabled us complete this project at a very low cost, allowing plant personnel ample time to order new tubes and plan an outage in an economical fashion.
Project participant:
Warren Park, operations manager
Pasco Cogen

Owned by Quantum Utility Generation LLC
Operated by EthosEnergy Group
130-MW, gas-fired, 2 × 1 combined-cycle cogeneration facility located in Dade City, Fla
Plant manager: Richard Christmas