Remove/replace manhole covers safely
Challenge. Keeping plant personnel from being hurt when removing manhole covers and pumping sumps became an area of concern. After an incident where an employee had aggravated a hernia, a safety meeting was held to look at the root cause of the problem. The plant had experienced sprains and strains before, but it was just passed off as "just the nature of the job."
An analysis of the problem revealed that manhole covers were heavier than most employees thought. The fact was they were not lifting them, but just prying them up and then dragging them to the side. However, the position the body has to be in when dragging a manhole cover put a good deal of strain on the back.
In addition, once the cover was off, a sump pump has to be lowered into the manhole to pump out water. Once the water was pumped out the pump, hose, and the water remaining in the hose had to be pulled out. Some of these holes are more than 30-ft deep
The 30-in.diam covers weigh more than 250 lb; The sump pump, hose, and water in the hose can be 100 lb or more.
Plant staff was tasked to find a manhole cover that can stand up to truck traffic and at the same time weigh less than the standard iron 30-in.-diam cover, and to find a better way of removing sump pumps and hoses.
Solution. The heavy manhole covers were replaced with ones made of a newly engineered composite, capable of taking truck traffic, weighing only about 100 lb (Fig 1). The new manholes consist of the cover and an insert to hold the cover. The construction requires that the old cover be removed and the new insert be cemented in with some minor modifications.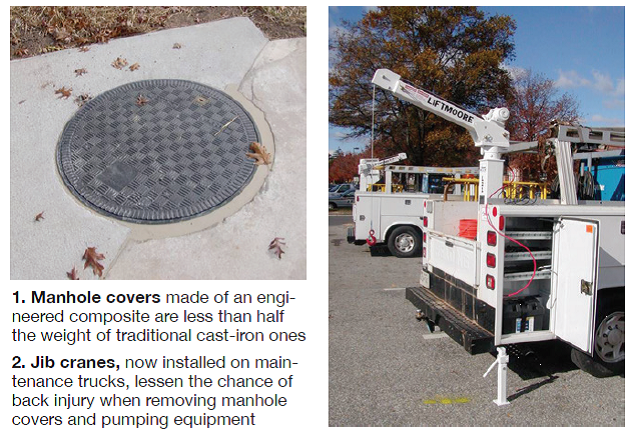 The covers have a locking device so they cannot be removed by vandals. A key is used to unlock this device.
Further, we now place a jib crane on the maintenance trucks so employees can use the jib to lift covers and the sump pump. The crane was engineered to handle loads from the side or the rear of the truck (Fig 2). With the jib the employees can remove the covers and lift the sump pump with almost no exertion.
Results. The jibs on the trucks have made a routine maintenance job of pumping manhole sumps easier and much safer. They do not have to do a lot of lifting and dragging of covers and pumps. In case a manhole has to be removed by hand, the larger manhole covers are now at weights that lessen the chance of injury.
Project participants:
Marc Luncaster, operations supervisor
Dallas Smith, maintenance supervisor
College Park Energy LLC

Owned by the University of Maryland
Operated by GDF Suez Energy North America
27-MW, dual-fuel, 2 × 1 combined-cycle cogeneration facility located in College Park, Md
Plant manager: Gregg Garbesi