Post-maintenance checklist for critical instruments
Best Practices Award

Following the conclusion of these outages, the site had experienced failed starts, unit trips, and forced outages attributed to the misalignment of instrumentation and valves. Lock-out/tag-out programs generally ensure proper system line up, but some activities may leave instrument valves that are easy to overlook or not part of a Loto process in the incorrect position. Challenge. During plant outage periods, the alignment of system instrumentation, valves, and other critical equipment is often altered to facilitate calibration, maintenance, and testing. Because of the site's limited O&M staff, third-party vendors are routinely used to perform required instrument calibrations and valve repair/maintenance. Direct oversight of these activities and ensuring equipment is returned to normal conditions can be challenging for such a limited staff.
Solution. To prevent failed starts, unwanted trips, and additional outage time, the site identified instrumentation and valves critical to plant operation. These instruments and valves were listed in a table that formed the basis for a post maintenance instrument procedure.
The procedure contains a checklist which consists of the name of the critical equipment, the instrument identification number, valve identification number, and the correct valve position. Pictures are included to assist personnel in identifying the correct location, the correct valve, and the correct handle position of these valves.
Results. The implementation of the post-maintenance instrument checklist has eliminated failed starts and unit trips caused by the misalignment of instrument valves. The pictures included with the checklist readily identify the location and correct position of these valves.
Project participants:
Dana French
Bert Wright
'Scratch out' accidents program promotes safety vigilance
Challenge. Complacency can be the most dangerous enemy at any facility. When your site has achieved the pinnacle of safety achievements, VPP Star status and an enviable lengthy safety record, the most logical question is what's next? How do we improve on a great safety culture? Are your employees thinking "I have done this many times with no injuries…?" Do your employees consider themselves "the best" at what they do? It's important to remember, when you are at the top, sometimes the only way to go is down.
Solution. Site employees designed and implemented a program to reward safe work habits. When someone is "caught in the act" working safe or reporting a hazard, the persons involved are awarded a safety scratch-off card, which is similar to a lottery scratch-off ticket. Match two of the scratch-off sections and win one of three levels of awards. The card can then be redeemed at the Safety Office for items ranging in value up to $25.00. The items may include ball caps, multi-tools, flashlights, personal coolers, fire extinguishers, smoke detectors, and more. These items are readily available from a variety of vendors making the program easily customizable to suit any demographic.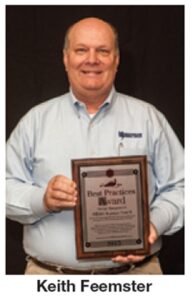 Results. The cards provide instant recognition for safe behavior and hazard identification. They are also very well received by employees and contractors alike. Hazard recognition reports have increased dramatically since the inception of the program and the "buzz" at the site about the program keeps safety in the forefront of everyone's mind.
Additionally, during a recent successful VPP Recertification Audit, the program was reviewed by the inspection team and received positive comments from all concerned. The reasoning is sound, the program does not reward non-reporting of injuries or dangerous conditions. Its pro-active approach motivates employees and contractors to contribute valuable information concerning hazardous conditions, a catalyst for prevention of accidents and injuries. Focusing on leading indicators has always been a key component in any good safety program; stopping accidents before they happen is a benefit everyone can 'live' with.
Project participants:
Todd Candler
Keith Feemster