Four OEMs among the 100 vendors vying for 501F business
Participation in the 501F Users Group annual meeting at the Peppermill Reno (Nev) early next year (Feb 19-23, 2017) is highly recommended for owner/operators of these gas turbines (GTs). The players in the service business are changing and their product/services offerings are evolving—oftentimes faster than you might think (Sidebar 1). It's virtually impossible to do the job company management expects unless you keep up with what the suppliers are doing, particularly the OEM and its major competitors.
The user organization, chaired by Cleco Power LLC's Russ Snyder, has been serving owner/operators for nearly two decades, with the 2017 meeting promising to be the most important since the group's founding (Sidebar 2). There will be special closed-session, in-depth presentations to users by industry heavyweights Siemens Energy, Mitsubishi-Hitachi Power Systems Americas, Ansaldo Energia's PSM, GE Power, and Sulzer. Snyder told the editors, "All owners of 501F equipment will certainly leave the conference with a better understanding of their options in the marketplace for maintaining their equipment."
This will be GE's first participation in the conference, made possible by its license from PSM for pre-2016 501F components and technology. The company aims to impress, a conclusion drawn by the editors from GE's presentation during the recent Siemens F-class roundtable at CTOTF's™ Fall Turbine Forum chaired by Rich Wallen of Oglethorpe Power Corp.
There Jim Masso, GE's engineering leader for non-OEM GTs stressed two goals for this business unit:
Operating intervals of more than 32,000 hours for F-class units. Getting to 32k intervals with HGP hardware is not really the challenge, attendees were told. The proverbial fly-in-the-ointment comes from an auxiliaries' perspective. According to Masso, with the equipment currently installed in the fleet, the 32k interval is not likely achievable. Upgrades are necessary to make gas control valves, compressor bleed valves, etc, more robust.
Total combined-cycle support for equipment and remote monitoring. At the mid-September CTOTF meeting, GE was said to be monitoring remotely six 501Fs; eight more units will be added to that list in 2017.
The company reported it was spending significantly on non-OEM products and services—one of GE's largest investment areas over the next several years. Today, it has over 300 engineers dedicated to non-OEM engines. The speaker said the company has repaired three 501F engines thus far, and acquired a significant amount of hardware to meet its market objectives.
Looking ahead, GE says it plans to offer in 2018 a 501F Advanced Gas Path (AGP) upgrade solution similar to the one it has for the 7FA. The company already has nailed down casting slots to ensure a well-established supply chain. New parts for the 501F hot gas path (HGP) will be available next year.
Additional topics likely to be included in GE's presentations at the 501F meeting are parts health management, rotor life extension, and Aeropac rewinds. Regarding parts health management, the company is rapidly gaining commercial operating experience with LifeSight, a wire-free strain/creep sensor permanently affixed to the surfaces of parts—such as compressor blades—which indicates strain beneath the sensor. Data are retained for trending.
1. Competition for 501F parts, services heats up as OEMs reshape their companies
If you're a relative newcomer to gas-turbine O&M, you might not be aware that Westinghouse and Mitsubishi collaborated on the development of the 501F gas turbine—that is, until Siemens purchased Westinghouse in 1998.
Mitsubishi, at the time a virtual unknown in the North American electric-power community, responded to market demands by launching Mitsubishi Power Systems Americas (MPSA) in 2001 with six employees. Installation of world-class manufacturing facilities followed, and a merger of the thermal power generation businesses of Mitsubishi Heavy Industries Ltd and Hitachi Ltd in February 2014 created what today is Mitsubishi Hitachi Power Systems Americas (MHPSA)—an entity that includes MPSA, Hitachi Power Systems Canada, Mechanical Dynamics & Analysis (MD&A), and Hitachi Power Systems America. MHPSA has more than 2000 employees.
On a somewhat parallel path, PSM, which formed in 1999 and was purchased by Calpine Corp at the end of 2000, began developing replacement hardware for its owner's fleet of 501Fs. A few years later the company started selling parts to other 501F owner/operators.
OEM Alstom purchased PSM in 2007 and grew the latter's parts and services business dramatically. In April 2014, GE announced its intention to purchase Alstom. After reviewing the proposed acquisition for more than a year, the US Dept of Justice and the European Union announced in September 2015 that GE could buy Alstom, but it could not own PSM.
The highly regarded parts/services provider was then ring-fenced in a separate organization, with an independent manager to oversee its business as GE and Alstom completed their negotiations. From Sept 8, 2015 through Feb 25, 2016, PSM technically was owned by GE/Alstom, but those companies had no involvement in PSM's business during that time. On February 25, Ansaldo Energia, an Italian gas-turbine manufacturer, purchased PSM from GE, retaining the entire catalog of intellectual property for its product portfolio.
As part of the antitrust rulemaking, GE received a license limited to certain historical PSM intellectual property related to aftermarket services for Siemens and Mitsubishi gas turbines—not PSM's solutions for GE engines. Thus today, Ansaldo Energia's PSM retains all intellectual property, documentation, people, and assets to support its 501F and 7FA customers and the company continues to offer all products, services, and technologies previously available.
The bottom line: In only 15 years, 501F owners went from having two suppliers of capital parts and major shop services to five, with Sulzer developing its own line of 501F offerings independently.
With hours and starts piling up on 501F engines, owner/operators of units about 15 or more years out from COD become concerned about rotor mortality. What to do? Chairman Snyder told the editors the board of directors is encouraging discussion of rotor-shop service options in Reno by the industry heavyweights identified above so users can compare vendor offerings.
To assist owner/operators, one 501F board member compiled the table of rotor service options (below) based on presentations by the major players to these users over the last few years. This is particularly valuable for 2017 conference-goers because they can pencil in changes during the meeting and have an up-to-date reference before returning to their plants.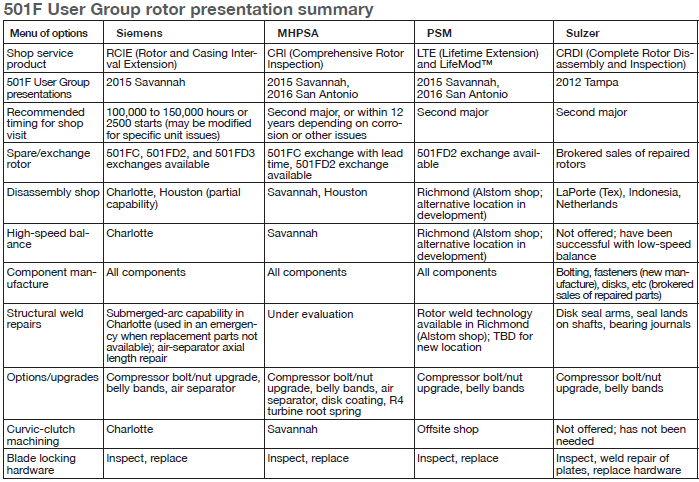 Of course, attendees will have to add GE information, this being its first 501F meeting. And PSM information might have changed some since last year. The company's acquisition by Ansaldo Energia was not completed until after the 2016 conference and updates are likely on the location of the rotor disassembly shop, high-speed balance capability, structural weld repairs, etc. The presentations referenced are available to 501F users on the organization's website at http://501f.users-groups.com/.
2. 501F Users Group: Serving owner/operators for nearly two decades
The need for users to share their collective knowledge on the 501F engine became evident to a few owners having their proverbial "skin in the game" as the sun set on the last millennium. O&M data were coming from the first 501F engines to enter commercial service (1993) at Florida Power & Light Co's Lauderdale Generating Station and closer examination of it and other fleet experience was warranted.
The first gathering of 501F users was conducted at Dynegy Inc's Houston headquarters building in 1999; about half a dozen interested parties attended. Host Bill Barras, director of parts and technical services for the independent power producer's gas-turbine fleet at the time (today he is associated with EthosEnergy Group), recalls that participants included Pete Sobieski, Craig Beers, and Jim Beckett—all with Calpine Corp then—and Paul Tegen of Cogentrix Inc. Barras says Dynegy and Calpine together had several dozen 501Fs on order, in construction, or in startup when the group met.
The second meeting, also at Dynegy, drew about 20 participants and was chaired by Barras and Tegen. Both also chaired the third meeting in January 2001 at Reliant Energy's El Dorado combined cycle in Boulder City, Nev (renamed Desert Star Energy Center by the current owner, San Diego Gas & Electric Co). Tegen remembers high interest in the 501F drew 75 or so users and more than a dozen Siemens reps to the relatively small conference room where attendees were sandwiched in elbow-to-elbow.
Tegen was elected chairman of the 501F Users Group and conducted the 2002 meeting at the Hilton in Walt Disney World. He continued to chair the organization until mid-2010, succeeded by the incumbent chairman Russ Snyder. Tegen continues his affiliation with the all-volunteer group as vice chairman (Sidebar 3). In 2014, Snyder spearheaded an initiative to incorporate the group as a 501(c)(6) non-profit. That was completed in May 2014.
The 501F Users Group grew quickly in both size and importance from that point on. Today it is among the largest user groups supporting owner/operators of gas-turbine assets. A typical meeting will attract 125 or more users, about 100 exhibitors, and approximately 50 vendor presentations in addition to the special sessions conducted by the OEMs and major third-party suppliers.
Safety
Review of safe work practices never gets old; there's always something to learn. Over the last decade, safety has taken hold as a "religion" on the deck plates. Virtually no maintenance activities are undertaken today without a safety review—at US plants at least.
Evidence of safety's importance among owner/operators: Safety entries in CCJ's annual Best Practices Awards program often outnumber those in any other category. Plus, several user groups, such as the 501F, begin their meetings with a safety focus. And OEM sessions at user group meetings often start with a presentation on the company's commitment to safety.
The last several 501F User Group meetings have begun with a nominal hour-long open discussion on safe work practices and accident avoidance. Chairman Snyder finds the safety discussion a good means for getting the meeting off to a fast, positive start. Every attendee can participate with either a question, or suggestion of a best practice adopted by his or her plant.
A little bit of preparation on the part of attendees can make the opening session a particularly valuable experience for all. Think about safety lessons learned, accidents avoided, near misses, best practices, etc, at your plant in the past year and make a couple of notes. When Snyder encourages participation from the floor, raise your hand, stand at your seat, wait for one of the meeting directors to hand you the portable microphone, and share your experience. No, you don't have to go to the front of the room and make a presentation. Just share facts, results, and positive actions.
One topic in Reno is almost sure to be slips, trips, and falls. Collaborative plant audits are valuable for identifying hazards. Ask a few experienced O&M personnel from neighboring plants to audit your facility. Fresh eyes are all it often takes to make your plant safer. After a while, he said, you may not realize you're stepping over hazards.
The robust, interactive safety session at last year's conference added to the group's best-practices experience. Some of what you read below may seem like "old school." If so, that's probably because of your industry experience. Important to keep in mind: Nominally half of the user attendees at every 501F meeting (by show of hands) in recent years were first-timers. For many of them, most of following ideas were new.
The session began with some attendees contributing safety incidents, including the following:
Scaffolding knocked out of position by a bump during cleanup created an unsafe condition. Person from another site opened the compartment door without permission, got knocked down (air pressure was a contributing factor), and was seriously injured.
LOTO signage was removed by a contractor involved in a valve test and not replaced. The violation was noticed by a plant employee and the job was shut down to re-educate the contractor's personnel.
In a filter house, the grating between levels was removed to pass through replacement filters. It was never replaced and a worker fell to the next level.
Contractor was moving material with the small hook of the turbine-hall crane but did not raise the main hook to a safe height. No personnel were injured but a truck was damaged.
A user reported a rash of bumps by forklift operators who backed up into just about everything over the previous 18 months or so. Another attendee said his plant had a similar experience and that almost all accidents were backing ones. Discussion ensued with a couple of plants saying they have a spotter policy (shotgun person is on the ground, not sitting on the forklift). However, even with spotters some accidents occurred. Flags were said to help, but even they were not foolproof.
Reinforce the notion that "safety over all," environment second, everything else further down the list.
A point was made that almost all accidents have a human-error component at some point in time.
An interesting stat based on plant experience: More employees miss work from injuries at home than at work. Some plants conduct interactive sessions on home safety because of this.
Proper fit-up of safety gear is important. One size doesn't fit all. Example: Eye injuries can occur from dust blowing under safety glasses. A demonstration revealed one person could put his finger between his face and the frame of his glasses while another had trouble putting a piece of paper under it. CCJ