Sometimes the biggest problems are the ones we can't see.
Presenters
Vaughn Watson, Dir – Power Retrofits, CECO Peerless, 214.668.1014, vwatson@onececo.com
Jeff Broderick, Dir- Retrofit Sales, CECO Peerless, 203.610.4673, jbroderick@onececo.com
Whether you're operating a combined cycle power plant, or a large steam turbine facility, equipment and environmental protection is vital, requiring quality partners that manufacture innovative technologies to sustain plant efficiency and decrease outages.
The rise of renewable energy has required creativity from power plants as they look to comply with emissions regulations. Plants are now having to maintain emissions compliance while the unit is ramping up. They need to be able to turn on their gas turbine as quickly as possible while still meeting emissions.
CECO Peerless manufactures a suite of next generation technologies that can help you maximize efficiency within your plant. Our first featured technology, Rapid Advantage SCR ("RASCR™"), can reduce auxiliary load by as much as 80%, enabling you to see a full return on investment in as little as 12 months. The second, EDGE™ Ammonia Injection Grid , improves ammonia distribution to minimize "plugging," enabling you to maximize NOx reduction, minimize NH3 slip and reduce ammonia consumption
by up to 40%.
PRESENTATION TAKEAWAYS
1. Understand areas of an SCR system that can cause performance issues
2. Understand the mechanics of ammonia injection grids and how to avoid plugging
3. Understand impacts of load changes and frequent starts on SCR performance and how next generation technology can address it
4. Learn from in-depth case studies where AIG upgrades improved SCR performance
ABOUT THE PRESENTERS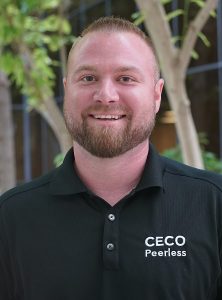 Vaughn Watson, Director of Power Retrofits, CECO Peerless
Vaughn is responsible for the launch and integration of Peerless' new product lines, as well as a specialist in complicated retrofit projects. Vaughn also heads up Commissioning and Field Services team as well as the Spares division. His expertise in the pollution-control technology, as well as his mechanical and construction background, has aided Peerless in support of many of the largest projects in the company's history.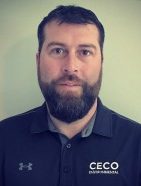 To complement his 10+ years of experience in engineering and sales, Vaughn is working toward further expanding his skillsets to better the company.