Challenge. The plant experienced repeated digital control system (DCS) failures which were attributed to its human machine interfaces (HMI). The facility needed to eliminate HMI failures and provide for greater reliability, efficiency, and flexibility. The HMI machines were primarily desktop personal computers. Analyzing the failure records showed the two main causes for the failures were hard drives and power supplies.
Solution. The plant optimization team, consisting of operators and maintenance personnel, worked to identify the cause of HMI machine failures. The team implemented the Six Steps for Continuous Process Improvement approach to correct the problem.
This process encourages employee involvement in the development of recommendations for management. The six steps include: (1) defining and mapping a process, (2) defining process measures, (3) setting process targets, (4) analyzing the process, (5) improving the process, and (6) feedback on the process.
The Six Steps process improvement system was successful because the approach engenders a "team" atmosphere and encourages both managers and hourly employees to share their system knowledge. Actions taken included:
Move the machines from the control room operator desk to the DCS room next to the control room.
Use "server" class machines with more robust or redundant power supplies (Fig 1).
Some machines required "RAID hard-drives" for added reliability.
Use keyboard/video/mouse (KVM) switches to provide the input devices in the control room (Fig 2).
Install quad-monitor video cards in the machines.
A contractor provided training and guidance to I&C technicians during the installation process.
Purchase an external USB hard drive of sufficient size to back up all machines and be stored in a fireproof safe away from the server rack.
Two separate UPS power sources were pulled to the server rack and the servers were split to eliminate single-source failure points.
Numerous ethernet cables had to be pulled from the control room to the server rack.
Results:
The HMI rack is in a clean air conditioned space.
The servers are neatly organized and labeled.
All machines have KVM switches that are installed in a way to enable easy replacement, if required.
Initial planning of cable pulls allowed color coding to segregate the DCS KVM cables, Mark VI KVM cables, PLC KVM cables, and ethernet cables.
Easier HMI troubleshooting and maintenance.
Increased reliability and efficiency.
Key project participants:
Sam Graham, maintenance manager
Ed Puskaric, I&E technician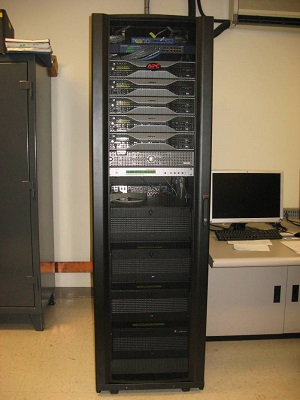 1. Use of "server" class machines with more robust, or redundant, power supplies was critical to success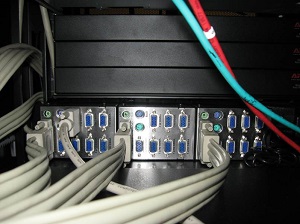 2. Keyboard/video/mouse (KVM) switches link to input devices in the control room