Orange Grove Energy
Owned by J-Power USA Development Co
Operated by NAES Corp
96-MW, gas-fired, two-unit peaking facility located in Pala, Calif
Plant manager: John Hutson
Challenge. The controls network for Orange Grove Energy (OGE) was antiquated. Old software and a complex structure exposed it to breakdowns and outages, which were attributed to the lack of redundancy and knowledge on how to restore lost components (figure). OGE's control room was home to eight displays and five stations equipped with a computer, keyboard, and mouse. Additionally, there were another four HMI displays, keyboards, and computers at the facility for the OMTs.
Solution. The entire OGE control system was converted to virtual machines (VMs) running from a single Microsoft hypervisor. The VMs include balance of plant, CEMS, historian, engineering workstation, ADS, domain controller, and surveillance-camera server and workstation. To make this virtual system redundant, there are two workstations that use a remote desktop to control the VMs and two hypervisors that replicate the VMs between each other.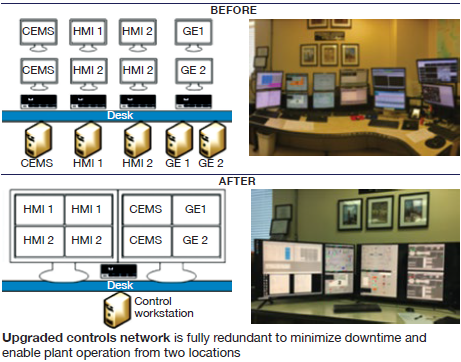 The two workstations can operate the plant concurrently and independently of one another. In the unlikely event that one of these VMs should fail, the VM can be recovered by either starting the replicated VM from the other hypervisor or even restored from a nightly backup.
Results. Orange Grove now depends less on hardware upgrades and maintenance since the VMs are running from a newer robust server. This is a fully redundant system to minimize downtime and operate the plant from two different locations. As an added benefit, staff can access the VMs from a remote location for troubleshooting or remote plant operation. The control room workspace is much cleaner, less noisy, and requires less power and space since there is only one workstation, keyboard, and mouse as opposed to five.
Project participants:
John Hutson, plant manager
Ramiro Garcia, compliance manager
Anthony Moretto, lead O&M technician
Al DeLuna, Gregg Stephens, and Paul Braemer, O&M technicians
Vince Torrey, JPUSA, senior director IT
Regan Stricker, JPUSA, assistant director IT
William Taylor, JPUSA, director asset management