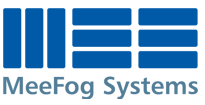 Company: Mee Industries, Inc
URL: www.meefog.com
Contacts
Thomas Mee
CEO
thomas.mee@meefog.com
626-485-8381
John Mee
Marketing Manager
john.mee@meefog.com
626-485-8392
About Mee Industries
For over 50 years Mee Industries has led the world with innovative water fog technology. MeeFog™ systems are used to humidify and cool many industrial, commercial and agricultural processes and to create interesting and dynamic special effects. Today there are over ten thousand MeeFog™ systems in use around the world. The MeeFog team looks forward to helping you with your fogging project.
MeeFog™ System Benefits:
Fog Cooling Increases Output by 20% or more
Wet Compression Fogging Provides Additional Boost
Also Reduced NOx Emissions & Improved Fuel Economy
Products and Services
At the heart of a MeeFog™ Inlet Air Fogging System is the highly engineered and precise MeeFog™ nozzle, which atomizes water into billions of microfine droplets below 10 microns in size. Droplet size is the single most important factor governing fog system performance. There's a reason that Mee is the inlet fogging industry leader. Mee generates proven results. Fact: A MeeFog™ Inlet Air Fogging System will increase your gas turbine power output at a fraction of the cost of new power generation equipment. As the original developers of inlet air fogging technology, Mee Industries will increase your gas turbine power output, period. Since 1990, we have installed more than 1000 gas turbine inlet cooling systems in power plants, processing plants and gas pumping stations worldwide.