Best Practices Award
Colusa and Gateway Generating Stations
Pacific Gas and Electric Co
Colusa: 660-MW, gas-fired, 2 x 1 combined cycle located in Maxwell, Calif
Gateway: 600-MW, gas-fired, 2 x 1 combined cycle located in Antioch, Calif
Plant managers: Ed Warner (CGS) and Benjamin Stanley (GGS)
Challenge. A comprehensive chemistry program in a combined-cycle facility is key to avoiding long term issues and unexpected outages. The challenges for modern, air-cooled plants include high iron transport from the ACC process, flow-accelerated corrosion (FAC), and constant dynamic load changes and cycling which make it difficult to maintain chemistry within limits.
Solution. To address concerns on the overall effectiveness of its chemistry programs, PG&E engaged with industry experts at WorleyParsons Ltd, Sydney, Australia, to perform a steam-cycle performance assessment. It examined several areas of the plants' programs including these:
Chemistry program management.
Statistical reconciliation.
Optimizing ammonia/MEA feed to minimize FAC.
Steam-cycle corrosion product.
Online analyzer reliability.
A WorleyParsons technical consultant worked with the O&M teams from both plants to develop assessments for each area. Program components are scored using a weighted scale so team members understand what the most important items are and what areas need the most focus and improvement (bar chart).
In addition to the assessment, plant staff implemented the following action items:
Update of cycle-chemistry and chemistry program manuals.
Initiated a quarterly sample-panel preventive maintenance program supported by the panel vendor.
Upgrade of the plants' chemistry logging systems to the latest web-based version.
Purchase of new analytical equipment to better understand the condition of the plants' closed- loop system chemistries.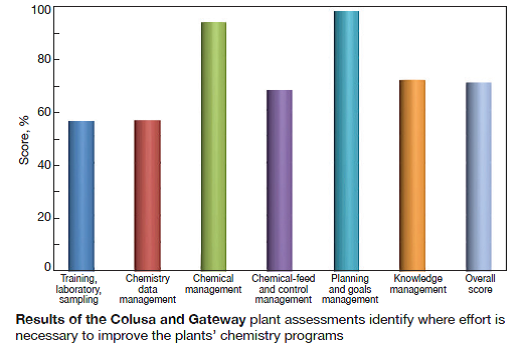 Results. The steam-cycle performance assessment provided a detailed review of the overall chemistry program. This helped guide the plant staff to critical items for focus and improvement in the plants' chemistry programs. This will reduce maintenance costs in the future as the programs, policies, and processes are optimized.
Several recommendations were made, and are being actively addressed, from the initial assessments to help improve the programs. For both facilities these included:
Create chemistry training program.
Assign training-program owner.
Create analyzer calibration monitoring program.
Perform annual safety audit for chemical feed systems.
Create system survey.
Start work on cycle chemistry manual.
Require operator action for out-of-range readings.
Logsheets: create limits for "record" parameters based on normal values observed.
Water-quality diagrams: review and then make available to plant chemistry personnel.
Logsheet limits: update limits as recommended in the consultant's report.
Consistent limits: update plants' chemistry software, chemistry manual, and logsheets so that limits are consistent in all locations.
Backup plant-chemistry databases at least monthly.
Create knowledge-capture program.
Create a monthly compliance report.
Optimize ammonia/amine feed.
Use specific conductivity to monitor and control condensate pH.
Add deviation calculations to monitoring software for conductivity and pH analyzers.
Check calibration of all pH and conductivity analyzers at least weekly using a calibrated handheld meter.
Change cation resin when at least 10% active resin remains.
Address issues with dissolved oxygen monitoring, monitor and record air in-leakage, perform dissolved oxygen wet tests, and find/fix leaks to maintain condensate dissolved oxygen content at less than 20 µg/l.
Eliminate dissolved-iron tests; they provide little value.
Perform suspended-iron tests daily on the condensate after chemical feed, and at least weekly on the LP, IP, and HP drums.
Install online corrosion product transport monitoring of the condensate/feedwater after chemical feed and the LP, IP, and HP drums.
Update target ranges in accordance with the statistical analysis.
Project participants:
Stephen G Royall, director of fossil and renewables
Ed Warner, senior plant manager
Ben Stanley, senior plant manager
Entire CGS and GGS plant staffs