Engineer development and retention program
Best Practices Award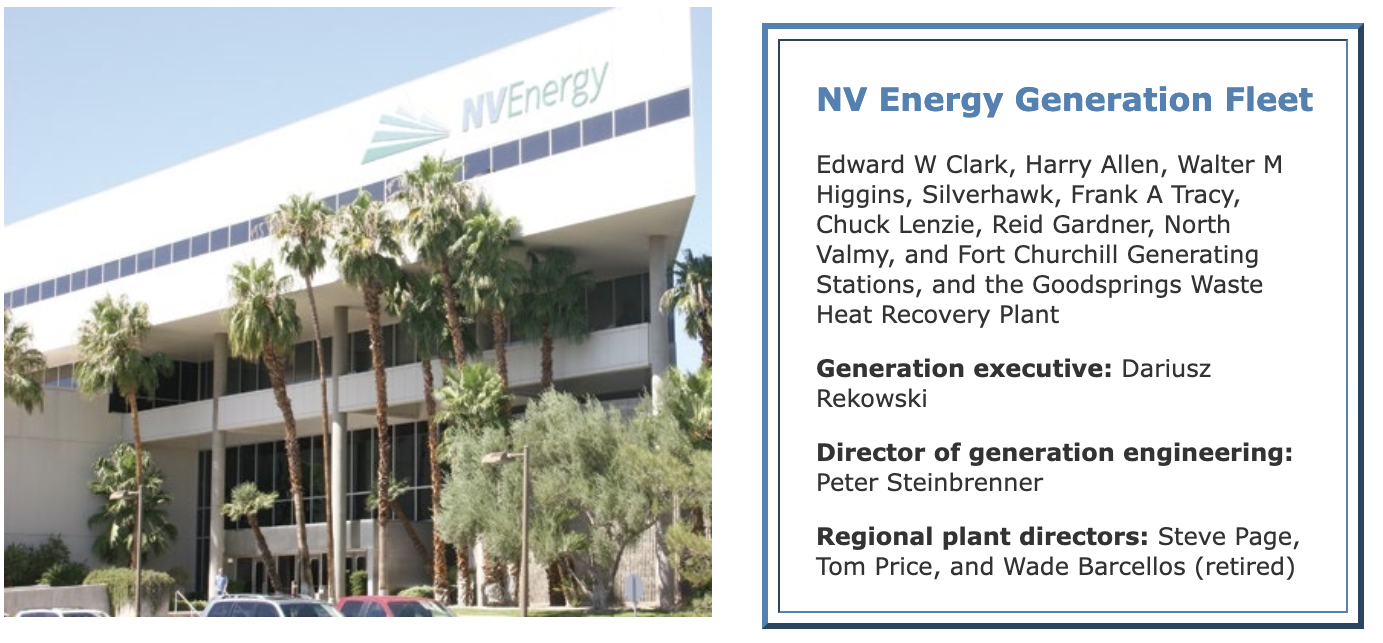 Challenge. Strong, sustainable technical capability is critical to ensure the reliability of NV Energy's power-generation fleet, to help the engineering team achieve the company's technical goals, and to benefit the company's customers throughout Nevada. Competition is keen for engineers with generation experience and the pool of individuals with this background is shrinking throughout the US.
Similar to most power-generation entities, NV Energy worked to develop its own engineers by hiring college graduates and then rotating them through various engineering experiences. But, the company continued to encounter the frustration of providing three or four years of technical experience, and then watching as many were hired away for a slightly higher salary or promises of more engaging engineering work.
For these reasons, NV Energy decided to embrace a specific Engineering Development Program that:
Develops new engineers through training and work experiences while working outside of a traditional engineering office environment and in a specific assigned powerplant.
Provides multiple paths for advancement and clearly lets the new engineers know what to expect during their training and development program.
Clearly lets them know what possibilities exist for engineers who stay at NV Energy.
Provides a mentoring system to guide the engineers during their development growth and as they navigate through future career decisions.
Creates a personal reference manual that each engineer can use during their development to track their progress and better envision their potential.
Offers an additional recruiting tool for potential new hires, as they realize that NV Energy values their schooling and will help shepherd their growth and chosen engineering career path.
Solution. A team of experienced NV Energy engineers and leaders from engineering, operations, maintenance, HR, and organizational development organized and implemented a process to develop engineers for the generation fleet. The complete engineering lifespan from intern to senior leadership and subject-matter expert positions was included in the Engineering Development Program. Its scope included the following:
Benchmarking of engineering firms and other utilities. A key takeaway from this effort: Most electric utilities did not have structured programs to develop generation engineers.
Developing career paths for the following four areas: subject matter experts, plant engineering, project management, and engineering leadership.
Identifying what experiences are required to move into each type of position.
Identifying skills engineers need to acquire during their development—both technical and non-technical.
Creating technical and functional training programs to support skills-development—including company-sponsored courses, self-taught courses, experience opportunities, and external training resources and mentoring.
Implementing a process to transfer knowledge from highly experienced engineers (internal and external to the company) to developing engineers.
The Engineering Development Program team also focused its efforts to develop a process and a manual for developing current and future plant engineers. The manual clearly describes the process that each engineer must complete as he or she moves through various tracks and promotions. Each engineer completes a qualification card for each promotion step. Once that's done, and after a standard period of time, the engineer can petition to sit befor a review board that will determine if he or she is ready for promotion.
After two years, promising employees become eligible for promotion to plant engineer. Once promoted, they begin completing a new qualification card. During this period, it is expected that they will spend about 30% of their time in training and learning, the balance in performing productive engineering work.
After three years as plant engineer, the employee is eligible for promotion to senior plant engineer. If recognized for a promotion, the employee can choose one of several career paths to pursue—including (1) a staff-level engineering position at a powerplant or in the corporate office, (2) project manager, or (3) operational leadership. These paths are clearly illustrated in the manual. A primary goal of this program is to provide a clear picture of future opportunities to help retain engineers.
Results. NV Energy has had five engineers participate in the Engineering Development Program since it was implemented, with these results:
During the past year, one plant engineer was promoted to senior plant engineer, and one associate plant engineer was promoted to plant engineer.
All engineers in the program are progressing through their qualification process on schedule.
Performance continues to be monitored through quarterly meetings with each engineer, plus interactions with their mentors and their managers.
To date, the retention of engineers within the program has been 100%.
Project participants:
Peter Steinbrenner, director of generation engineering
Jason Hammons, manager of maintenance, Reid Gardner Generating Station
Jesse Murray, manager of maintenance, Frank A Tracy Generating Station
Fatima Bouzidi, manager of maintenance, Silverhawk Generating Station
Josh Langdon, manager of plant engineering, Edward W Clark Generating Station
Katrina Printup, organizational development and performance manager
Ryan Lee, senior human resources business partner