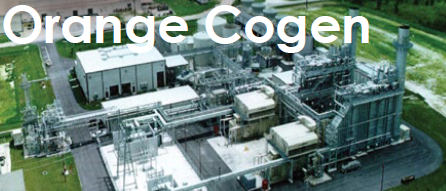 Orange Cogeneration
Owned by Northern Star Generation
Operated by Consolidated Asset Management Services LLC
104 MW, gas-fired 2 × 1 combined-cycle cogeneration plant powered by DLN-equipped LM6000 engines, located in Bartow, Fla
Plant manager: Allen Czerkiewicz
Low-cost thermal imaging camera aids operators during rounds
Challenge. Orange Cogeneration exports power to the local utility and sells steam from its condensing/extraction steam turbine to an orange-juice plant and an ethanol plant across the street for process use. Plant reliability is important.
Like many plants today, Orange Cogen owns a thermal camera for use by technicians in troubleshooting and inspecting various mechanical and electrical issues that present symptoms as thermal gradients.
These cameras are precise and can measure very high temperatures, but they are also expensive and cannot be treated roughly by inexperienced or less than fully trained users.
Solution. Orange Cogen personnel found a small plug-in thermal camera, made by FLIR® Systems Inc, that does not have the full capabilities of the company's more sophisticated models but offers a wide usable range of detection and is relatively inexpensive (photos).
Although designed for attachment to a smart phone, Orange Cogen has mated it to an Android tablet which allows a very large display. Also incorporated into the plant's assembly is a rugged tablet case that has a built-in strap allowing secure one-handed operation. The complete setup cost less than $650, allowing the purchase of multiple devices to outfit the operations staff.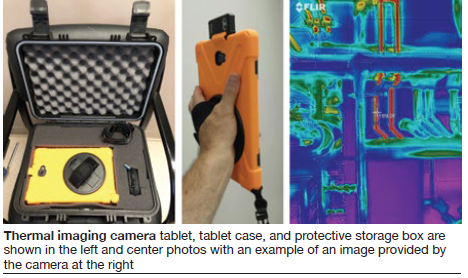 Results. Using this device on normal rounds, operators have found hot spots in the HRSG outer casings, motor bearings that have begun to get hotter than expected, as well as electrical contacts that have become hotter than neighboring phases because of higher electrical resistance. This device also allows the easy capture and sharing of pictures of these identified issues so that follow up with the more advanced unit, if required, can be quickly made.
Best of all, although this system appears to be rugged and the plant has not encountered any issues in operation, management is comfortable knowing that if the unit gets damaged, it will not be too significant a financial burden if replacement is required.
Having this preventive-maintenance tool handy for the operations staff allows personnel to get ahead of any issues that show themselves through thermal variances and gives us an improved predictive approach to Orange Cogen's maintenance activities.
Project participants:
Allen Czerkiewicz, plant manager
Joe Shaffer and Lee Bland, maintenance managers
Jason Wolfe and Jason Leverette, operations managers