Introduction to Nitto Hydrogen Detection Tape
Presenter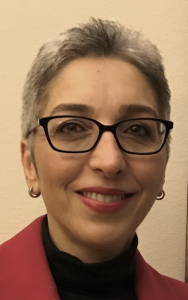 Dr. Nahid Mohajeri, Advanced Polymer Technology General Manager at Nitto, Inc.  
Prior to joining Nitto, Dr. Mohajeri was the CEO of HySense Technologies LLC., the company which she founded with a mission of developing/marketing a chemochromic hydrogen detection tape developed by scientists at NASA-KSC and University of Central Florida.  In 2016, Nitto, Inc. acquired the assets of HySense and by using Nitto's leading cutting edge tape and polymer technologies, the hydrogen detection tape was fully developed and commercialized into a pressure sensitive adhesive tape.
Presentation Synopsis
Hydrogen's physical properties make it the first choice for generator cooling to reduce windage losses and improve efficiency. These same physical properties make it extremely difficult to detect small and even larger leaks. Due to the flammability range of hydrogen and energetic nature, it is essential to detect hydrogen leaks to protect critical plant assets and increase safety.
Nitto Inc. has developed an industrial grade adhesive tape that is able to adhere to components of the hydrogen system that are most likely to leak. When exposed to the smallest amounts of hydrogen, the tape turns black indicating a hydrogen leak. This product has proven successful in some of the harshest environments of typical simple cycle, combined cycle, and fossil fuel facilities that utilize hydrogen-cooled generators.
This webinar will provide information about how hydrogen detection tape can be helpful with the day-to-day operation of hydrogen-cooled generators by not only improving the safety but also the amount of time and labor needed to find the location of hydrogen leaks.  Furthermore, "lessons learned" from multiple field trials of this award-winning product in electric power generation will be discussed.
Key Takeaways for Users
Visually detect hydrogen gas leaks quickly.
Tape quickly changes color, from amber to black.
Detect leaks that contain as little as 1% hydrogen.
Applies as easily as regular pressure sensitive adhesive tapes.
Can be used in most indoor and outdoor environments.
Contacts
Dr. Nahid Mohajeri
GM -Advanced Polymer Technology General Manager
nahid.mohajeri@nitto.com
Peter Cepican
Sr. Manager, Business Development
peter.cepican@nitto.com
CELL: 224-465-6301
John Regner
Business Development Specialist
CELL 312-515-9446
john.regner@nitto.com

Website
Address
9450 W. Bryn Mawr Avenue
Rosemont, IL  60018