Energía del Valle de Mexico l
Owned by EVM Energia SAPI de CV Operated by NAES Corp
100-MW, gas-fired, three simple-cycle LM6000PF gas turbines located near Mexico City
Plant manager: Javier Badillo
Eliminating hazards in lubrication activities for turbine, generator fans
Challenge. EVM l was initially planned as a peaker plant but growing electric consumption forced operation 24/7 during months of high demand. This required that lubrication of rotating equipment be conducted more frequently. To illustrate: The axial turbine and generator enclosure fans, which are mounted vertically and operate continuously, now must be lubricated weekly.
Access to this equipment for lubrication was complicated and dangerous. In addition, it required two technicians to do the work and took approximately two hours to lubricate all the fans serving the three gas turbines onsite. Technicians had to use a ladder, harness, and lifeline to access the fans, making the risk of this activity "high" as determined by a critical-tasks analysis (photo, left).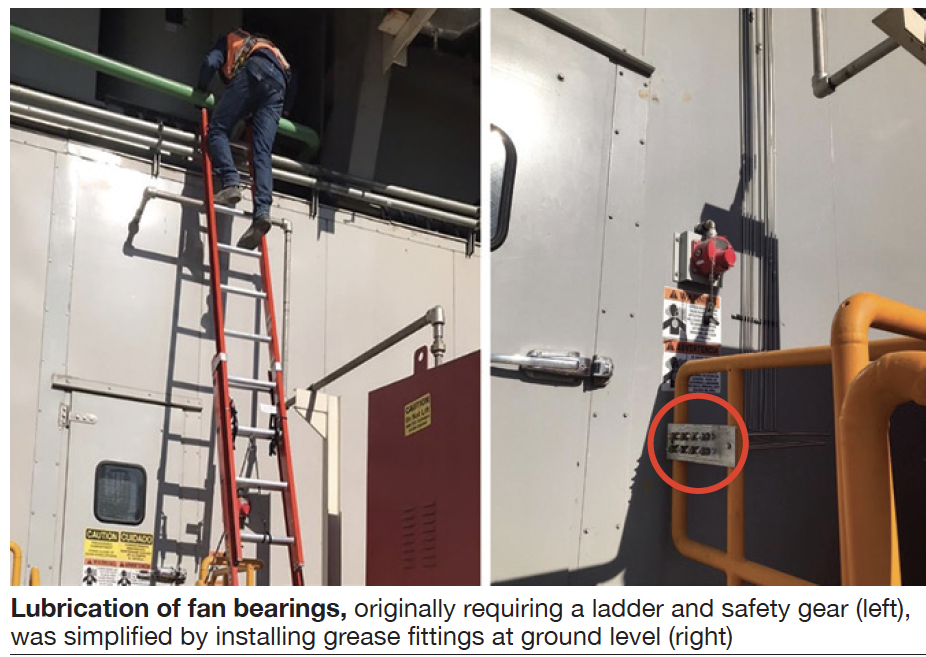 Solution. Goal was to create a way to lubricate the fans that was more accessible to technicians and to reduce the man-hours required for this activity. Staff determined the optimal approach was to place the grease fittings at ground level and guide the grease through tubing to the fan and motor bearings.
To do this it was necessary to design the lubrication system with input from operations personnel to assure installation of the rack of grease fittings (photo, right) was located appropriately. Staff decided to make the connections from the bearings to the rack grease fittings using economical tubing installed by plant personnel, to minimize cost. The project took about two weeks to complete.
Results. This solution eliminates the need for ladder, harness, and lifeline to lubricate fan bearings, thereby eliminating the risks of falls and crushing. In addition, the activity now is performed by only one technician and the lubrication time has been reduced to 1.32 hours per month, down from 16 hours.
Project participants:
Alonso Saldivar, maintenance manager
Andres Hernandez, shift supervisor