Fogging system boosts output, revenue
Best Practices Award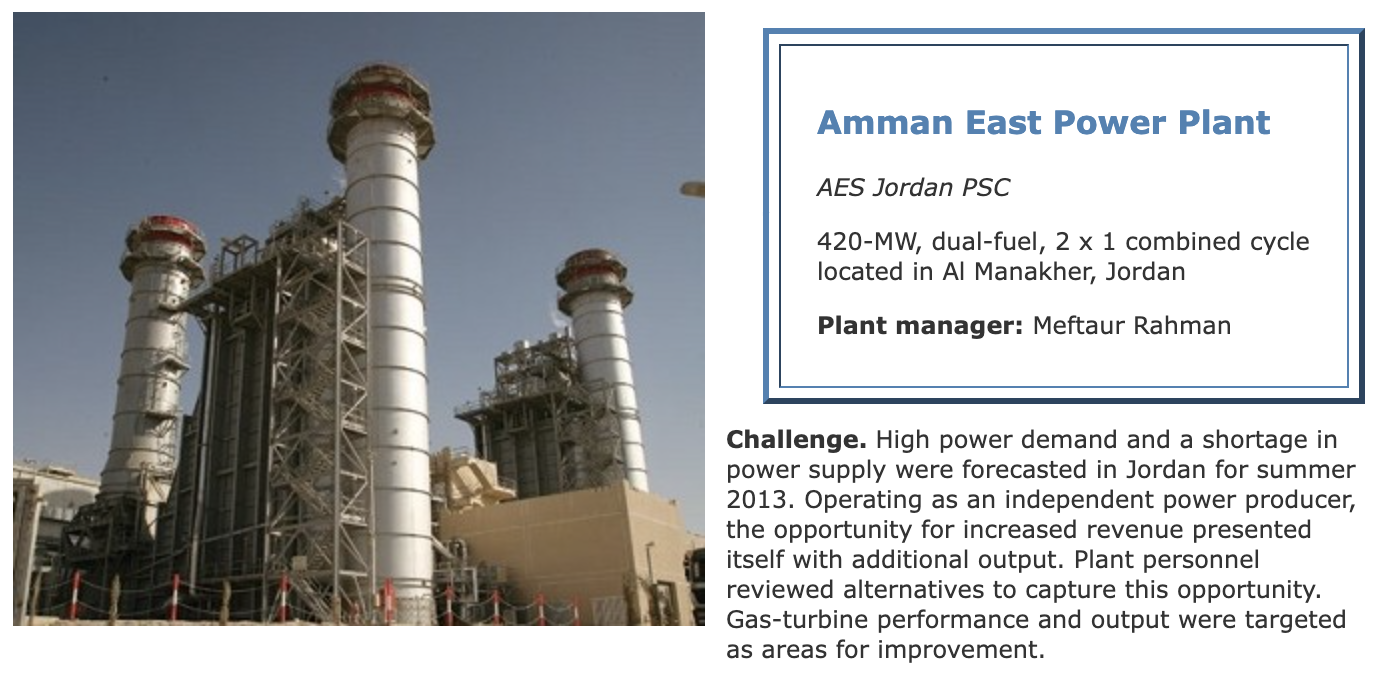 Solution. The main objective was to increase plant revenue and optimize the commercial conditions of the PPA. To achieve this objective, staff reviewed possible areas of improvement, including:
Negotiating the PPA amendment to capture benefit of the existing "extra capacity."
Increasing plant capacity during summer by 20 to 25 MW.
Improving plant heat rate and capturing the commercial benefits.
To increase plant output, management decided to install a fogging system, manufactured by Mee Industries Inc. After a review between fogging technology and chilled water technology, plant staff concluded that the fogging system consumed less auxiliary power, had lower capital costs, a shorter payback period, and could be installed much more quickly. The only drawback was increased water consumption (Figs 1-3).
Results. Fogging-system implementation now is considered a "success story" both inside AES Corp and in the region, as this was the first project of its kind in Jordan. Improvements in plant revenue by increasing capacity and efficiency now give Amman East the opportunity to sell extra capacity during fogging operation. Plant personnel take great pride in the project; the facility is considered an example of innovation and development in Jordan.
Operational data tell the story for the project's success:
Improved heat rate by 28.4 Btu/kWh.
Increased gas turbine output (two units) by 20 to 50 MW, depending on weather conditions.
Reduced NOx emissions by 10 ppm (each turbine).
Other benefits include:
Reduced the plant's equivalent forced outage rate (EFOR).
Improved the plant's commercial position in its PPA.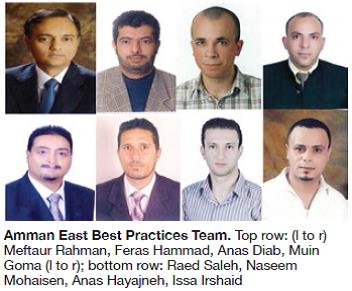 Project participants:
Meftaur Rahman, plant manager
Feras Hammad, deputy plant manager
Anas Diab, performance manager
Implementation team: Muin Goma, Raed Saleh, Naseem Mohaisen, Anas Hayajneh, Issa Irshaid
Water consumption review, optimization
Challenge. Water consumption and conservation is a significant concern for this facility as it is located in a hot, desert environment in the Middle East. Plant's challenge is to manage and maintain water consumption within the water supply agreement (WSA). The daily water use limit for the plant is 250 m³.
Water consumption increased because of several unforeseen and planned events. First, there is a fuel shortage in the country, which changed the plant's operating profile from base-load operation to a daily cycling regime. Then, in June 2013, the plant installed the fogging system referenced in the previous Best Practice to take advantage of revenue opportunities during the summer months when power demand is at its peak. While the use of this power augmentation system provides great benefits in power output but it comes at the cost of increased water consumption.
Other areas of concern that could contribute to a violation of the WSA included:
In-house firefighting system.
HRSG blowdown for quenching operation.
Potable and service water usage.
Irrigation system.
Solution. Plant personnel brainstormed the issues, deciding to conduct reviews of procedures and to examine water usage by system in order to find opportunities for permanent water savings, including:
Review startup procedures for the facility.
Conduct a usage analysis for the firefighting network.
Calculate the raw water used for HRSG blowdown.
Monitor the potable and service water consumption.
Monitor water used for irrigation.
Results. The water use review not only assisted with the conservation of this valuable resource, but also brought about some very beneficial changes that improve the operation of the facility. These improvements include:
Modified of startup procedures and reduced of startup time from six hours to four.
Identified and repaired leaks in the firefighting network.
Installed a pump to transfer water from the evaporation pond to the HRSGs for blowdown quenching, instead of using raw water.
Optimized service-water consumption by performing general maintenance for all restrooms onsite, installing water saving devices where possible, and implementing a water saving awareness session for all employees.
Installed a small water-treatment unit beside the evaporation pond to improve water quality now used for irrigation.
Project participant:
Anas Diab, performance manager