July 24, 1954 – August 14, 2020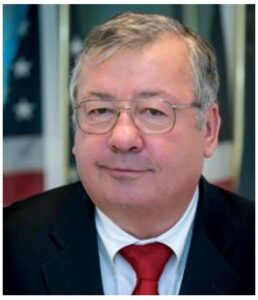 CCJ's editors mourn the passing of their colleague Barry Worthington, a loyal supporter of this journal's editorial mission. Few readers are likely aware of the United States Energy Association, fewer still would recall ever having heard Barry's name. That's because USEA focuses, in a broad sense, on the economics and politics of energy—electricity, coal, oil, gas, renewables—while your core responsibility is to produce electricity from gas turbines cleanly, efficiently, and reliably at the lowest-possible cost. This is important to USEA as well, as it supports the federal government's objective of bringing energy access to millions of global citizens without it.
Worthington, who started his career at Houston Lighting & Power Co after graduation from Penn State with an energy/environmental-centric degree, joined a floundering USEA in 1988. The nonpartisan, non-lobbying organization had two employees and revenues of $200,000; expenses were $250,000. Barry rolled up his sleeves and went to work. Today USEA has more than two-dozen employees and annual revenue in excess of $10 million.
This level of engagement is important to support the organization's worldwide activities. Key among its programs are the following:
Energy Utility Partnership Program provides assistance to utilities and energy companies in developing countries to strengthen their ability to effectively manage, plan, and operate power systems, run financially viable businesses, and integrate different types of energy resources into their power grids. The power sectors of some three dozen countries have benefitted from this program.
Energy Technology and Governance Program helps European and Eurasian countries improve their energy security and integrate energy markets on a regional basis.
The annual Energy Supply Forum assesses the state of energy exploration and production, electricity generation, and energy fuel supply.
Advanced Energy Technology Forum, introduced in 2019, explores the nexus between energy policy and technology development.
There's more, much more, that USEA does—a tribute to Barry's vision and in
credible work ethic. Consider visiting www.usea.org.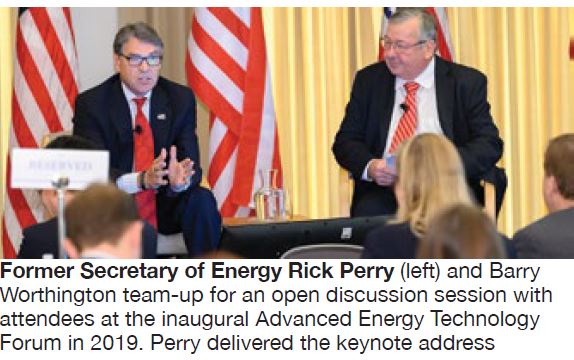 Accomplishments are important, for sure, but perhaps more important is what the energy executives, government leaders, and others who knew Barry thought of the man, the leader, the doer. Hundreds of messages from around the world poured into USEA's Washington headquarters when word of his passing was announced. The following edited snippets testify to the enormity of the industry's loss.
It is impossible to articulate the grief we feel about the loss of Barry Worthington. He was a remarkable leader.
The most extraordinary ordinary man—unpretentious, self-effacing, decent to the extreme, casual, and abundantly capable.
He was a diplomatic yet unapologetic pragmatist.
Barry circumvented political polarity.
He sought common ground among stakeholders, and he valued partnership.
A class act, kind, and giving person; generous with his time, always gracious.
Barry's contributions to the world of energy were meaningful and lasting.
Well-respected in all facets of the US energy industry—and worldwide. His leadership brought USEA to be the preeminent organization that it is today.
Barry's keen intellect, experience, and quick wit will be sorely missed.
Barry's travels were the stuff of awe and legend: off to Beijing, Dubai, or Rio today, back tomorrow. Were there a prize for speed of travel turnaround, Barry would have won it over and over. He was the quintessential family man.
The USEA's work on carbon capture, utilization, and storage has been pioneering.
A tireless advocate for American energy and bringing infrastructure where it was needed most around the world.
He traveled the globe in a nonstop search for consensus and innovation.
Barry exemplified integrity.
An energy-industry legend, incredibly knowledgeable.
He walked with potentates and political savants from across the world and talked with them unaffectedly, as though he was leaning over a neighbor's fence.
You might not talk to Barry for a couple of years, no matter, he was always available to answer your questions or provide needed advice—in the office, at home, or on the road.
—Bob Schwieger