FEATURES

BEST PRACTICES REVISITED: TVGS nurtures deep community roots
Tenaska Virginia Generating Station's prominent and ongoing participation in the CCJ Best Practices Awards program over the last 10 years is as much about technical and equipment improvements as it is about employee and community relations. But it is with the latter that the facility has imprinted an indelible mark of leadership for the electric-power industry.
V GAS TURBINES
New third-party repair techniques, hot parts for V84.2 and V84.3A gas turbines.

HIGH-PRESSURE VALVES: Why you should only buy premium valves
Detailed case history on the replacement of main steam valves for F-class heat-recovery steam generators illustrates the extensive, and expensive, effort required to replace large boiler valves. Likely, it will make you think twice about purchasing valves of any size for new HRSGs, or replacement valves for existing units, based on cost rather than on quality.
CONTROL SYSTEM UPGRADE
Cogen plant's unique approach links legacy control systems.

INSULATION SYSTEMS: Replacing GT insulation promotes safety, speeds maintenance
Insulation can wear out faster than you think, particularly that installed on gas turbines with issues dictating frequent removal of their upper casings. If your unit was purchased during the bubble of 1999 to 2004 and still has the original turbine insulation, consider conducting a thermal survey to evaluate its effectiveness.
GENERATOR TESTING
Developing, implementing an effective generator assessment program.
GAS TURBINES: Six Steps to successful repa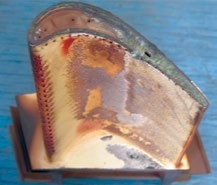 ir of GT components
Step 1: How to assess the condition of GT parts onsite
Step 2: Preparing meaningful component repair specs
Step 3: Selecting the appropriate vendor to refurbish turbine parts
Step 4: Key stages in the repair process
Step 5: Verification during the refurbishment process
Step 6: Verifying final inspection
CONTROL SYSTEMS
Cogen plant controls replacement: 'non-proprietary' is key.
SOFTWARE SOLUTIONS
Make heat-rate models work for trade, bid strategies, too.
USER GROUP REPORTS

501F and 501G USERS GROUPS
Maintain your competitive edge by attending the upcoming Savannah meeting. Coverage includes highlights of safety forum, F users' open discussion session , G users' open discussion session, MHPS presentations, Vendorama.
COMBINED CYCLE USERS GROUP
Focus on HRSGs, piping, valves, and water treatment of value to all owner/operators of combined cycles and cogen plants. Best practices, Individual Achievement Awards, hot walkdown and offline inspections, water chemistry, BOP.
WESTERN TURBINE USERS
Highlights of upcoming 25th Anniversary Meeting; more than 1200 attendees expected.
7F USERS GROUP
Factor HRSGs, steam turbines into smart-start strategy.
PLANTS SHARING BEST PRACTICES
A
mman East Power Plant
Fogging system boosts output, revenue
Water consumption review, optimization
Athens Generating Plant
ACC performance optimization
Developing, implementing comprehensive fall protection
Operator training program keeps staff on its toes
Blackhawk Station
Bearing-tunnel conduit cooling-air mod
GT lube-oil-supply reliability enhancements
Lube-oil system mod prevents fuel-nozzle fouling
Colusa & Gateway Generating Stations


Cycle chemistry program for cycling plants
Job safety analysis (JSA) for every job
Contractor sponsor program
Integrated outage work packages
Corona Cogeneration Plant
'Interactive Plant' tracks PMs, calibrations, documentation, important dates
Granite Ridge Energy
Use new technologies to assess condition of hard-to-access components
Holden Power Plant
Suite of V84.2 durability improvements extends outage, inspection intervals
Kleen Energy Systems LLC
Safety improvements for battery maintenance
Mid-Georgia Cogen
Enhanced enclosure cooling-fan control
Verify proper operation of protection systems
GT air leakage test procedure
Nevada Sun Peak
Plant relocates evap-cooler pumps to improve safety, system reliability
NV Energy Inc
Engineer development and retention program
Panoche Energy Center
Real-time performance monitoring maximizes variable revenue
Pleasant Valley Station
SFC fuse failure mitigation boosts starting reliability
More accurate testing of demin water
Rosemary Power Station
Plant personnel turn workforce attrition into a positive
AROUND THE INDUSTRY
From 501F Users Group steering committee to all 501F Users.
Encouraging STEM education benefits all.
STUG, CCUG to share venue.