Expansion Joint Solutions for 7F CCGT Plants
Presenter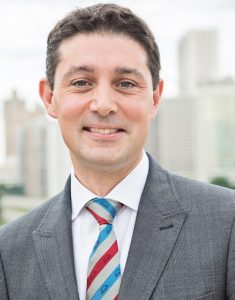 Jake Waterhouse, Group Technical and Sales Director
Jake trained with Allen Gears (within Rolls-Royce Industrial Power Group) and completed a Bachelors of Engineering (BEng Hons) degree in Mechanical Engineering at the Birmingham City University. In Allen Gears he worked as a sales, applications and project engineer for main drive parallel shaft and epicyclic gearboxes. In 2004 he joined DEKOMTE operations in the UK, and is now responsible for managing and developing the UK expansion joint business. Since 2011 has been on the corporate board of DEKOMTE with responsibility for all international business. As a chartered engineer, Jake uses technical ability to deliver specialised solutions tailored to the customers' requirements.
Presentation Synopsis
The reliability of expansion joints in a CCGT plant are key to ensuring flue gas is contained, and the efficiency and safety impacts of leaking flue gas are minimised. The main location for upgrade are the 7F flex seal as the diffuser transitions to cold casing; changing this to a fabric solution gives a longer life and better durability for a cycling plant. The front penetration seals, with high movements present some challenges of integrated joint to casing, liner and insulation system. Other locations include the HRSG inlet and HRSG outlet.
Key Takeaways for Users
Fabric expansion joints designed for Flex Seal retrofit and high cycling.
Penetration Seals with integration to casing insulation.
Fabric Solutions for longer life and better durability; quality is key.
Contacts
Quinn Qualls, Aftermarket Sales Manager, (865) 585-6642, qqualls@dekomte.us
Matt Garner, Sales Engineer, (865) 585 1983, mgarner@dekomte.us
Andrea Hall, OEM Sales & Projects, (678) 313 1922, ahall@dekomte.us
Gareth Owen, Technical Manager, (865) 585 4202, gowen@dekomte.us
Jake Waterhouse, Technical Director, (865) 585 3479, jwaterhouse@dekomte.co.uk
About DEKOMTE
DEKOMTE are renowned specialists in the design, manufacturing and installation of quality expansion joints.
DEKOMTE manufactures fabric and metal expansion joints, which adapt to changes in length due to shifting temperatures in duct work. Axial, lateral and angular movements can also be compensated for.
High movement, temperature with increased cycles create the most challenging applications; these locations separate DEKOMTE technology and experience from a standard fabric supplier.
Founded in Germany in 1978, DEKOMTE has gained 40 years of experience and a worldwide reputation for ingenuity of design and high quality products.
Products and Services
DEKOMTE offer full site inspections, including detailed reports, a thermo-graphic inspection and internal/external reviews. This analysis is invaluable for planning future maintenance works and further plant expansions.
DEKOMTE supplies custom made fabric and metallic expansion joints for all areas of the Combined Cycle Power plant. CT outlet and HRSG inlet joints, HRSG outlet, Penetration seals in metallic or fabric for roof and floor, side wall large movement penetration seals. As well as rubber joints for condensers and metallic hoses and bellows for other ancillary areas of plant.
Casing work, liner repairs and insulation repairs (including on line pumpable insulation system) are a part of DEKOMTE activity to ensure the surrounding and adjacent areas are integrated and in controlled temperature condition to not affect expansion joint reliability.
Website
Address
Suite 335
885 Franklin Gateway
Marietta, Georgia 30067
United States