Catwalk around clarifier makes maintenance safer, easier
Challenge. Rathdrum Power is permitted as a zero-discharge (ZD) facility. As such, the plant does not discharge any process water. Undesirable solids are removed from the various process-water streams by mechanical means in the ZD area of the plant.
An issue with the plant's ZD system was the design of its ageing clarifier. Sodium carbonate (soda ash) carries over and plugs discharge holes around the clarifier's weir (Fig 1). Occasionally plant personnel have to clean the weir and service the sulfuric-acid discharge piping, tasks requiring use of an extension ladder (Fig 2). Putting up a ladder and climbing to the top of the clarifier to tie off the ladder posed safety concerns and was not viewed as efficient use of employee time.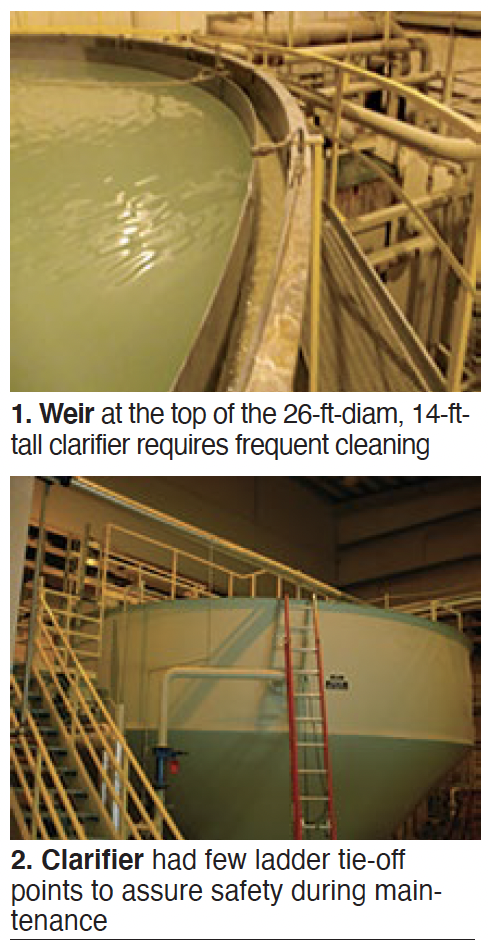 Solution. With help from a local engineering firm, staff decided to resolve the problem this way: Build a catwalk around the outside of the clarifier so O&M personnel could access all areas at the top of the vessel. It was designed with a grating of Type-304 stainless steel and handrails and supports of carbon steel.
Results. The catwalk enables access to the clarifier weir and sulfuric system without need for an extension ladder requiring fall protection (Fig 3). With easier access, cleaning intervals have been reduced. Plus, fewer personnel are required to do the work. Plus, plus, scaffolding no longer is required for deploying the tarp to enclose the clarifier before high-pressure cleaning of its internals during annual outages (Fig 4).
However, the greatest overall benefit of the clarifier catwalk installation was elimination of the fall hazard while accessing the weir.
Project participants:
Shawn Gregg
Jim McCorkle
Tim Mortimer