Consolidate Exhaust System Maintenance to Reduce Costs and Maximize Runtime
Presenters
Matt Long, Operations Manager
Matt began his career as an Application Engineer for GE gas turbines and has since been managing expansion joint sales and on-site service teams for the past six years. He is responsible for commercial operations at Badger and contributes to technical sales, project management, and product development.
Gary Niemann, Field Service Manager
Gary is responsible for all combined-cycle turbine exhaust and HRSG expansion joint projects for Badger. He has over 12 years of experience working with turbine exhaust expansion joint systems for every major turbine manufacturer, including OEM installations, repair projects, and aftermarket complete overhaul/upgrades to exhaust systems.
Presentation Synopsis
Service options to streamline maintenance on exhaust components from the turbine to the HRSG
With shrinking maintenance budgets and shorter outage cycles, power plant managers must balance multiple factors in order to keep their plants running efficiently while meeting outage deadlines. Today, plant managers can reduce costs and outage schedules by subcontracting the materials and labor to ONE company: the experts at Badger Industries. Our turnkey solutions will streamline outage management for maintenance between the turbine and HRSG.
Key Takeaways for Users
The value of upgrading the Flex Seal vs. OEM leaf seal replacement.
Repairs available for the A042 diffuser duct for increased thermal efficiency and longer useful life.
Single-source provider for expansion joints AND service labor.
Contacts
Gary Niemann, Field Service Manager, (513) 439 8495, GaryN@badgerind.com
Matt Long, Operations Manager, (859) 468 1854, MattL@badgerind.com
Michael Viau, Business Development Manager, (865) 340 2100, MichaelV@badgerind.com
About Badger Industries
With a 100-year legacy of engineering excellence, Badger Industries specialize in the manufacture and installation of fabric and metal expansion joints for gas turbines and HRSGs. Their experienced on-site service specialists provide inspections to help plant operators implement best practices for expansion joint installation, repair, and replacement.
Products and Services
Turbine Exhaust Expansion Joints
7F Flex Seal Upgrade
A042 Diffuser Duct
HRSG Inlet Expansion Joints
Pipe Penetration Seals
Inspection Reports
Operational Evaluation & Analysis
Failure Analysis
Thermographic Analysis
Website
www.badgerind.com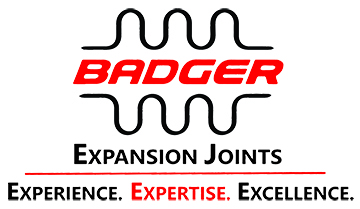 Address
100 Badger Drive
Zelienople, PA 16063
United States