Four Best of the Best Awards go to NAES-operated plants
>> Click for Best of the Best recipients
>> Click for Best Practices recipients
Powerplants managed by NAES Corp, Issaquah, Wash, earned a large share of the hardwood presented by the editors at the Best Practices Awards luncheon last April. The annual event, hosted by the Combustion Turbine Operations Technical Forum (CTOTF™) and organized by Wickey Elmo of North Carolina-based Goose Creek Systems Inc, recognizes the achievements of station and headquarters personnel in improving the safety and performance of generating facilities powered by gas turbines.
NAES, perhaps the world's largest third-party operator of powerplants, had its name on 14 of the 45 awards presented, including four of the eight Best of the Best plaques. Recall that there are two levels of awards to recognize achievements at individual plants: Best Practices and the Best of the Best, as determined by the scores of judges selected from the CTOTF Leadership Committee.
Nine judges reviewed entries from more than four-dozen finalists this year—a record—evaluating the submittals based on real and measurable achieved business value, complexity of the issue, operations staff involvement, degree of coordination across plant and headquarters engineering and O&M groups, and duration of impact.
The judges included management personnel responsible for fleet-wide O&M planning and execution, plant managers, and aero and frame experts with more than two centuries of applicable experience.
The awards program was launched seven years ago by the COMBINED CYCLE Journal, in association with the CTOTF the nation's oldest user group serving gas–turbine owner/operators.
Think of the inscriptions on the Best Practices Awards plaques that follow (p 113) as an index to proven ideas that you can implement to improve plant operations and better protect personnel. When you identify a promising idea, you can get more detail simply by accessing www.ccj-online.com and using the search feature to call up the subject article published in 1Q/2011.
Want still more ideas? Click the "archives" button at the far right of the horizontal toolbar at the top of the ccj-online home page and click on 1Q issues back to 2005.
1. Submit your entries today for the 2012 Best Practices Awards
One way to get management's attention long enough to appreciate the contributions you and your co-workers are making on a daily basis is to win an industry award. The Best Practices Awards program conducted by the COMBINED CYCLE Journal, and endorsed by the Combustion Turbine Operations Technical Forum (CTOTF), recognizes ideas implemented by plant personnel to increase reliability/availability, improve efficiency, reduce emissions, minimize accidents, etc. Such performance improvements are important to every owner and its management team.
To enter the 2012 Best Practices Awards competition, access the requirements/rules at www.ccj-online.com/bprules. The program supports work done in gas-turbine-powered combined-cycle, cogeneration, and peaking plants larger than 5 MW. There are eight awards categories: Management, Environmental Stewardship, Design, O&M Business, O&M Major Equipment, O&M Balance of Plant, Safety Equipment & Systems, and Safety Procedures & Administration.
Your entry should take no more than about two hours to prepare and e-mail to scott@ccj-online.com. Photos and diagrams explaining the work done, plus a picture of your plant, are welcomed. The deadline is Dec 31, 2011, but don't wait: Prepare the entry today, while the accomplishments are fresh in your mind.
Judging will be by a panel of experts from the CTOTF Leadership Committee.
Sometimes the information disseminated in the magazine is not sufficient for your needs. Mike Elmo of Goose Creek Systems has posted PowerPoint files on the CTOTF website with additional details of the 2010 and 2011 Best of the Best ideas. These presentations were made before the CTOTF membership during a special session at the Spring Turbine Forum.
Access to the slides (users only!) is through www.ctotf.org. Just log on to the site and proceed to the Internet Bulletin Board Communications Service (IBBCS). Scroll down to the Presentation Library and locate the PowerPoint you're looking for. Site registration is open to all GT owner/operators; just follow the directions in Sidebar 2 if you don't already have access.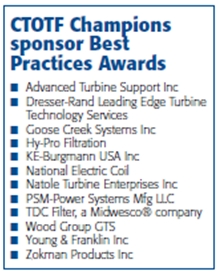 If CTOTF's Fall Turbine Forum is not yet on your travel calendar, you might want to review the program and consider attending the September 11-15 event at the Doubletree Paradise Valley Resort in Scottsdale, Ariz. The meeting features the launch of CT-Tech™, the educational arm of the organization. The classes scheduled for the fall and future meetings are designed to educate new plant personnel and help experienced staff refresh their skills.
The CT-Tech program in Scottsdale, September 14, focuses on gas turbine maintenance, components, and operation. The four-hour program, which includes dinner, will be taught by Ron Natole of Natole Turbine Enterprises, Houston. The five-part agenda encompasses the following:
1. Introduction. The history of gas turbines, on-wing, industrial aeros, and frames.
2. Maintenance and overhaul. Operating modes, inspection intervals, parts nomenclature, inspection guidelines (combustor, hot gas path, and major), OEM comparisons, maintenance factors, etc.
3. Materials, coatings, refurbishment. Materials used for various components and their metallurgy; coatings preparation, composition, porcesses, heat treatment; refurbishment, including component features and repair challenges, determination of repairability, vendor verification, importance of dimensions, scope of work, QA guidelines, NDE defect criteria, weld repair limits, metallurgical evaluations, life-limiting properties; advancements in fuel nozzles, transitions, turbine nozzle and vane segments, new component repair technologies; replacement HGP parts.
4. Startup and operation. Engine and accessories skid, nameplate and equipment data, training manuals, startup sequence, control curves, starting and loading times.
5. Other topics. GT life factors, purchasing risk factors, long-term service agreements, reliability/availability/maintainability, technical library and industry magazines.