Many Alstom owner/operators were left with a feeling of "abandonment" following GE's purchase of their OEM four years ago. Cost-cutting reduced Alstom's field-service capabilities and spare-parts inventory to the bone at a time when GE was reconfiguring its aftermarket organization and developing "cross-platform" capabilities to serve both Alstom and Siemens owners.
Recall that a vibrant community of third-party suppliers like that serving Siemens and GE users never really developed for Alstom owners because their US engine fleets were relatively small by comparison.
Alstom owner/operators soon concluded survival in the relentlessly competitive electric-power market hinged on their ability to help develop and support a market for third-party replacement components and services.
As a first step, Liburdi Turbine Services Inc, Mooresville, NC, Pioneer Motor Bearing, Kings Mountain, NC, and Arnold Group, Filderstadt, Germany, organized and sponsored the first Alstom Owners Conference in early 2018 to review maintenance solutions and strategies pertaining to the repair, service, and maintenance of Alstom engines. Liburdi's Jeff Chapin opened the meeting as the de facto chairman.
The idea of an organization to support the global Alstom community of owners and operators gained support quickly and at the end of the two-day meeting a steering committee was elected and planning was initiated for a second conference. Brian Vokal of Midland Cogeneration Venture, Chris Hutson of Georgia Power, and Robert Bell of Tenaska Berkshire Power now hold positions as co-chairmen on the steering committee.
The user component of the 2019 meeting doubled from the first gathering to more than 50, assuring the asset-ownership commitment to support a 2020 meeting in Houston, January 27 – 31. Interestingly, more than 20 Raleigh attendees were international—representing owner/operators of both legacy and late-model engines in Europe, Australasia, and the Americas.
What follows are short summaries of some vendor presentations made at AOG 2019. If you're an Alstom owner or operator and want to dig deeper into one or more of these subjects, contact Chapin by email.
Advanced insulation for Alstom turbines, ARNOLD Group
ARNOLD Group's single-layer insulation system was said to be state-of-the-art technology and capable of solving all known insulation-related problems associated with the operation and maintenance of gas and steam turbines.
General Manager Werner Arnold and Global Head of Marketing Pierre Ansmann opened their presentation by describing issues users may face with conventional insulation—such as:
Replacement lagging not made to the correct specification.
Insulation blankets that require repair or replacement at each outage.
Hot spots on the insulation surface conducive to handling and maintenance problems.
Turbine trips caused by overheated auxiliary equipment.
High noise level inside the enclosure.
Loose fibers and dust from calcium fiber blocks that can cause health and safety issues.
Loss of earnings results from poor design/installation of turbine insulation and/or premature wear and tear of blankets. The balance sheet can be impacted negatively by reduced power production, contractual penalties, damage to mechanical and electrical equipment and instrumentation, and shorter outage intervals.
The ARNOLD team said its insulation avoids the stated problems because of interlocking high-performance blankets which conform perfectly to the turbine surface, high-quality materials and manufacturing, and long-term high-temperature resistance (Fig 1). The company guarantees reuse of its insulation system for 15 outages without a decrease in efficiency.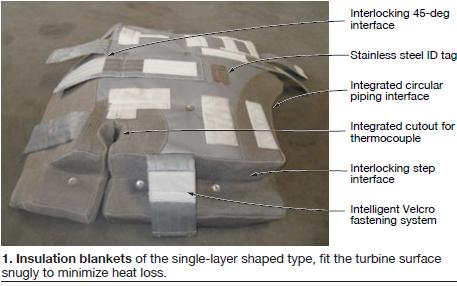 Highlights of the well-illustrated presentation (well over 100 high-quality photos showing details important to users) include blanket construction, design of the support structure, ease of access to inspection points, step protection for longer life (Fig 2), piping and flange insulation, insulation for inside the exhaust system (Fig 3), insulation system designs for the GT24, GT26, 11N, 13D, and 13E2, and steam-turbine warming systems (Fig 4) and associated controls.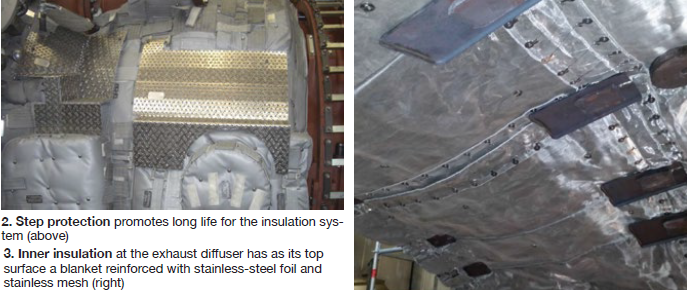 Wrapping up, Arnold and Ansmann told the owner/operators they can expect a significant decrease in compartment temperatures by installing ARNOLD insulation—sometimes as much as a 50% reduction—and benefit from a commensurate reduction in fuel consumption and increase in power production. Plus, with fewer blankets to remove, repair, and replace, outage time and cost are reduced.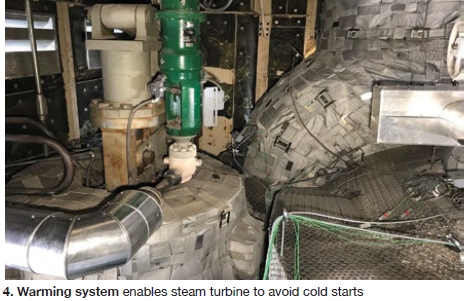 Generator inspections and robotic capabilities, AGT Services Inc
Jamie Clark is a frequent presenter at industry meetings focusing on frame gas turbines. In the last year or so he has been at the podium to share his knowledge of generator design, operation, maintenance, repair, testing, what can be done in the field, what requires a shop visit, etc, during annual meetings of the 6B, 501F, 7EA, 7F, and generator users groups. So, it was not surprising to see this veteran with 20+ years of generator problem-solving experience at the AOG conference earlier this year to speak on inspections and robotic capabilities.
He began by urging attendees to get a baseline condition assessment of their generators as soon as possible and to fix what's required to assure reliable service—even if it takes a major to do it. Clark suggested consideration of robotic inspections (Fig 5) in lieu of field removal where possible and offered the pros and cons of using robots.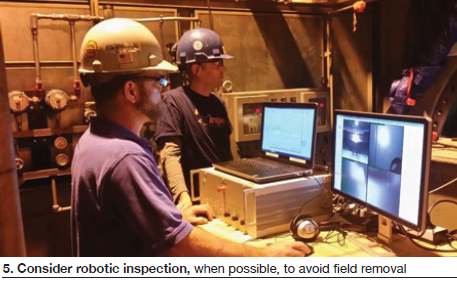 He also recommended a re-evaluation of the timeline for future inspections where there have been significant changes in operating duty. Shorter outage intervals, he said, might be a good decision for units that have transitioned to peaking service in the last few years. Of course, baseload and seldom-run units may enjoy longer intervals.
Clark's recommended electrical tests for the stator focused on the following:
Winding copper resistance, each phase.
5-kVdc insulation resistance and PI, each phase.
Dc leakage, each phase.
1-min dc hipot at 38.25 kV, each phase.
Resistance check and 1-min 500-Vdc megger of all RTDs.
As for what to inspect on the stator, he listed the winding, endwinding support system, wedge system, gas-gap baffle studs, rubber baffles, bushing box, and stator core (for tightness, iron migration, damaged/overheated laminations, and vent duct blockage.
More than three-dozen photographs helped the users understand what to look for and how to evaluate what their level of concern should be. Example, he had a picture of endwinding contamination to show what it looked like and then a photo of heavy contamination (Fig 6) of greater concern. Other photos illustrated bottom-bar insulation damage, global greasing at end wedges, significant connection-ring tie greasing (Fig 7), iron oxide from key-bar rattle, etc.

Moving to the field (rotor), Clark recommended these electrical tests:
Winding copper resistance.

Insulation resistance and PI.

Ac impedence test.
A terminal-stud seal pressure test also was suggested for h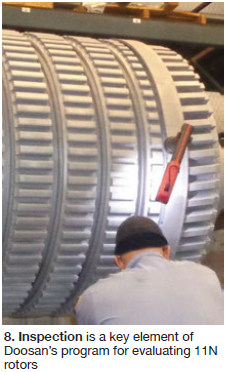 ydrogen-cooled units.
As for what to inspect on the field, he recommended checking the following under the retaining rings: field winding/brazes, turn insulation, migration of slot insulation, movement of blocking, main lead, coil-to-coil jumper, and pole-to-pole jumper. He also suggested examining the field body for wedge/retaining ring contact, wedge movement, heating, vent blockage, and balance weights.
11N rotor assessment and overhaul, Doosan Turbomachinery Services Ltd
Alex Ford, rotor engineer, and Glenn Turner, VP engineering, focused their presentation on the Alstom GT11N because of that frame's popularity in North America, predominately for peaking service. They said there are more than 150 11Ns globally, about 60% of that number in the US, Canada, and Mexico. The stats: An 11N has a rotor weighing about 30 tons, not including the 1250+ compressor blades in 18 stages and 400+ turbine blades in five stages.
The speakers touted Doosan's comprehensive program to inspect, evaluate, repair, and replace 11N rotors in a true partnership with its customers. They summarized the company's onsite and in-shop rotor inspection and evaluation processes. The goal of the rotor-life evaluation program, which includes nondestructive inspections (Fig 8) and the use of models (Fig 9) for predictive calculations, is to confirm rotor condition is suitable for continued operation.
In the event indications are found, Doosan creates the models necessary to determine a repair plan capable of restoring the rotor to good health. Life-assessment simulations are run to estimate remaining life and assure repairs are not life-limiting.

In cases where rotor replacement is necessary, Doosan's LaPorte (Tex) facility has access to the global company's heavy manufacturing shops for steam and gas turbines in Changwon, Korea, and to its Skoda works in the Czech Republic.
Reverse engineering and 3D modeling are among Doosan's core competencies.
The presentation illustrated the company's physical facilities for manufacturing replacement rotors—including forging, welding, machining, assembly, and balancing equipment (Fig 10).
Gas turbine controls, Emerson Automation Solutions
The Emerson presentation covered the "waterfront" of the company's solutions for gas turbines and combined-cycle plants while bragging a bit—having earned that right given its involvement in nearly 1500 automation projects involving more than 300 GW of natural-gas-fired generation worldwide. What some attendees likely found most interesting was Emerson's joint activities with Ansaldo Energia—in particular on new-build GT26 and GT36 gas turbines.
For Alstom control systems on gas turbines familiar to many attendees, Emerson offers upgrades for the Alspa 6, Alspa P320, and legacy Alspa systems. For ABB controls on gas turbines, it offers upgrades of the Advent, Procontrol, and legacy systems.
Emerson's business development manager, Dave Cicconi, described the typical steps involved in a controls retrofit project and the design inputs required before summarizing relevant case studies.
Fleet support update on technical and operational capabilities, General Electric Co
GE's presentation was an overview of how the company is investing in the fleet to provide customers increased output/efficiency, flexibility, and lower emissions/turndown. Improved fleet support regarding parts availability, qualified repair procedures for new parts, in-depth training of field services resources, and faster response to customer requests were among the action items identified.
Perhaps the of greatest value to users regarding GE participation was the ability to meet the engineers and managers who can help them regarding field service, inspections, repairs, spare parts, engine upgrades, etc.
Service organization and product portfolio, Ansaldo Energia Group
Ansaldo, the OEM of record for the GT26 and GT36, was not well known to many attendees, while many are familiar with its business unit, Power Systems Manufacturing (PSM). But Leone Tessarini, global director of power services, filled the information gap by bringing the users up to date on virtually everything you might want to know about the company concerning its organization, business units, facilities, engineering and manufacturing capabilities, and product offerings for the 50- and 60-Hz markets.
The product focal point for Tessarini's presentation was the GT26 of which there are 42 units worldwide—all outside of North America.
Delivering value through proven cost savings with technology-driven life extensions of HGP parts, Liburdi Turbine Services Inc
Doug Nagy, P Eng, made the presentation on Liburdi's capabilities. The company is well respected worldwide for its advanced component repairs on gas turbines in aircraft propulsion and power production applications.
Core competency includes life extension of critical components for Alstom GT8, 11, 13, 24, and 26 machines—including repairs to: variable vanes, blades, stators, and erosion coatings in the compressor section; EV burners, inlet segments, inner liners, and the hot-gas case in the combustor section; and blades, vanes, and heat shields in the turbine section.
Nagy illustrated the financial benefit of the company's value-driven repair strategies by way of examples that compared the cost of new hot-gas-path (HGP) components (combustors, blades, vanes) to ones repaired as part of a major inspection for a large frame unit. In both cases the result was a zero-timed engine ready for another normal service interval. The comparison study illustrated put the cost of Liburdi's repair solution at $0.8 to 1.5 million, the cost of new components in the range of $3 to 8 million.
Nagy then reported on the 20-year history of his company with a 7EA user running a 2 × 1 combined cycle and the cost saving that accrued over two decades by selecting Liburdi's advanced repairs to save parts declared at the life limit or unrepairable by conventional methods. The plant owner was said to have saved $4.7 million in the first 10 years of the program and another $13 million in years 11 through 20—or close to $1 million annually on average.

Liburdi's component repair philosophy underpins its value proposition and success in maximizing the lives of HGP parts. It has these three components:
Listen to what the engine and the parts are saying.
Do not just repair, but rejuvenate (Fig 11).
Upgrade components to mitigate service damage.
Nagy went on to explain its engineering analysis (mechanical and metallurgical) capabilities, component-assessment process, and the repair technologies it employs—including alloy rejuvenation, powder metallurgy for metal replacement, automated welding, and high-performance coatings. His presentation is a worthwhile read for anyone wanting to understand more about HGP repairs; it offers important details yet is understandable for those without a background in metallurgy and gas-turbine repairs. Users can contact Conference Organizer Jeff Chapin for a copy.
Alstom experience and independent solutions, Power Services Group
One reason owner/operators attend user-group meetings is to identify service providers beyond the obvious that are capable of providing solutions conducive to a more robust bottom line. One relatively new entry is PSG Power Services Group. Well, the name may be new to you, but the company really is not, having been formed by combining the capabilities and assets of Turbine Generator Maintenance (TGM), Airco Power Services, and Orbital Energy Services (OES)—names you likely are familiar with.
The presentation was designed to familiarize attendees with the company and its key personnel—including Ellen Guthrie, GM turbine field services; Scott Robinson, director of large utility field service; Jason Johnson, TA/site manager; and Robert Robinson, TA/site manager. All are GE and Alstom veterans and combined have six decades of experience with those OEMs.
You can get most of the information on the company's capabilities and recent gas and steam turbine projects by visiting its website.
Reverse engineering of bolting, blades, valve parts, pump casings, turbine wheels, rotors, and casings, Stork, a Fluor company
Stork, recently acquired by Fluor, reviewed its considerable reverse engineering and modeling capabilities and its internal processes and procedures for assuring dimensional quality control of the components it makes for gas and steam turbines. At the end of the presentation, attendees got a rundown on the various compressor rotor and stator blades Stork makes for Alstom machines to support owner/operators, including the following:
GT11N, rotor blades for all stages, stator blades for Stages 8 – 18.
GT11D5, rotor blades for all stages, stator blades for Stages 7 – 19.
GT 13E1, rotor blades for all stages, stator blades for Stages 1 – 4.
GT10B (an ABB machine currently known as the Siemens SGT-600), rotor blades for all stages of both the old and new versions of the engine, IGVs (both the non-twisted and new twisted versions).
Other presentations of note
Alstom's exclusive bearing repair licensee, Pioneer Motor Bearing
Development and manufacture of hot-gas-path components, TPC Components
Valve repair and critical spares management, MegaWatt Machine
Vendor verification and specification writing, TEServices
Optimization of gas-turbine maintenance strategies, SS&A Power Consultantcy