Beltway execs portend what they might be
With a somber undertone from the recent death of its long-time leader, Barry Worthington, the United States Energy Association (USEA) held its 17th State of the Energy Industry meeting virtually on Jan 28, 2021, less than a week after President Biden was inaugurated. Executives from 22 separate beltway policy and advocacy organizations offered their glimpses into the next four years under a Biden administration and a razor-thin Democratic majority in Congress.
What was most revealing, however, had nothing to do with the actual presentations. The last speaker, Heather Zichal, represents the brand new American Clean Power Assn (ACPA), an umbrella group pulling together solar, wind, storage, and transmission interests, so that the "trillion-dollar renewable energy industry," in Zichal's words, can speak as one voice. We "need a deeper bench of Republican support for clean power and renewables," said Zichal, a bigger "coalition of the willing," for the transition to the clean energy economy.
By contrast, more than one-third of the organizations represented were associated with natural gas, six with gas in their name, one which qualifies if you make the largest component of natural gas (methane) into a alcohol (methanol), and one representing petroleum companies, almost all of which are also natural gas companies.
It seemed pretty clear which energy industry interests have acted to stand in "unity," a word Biden used over and over on the campaign trail and continues to use, and which appear fragmented.
Generally, these types of events are polite affairs laced with diplomatic, optimistic language about working with the new elected officials. If there was going to be an exception, one might suspect the coal group. But no. Mike Sommers, American Petroleum Institute, declared a "posture of strong opposition" to the Biden administration, seeing no "unity" in his early actions, most notably shutting down the Keystone Pipeline.
On the other hand, Rich Nolan, National Mining Assn, lauded the US mining industry as "on the cusp of a rebirth. Mining policy is energy policy," he said, referring to the soaring demand for metals and minerals critical to the renewable and non-carbon energy supply chain. Betsy Monseu, American Coal Council, forecasted that the natural-gas share in electricity will decline by41% in 2021 and another 8.9% in 2022 because of price increases, and that coal is essential to "balance uncertain loads with uncertain supply."
Julia Hamm, Smart Electric Power Alliance, gave one of the more startling stats: The number of electric utilities with net-zero carbon commitments by 2050 increased from 18 last year to 39 this year. What better evidence is there that "elections have consequences?"
One issue that clearly concerns the electricity natural-gas interests is fugitive methane emissions from their infrastructure. Thomas Kuhn, Edison Electric Institute, noted his group's initiative to monitor methane emissions, one he called "important." Karen Harbert, American Gas Assn, also pointed to a "new framework for measuring and reporting methane emissions." Charlie Riedl, Center for LNG, noted his members' principles for enhanced measurement and reporting of methane, and that conversations around methane "are increasing."
API's Sommers pointed to earlier success reducing methane emissions by 70% "in the largest oil/gas producing regions," as did Harbert, who claimed that methane emissions have been reduced by 73% from the country's natural-gas distribution networks.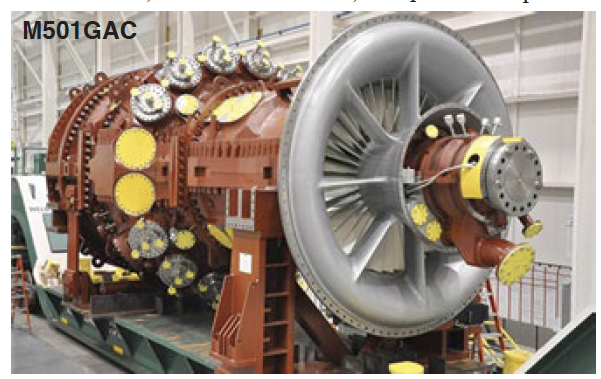 Not surprisingly, the most prevalent theme was the need to up federal money for more RD&D and commercial investment:
Kuhn, "We need lots more R&D."
Sommers, "Need more investments in American oil and gas."
Nolan, "Need to advance technology for the fuels the world has to offer."
Arshad Mansoor, EPRI, The nation "must make a commitment this decade to negative emissions technologies."
David Carroll, Gas Technology Institute, "Many of the technologies needed to get to a no- carbon 2050 don't yet exist" and "federal energy innovation spending is 10% that of defense innovation spending."
Monseu, The National Coal Council has been involved in carbon capture, utilization, and storage (CCUS) for many years. Biden included CCUS in his campaign, and robust funding for CCUS is a big part of the Energy Act of 2020 (passed during Congress' lame-duck session).
Jim Matheson, National Rural Electric Cooperative Assn, "We need an infrastructure program at the federal level."
My job is better than yours. Jobs and economic activity didn't get the attention one might have thought, perhaps because most speakers were more consumed with getting through the Covid-induced economic fallout. Derrick Morgan, American Fuels & Petrochemical Manufacturers Assn, did make the case for why a petro job is better than a renewables job. Each job in his industry, he said, supports 32 others, 16 directly and 16 induced. His observation was a counter of sorts to the Biden administration ambition to retrain fossil-fuel workers for opportunities in the renewables sector.
Maria Korsnick, Nuclear Energy Institute, reminded everyone that nuclear powerplants are the largest source of carbon-free electricity, and "uniquely reliable." While NEI lauded the recent NRC approval of the first small-reactor design, the organization seems more focused on saving existing reactors from political threats at the state level.
Lest any in the CCJ community think small reactors are a threat to their business, the timeline from an NRC-approved design to a permit to construct (along with the commercial investment) is long and arduous, based on recent experience with the advanced light-water reactors. Better to worry about the goal set by ACPA's Zichal: 50% renewables on the electricity grid by 2030.
GTI's Carroll acknowledged the "cycles of hype" with the "hydrogen economy," dating back to the 1960s. But, he said, "this time it's different," adding "famous last words, right?" He identified several hydrogen projects GTI is involved with, notably a broad infrastructure integration study for Texas, in which wind power is used to produce hydrogen for transport and delivery through existing pipelines.
Finally, Fred Hutchinson, LNG Allies, tempered the net-zero-by-2050 enthusiasm with a reminder that there is expected to be 2-billion more people on earth by 2050, the world will need 50% more energy by then, while 850-million people still lack access to electricity.
Therein lies the conundrum for the energy industry in the aggregate: The affluent want less carbon as soon as possible; the less affluent want more energy now.
New type of gas calorimeter said to benefit turbine users
Riken Keiki Co's OHC-800 (photo), a relatively new type of calorimeter, uses optical and sonic sensors to provide real-time monitoring with high accuracy. The instrument's use in optimizing turbine and boiler air/fuel ratios make it of interest to O&M personnel at gas-turbine-based simple- and combined-cycle plants.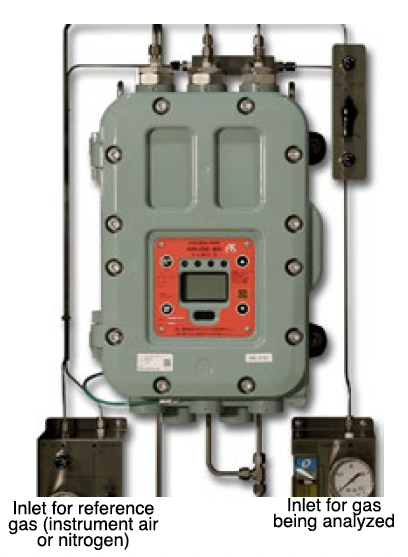 Recall that competitor gas chromatographs provide highly accurate analyses of fuel-gas composition, but do not offer real-time monitoring. And combustion-type calorimeters can offer real-time monitoring, but they generally are not accurate enough for process control.
The OHC-800's sonic sensor measures the sound velocity of the gas, the optical sensor the refractive index of the gas. Stated advantage of the optical interferometric sensor is that because no chemical reaction is used—unlike methods relying on catalytic combustion and thermal decomposition—components do not wear out or deteriorate.
There also is no reported effect from the change in light-source intensity over time. While the sensitivity of an infrared sensor can deteriorate because of lamp ageing or cell contamination, the "light-wave interference" principle employed by the OHC-800 relies on a mirrored image unaffected by changes in light intensity.
Advantages of the OHC-800 touted by Riken Keiki in the 12-min recorded webinar produced by the manufacturer are highlighted below. Click the QR code to watch the webinar.
High accuracy. Comparison of calorific measurements of fuel gas containing nitrogen shows the OHC-800 and gas chromatographs have comparable high accuracies, but the former's advantage is the ability to measure calorific value continuously.
Real-time monitoring with high response speed. Data can be updated every 0.25 seconds. The instrument's robust design is said to accommodate all measurement environments, eliminating the risk of "measurement outages." Response time to changes in calorific value is less than five seconds.
Minimum effects of N2, O2, CO2, etc. Use of both optical and sonic sensors eliminates the possibility of interference from gases that do not have heat content.
Essentially maintenance-free because the physical-based optical and sonic sensors do not require periodic calibration.
Easy parts replacement. The OHC-800 has only four parts—sonic sensor, optical sensor, main controller, and power supply.
Installation flexibility. Explosion proof, operating-temperature profile extends from -4F to 140F.
No carrier gas is required; instrument air or nitrogen is used as the reference gas. If your interest is piqued by the webinar, a field-test demo is available.
Catch up on the benefits of remote support, and technologies for improving plant flexibility
Two relatively short white papers available from Mitsubishi Power can bring you up to speed on the state-of-the-art and future of remote operation and support and on digital strategies for improving steam-plant performance. Some of the insights shared on the latter topic also are of value to combined-cycle owner/operators.
"Remote Operation and Support—the New Normal?" tracks the rapidly growing demand for remote technology—including early-warning diagnostics using advanced analytics, plus access to offsite technical expertise for troubleshooting and response. It walks readers through the company's considerable analytics experience, which began in 1999 with a remote monitoring center at Mitsubishi's extensive engineering and test facilities in Takasago, Japan.
Since that first step, digital solutions, like the company's growing Tomoni™ suite of offerings, allow O&M staffs to leverage the massive amounts of data from the thousands of sensors in a plant to provide valuable insights, solve complex problems, and maximize performance.
Advancement through digitalization is a core focus of the white paper, which includes experience gained when a scheduled plant outage was shifted because of the pandemic and condition-based maintenance intervals provided a pathway to success. Another sidebar presents the case history on how a Tomoni digital solution improved efficiency by enabling a process to actively optimize the flow of gas-turbine cooling air.
"How Digital Strategies Improve Steam Power Plant Performance" discusses the new level of flexibility required by traditional fuel-fired generating assets to remain competitive in today's rapidly changing electricity markets. Fuel flexibility, faster starting and ramping, and reduced minimum load highlight the challenges faced by industry participants.
Mitsubishi Power atop the leader board in gas-turbine sales, energy storage
Mitsubishi Power (MP) finished 2020 with the highest market share for large frame gas turbines in the Americas, according to McCoy Power Reports, a power-industry market data service. The company's sales totaled 3288 MW, 54% of total orders in the region. More than half MP's 2020 orders include a hydrogen performance guarantee or have a joint development agreement for hydrogen in progress.
The company says among its orders are the industry's first combined-cycle gas turbines that will operate on 30% green hydrogen by their commercial operating dates. They will emit at least 11% less CO2, in pounds per megawatt-hour, than engines not so equipped.
Mitsubishi Power also claimed the No. 1 market-share position in the Americas last year with orders for 151,000-MWh of energy-storage capacity of all durations. The all-duration category covers utility-scale and behind-the-meter technologies—including battery, pumped hydro, and green hydrogen storage. The company provides both long-duration green hydrogen storage systems and short-duration battery energy-storage systems to meet the decarbonization needs of power-generation and grid customers.
An example of the former is the 840-MW Intermountain Power Project in Delta, Utah, which will have two JAC gas-turbine power islands guaranteed to burn a mixture of 70% natural gas and 30% green hydrogen when commercial service begins in 2025. The companion Advanced Clean Energy Storage Project in Delta will use renewable power and electrolysis to produce green hydrogen that will be retained in a salt cavern. It will store enough renewable fuel to produce 150,000 MWh.
Short-duration lithium-ion-based energy storage provides multiple services in power markets— including dispatchable peak capacity, firming of intermittent renewable resources, ancillary services, energy price arbitrage, and T&D congestion solutions. Mitsubishi Power received orders for 920 MWh of short-duration capacity in 2020—all scheduled for commercial service this year.
Recent gas-turbine project developments include the following:
Entergy Texas Inc's 993-MW Montgomery County Power Station, powered by two Mitsubishi Power 501GAC engines, began commercial operation Jan 1, 2021, bringing the number of G- series units in service worldwide to 94.
El Paso Electric orders a 228-MW Smart M501GAC enhanced-response gas turbine, allowing the company to triple its renewable-energy portfolio and reduce carbon emissions. The SmartER machine complements renewable-energy resources by starting up and shutting down rapidly to accommodate intermittent generation.
Capital Power orders two M501JAC gas turbines to repower its Genesee Units 1 and 2 in Alberta, Canada, from coal to natural gas. The upgraded facility will produce 1360 MW (net), with carbon-emissions intensity decreasing by approximately 60%. Power producer's goal for Genesee is to be off coal in 2023.
Alabama Power selects a Mitsubishi JAC power island for a 720-MW combined cycle being installed at its Barry Power Plant.
Mitsubishi Power ships the first JAC gas turbine manufactured in the US to the 1200-MW Jackson Generation project in Elwood, Ill. Commercial operation is scheduled in 2022. The plant is designed with two 1 × 1 power trains to provide efficient, flexible generation to complement power production from renewables resources, in addition to reducing the state's dependence on coal. By the end of 2020, more than 80 J-series gas turbines had been ordered for service in nine countries.
Briefs
Emerson promotes Ram Krishnan to executive VP/COO and Mark Bulanda to executive president of Automation Solutions. Krishnan will oversee global supply-chain operations, IT, and M&A.
Conval, which manufactures high-performance severe-service valves often specified for HRSGs in combined-cycle and cogeneration plants, appoints Jeremiah J O'Callaghan, PE, manager of engineering.
ap+m acquires Turbine Controls & Excitation Group, well known to many users for its work in troubleshooting and upgrading control systems for gas and steam turbines and generators. The company was established in 2009 by John Downing and Chris Rychcik.