Turning-gear speed reducer
Best Practices Award
Challenge. Guadalupe Power Partners is a 1000-MW combined-cycle plant located just outside of San Antonio. The facility was in the process of replacing turning gears manufactured by Germany's Renk AG to a design by Koenig Engineering Inc during scheduled hot-gas-path inspections when engineers realized there were differences in the designs associated with external drive capabilities.
The Renk was designed with a vertical drive shaft penetrating the top of the assembly that allowed an auxiliary device to sit on top of the shaft for intermittent rotor turns during blading and inspections. The Koenig was designed with a horizontal shaft, which does not support the weight of the device used to turn the rotor manually. This creates an ergonomic issue during maintenance tasks in which the rotor must be turned for positioning.
A temporary support was quickly designed and fabricated to alleviate the problem for the short term but the need for a long-term solution was evident. Research identified several options but they were accompanied by a rather large price tag. The challenge was to design and fabricate a low-cost solution with long-term benefits.
Solution. The site took into consideration what the device could be used for and began the design. The design was to enable slow-speed turning needed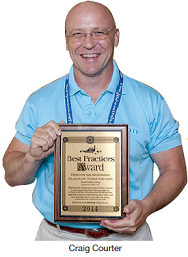 during maintenance procedures like blading and borescope inspections while also acting as a backup to main drive motor in the event of failure.
Will Tingleff, plant manager and mechanical engineer, is accustomed to solving mechanical problems and developed a design that was easily fabricated for under $1500 on site. In the end, a drive motor was permanently attached to the turning gear with a removable coupling that also protects against over-torque; it would shear in the event of a stuck rotor.
Results. One of the improvements the new system offers over traditional methods is the ability to change the turning speed to a desired rpm by simply changing the gearbox ratio. This is ideal for slowing the rotor down during blading and borescope inspections giving finite control of rotor position. It also acts as a backup to the main drive motor in the event of failure.
With safety in mind, the site explored several options to prevent misuse of the device and finally settled on LOTO controls being put in place. The device is treated as part of the turning-gear lock-out procedure, preventing use without authorization during outages.
Project participants:
Will Tingleff, plant manager
Craig Courter, maintenance manager
Guadalupe Power Partners LP

Owned by Mintex Holding
Operated by NAES Corp
1050-MW, gas-fired, two unit, 2 × 1 combined cycle located in Marion, Tex. The plant currently is owned and operated by Calpine Corp.
Plant manager: Will Tingleff