Acoustic monitoring provides early leak detection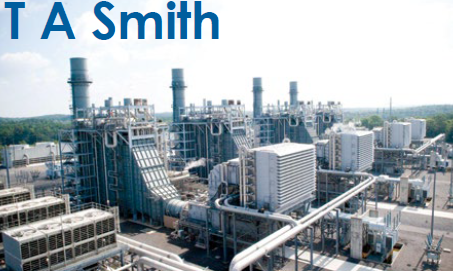 Challenge. Effectively identify and monitor heat-recovery steam generator (HRSG) tube leaks and attemperator leakage/leak-by. It is difficult for operations personnel to determine remotely when valve leak-by is occurring. EPRI says the failure to adequately atomize attemperator spray flows to high-pressure superheaters (HPSH) and reheaters (RH) is one of the leading causes of premature damage to pressure parts.
Severe thermal-mechanical fatigue damage to the HPSH, RH, headers, and steam piping attributed to quenching by un-atomized condensate exiting the attemperators continues to be a significant industry problem, resulting in avoidable deterioration of unit reliability and significant unnecessary maintenance costs.
Current methods available to plant operators—such as flow-measuring devices and valve-position indication—are not always effective for identifying valve leak-by during no-flow demand conditions. Successfully addressing the quenching problem requires installation of a monitoring system that can alarm the operators of a spray valve or block valve that was "closed," but still leaking through (Fig 1).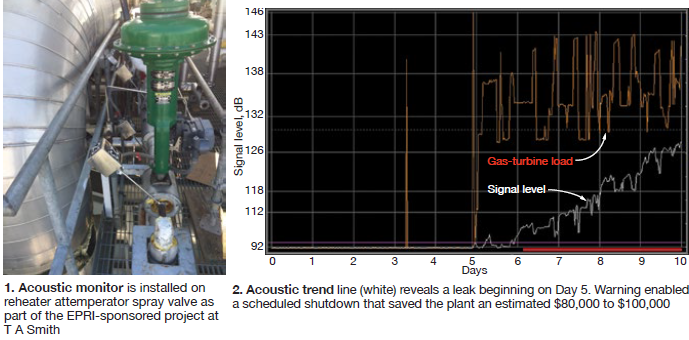 Solution. Plant partnered with Mistras Group in an EPRI-sponsored project and installed the company's AMS acoustic leak-detection monitoring systems on all four HRSGs, as well as on attemperator valves for one unit.
Acoustic monitoring has become an essential part of listening for early tube-leak detection on conventional steam generators and is being adopted now by coal-fired-boiler and HRSG owner/operators. The system is intended for steam leak detection in pressurized vessels—including power boilers, recovery boilers, and feedwater heaters. It performs this function by continuously measuring the internal sounds from the boiler or feedwater heater signaling an alarm when the sound exceeds a preset threshold for a predetermined amount of time.
This technology over the past several years has proven to provide HRSG operators with the first indication of a tube leak, well in advance of all traditional methods. Early leak detection can mitigate the technical and economic consequences of tube leaks. The positive results of acoustic monitoring in HRSGs encouraged staff to consider it for attemperators.
Results. Acoustic monitoring of HRSGs allows owner/operators to manage tube leaks until planned outages by minimizing the number of thermal cycles on the boilers (Fig 2). It also allows staff to better understand potential economic impacts from specific operating profiles. Early indications on attemperators reveal data that allow staff to quickly identify leak-by on valve arrangements.
Project participants: Rich Wallen, Dan Plaisted, Ryan Andrews, Tom Taylor.
Training for this generation and beyond
Challenge. Train personnel adequately and effectively for combined-cycle operations while maintaining focus on budget constraints. Many offsite training offerings are expensive—travel, food, lodging, meals, course fee, etc—and the cost per student can be high.
Solution. Plant partnered with Technical Training Solutions to develop an in-house training program for both Mark VI GT controls and advanced D-11 steam-turbine controls. The total solution incorporated two full weeks of instructor-led onsite training for more than 15 students, plus 365 days of access to upwards of 75 training modules for the staff of 33 employees.
Results. The highly visual training method implemented leveraged best the different learning styles of today's changing workforce at a cost saving estimated at more than $250,000. Computer-based-training test results indicate a greater retention of learning compared to that for mature methods. This has become a cornerstone of the plant's program for maintaining operational excellence and on-going computer-based training will remain a budget line item.
Project participants: Rich Wallen, Frank Henderson, Joe Duncan.
Tornado safety shelters
Challenge. Safely house station personnel in the event of adverse weather conditions. Tornados and associated wind events are a common occurrence in areas around the plant, especially during the summer.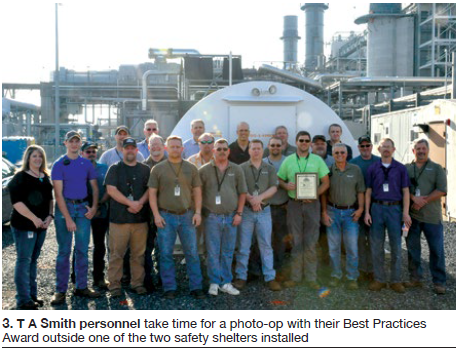 Solution. Plant purchased two storm shelters from Home Depot to provide safe housing for up to 64 persons (Figs 3 and 4). The shelters meet FEMA 361 and ICC-500 guidelines designed to provide near absolute protection against EF5 tornado winds. They are located at easily accessible locations on the plant site.
Results. Project was executed in less than three months from conceptual design to full implementation—including concrete pours.
Project participants: Barry Johnson, Tim Lieving, Chris Estelle, Ryan Andrews.
T A Smith Energy Facility
Oglethorpe Power Corp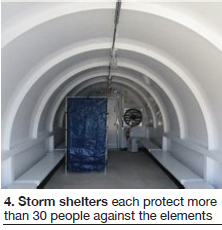 1250-MW, gas-fired, two 2 × 1 combined cycles located near Dalton, Ga
Plant manager: Rich Wallen (former), Michael D'Avico (current)