Design and manufacture of non-sparking 13.8-kV 2-pole generators for operation in hazardous areas
Roy Beardshaw told owner/operators Brush has supplied about three-dozen (in round numbers) of its DAX 2-pole generators for operation in areas where ignitable concentrations of flammable gases, vapors, or liquids are of concern but not likely to exist under normal operating conditions. Most installations are in Brazil, Nigeria, North Sea, and Asia.
The most popular drivers have been the LM2500 and SGT A35 RB; the generator model supplied for these prime movers typically is the BDAX 71-193 ERH with brushless excitation and rated for 25 to 40 MW depending on site conditions (Fig 2). End-frame stator design allows for quick installation and ease of access for maintenance.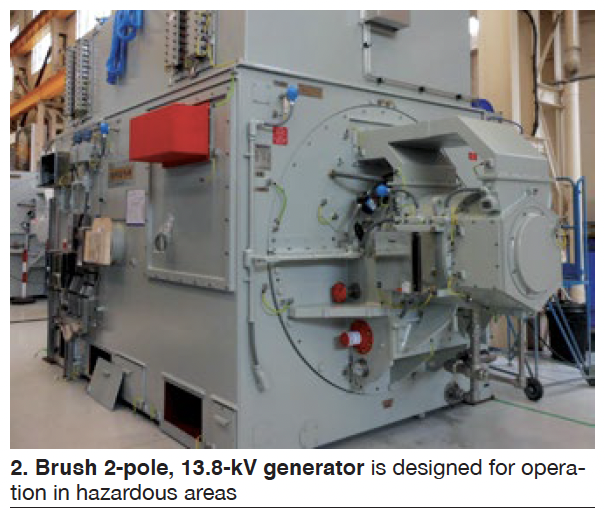 Beardshaw reviewed design requirements for the machine and its safety features. The latter includes the method used to control and monitor the release of purge air into the machine prior to startup and the continual monitoring of enclosure pressure to ensure it remains ambient. If pressure drops, risking the ingress of a hazardous atmosphere, an alarm will sound and/or the machine will be shut down.
Details on testing and "explosion-proof" certification are provided in the presentation on the Power Users website.