CO2 Cleaning of High Voltage Windings – A Cautionary Tale
Thursday, November 12, 2020 @ 3pm and 3:30pm EST
Presentation Synopsis
The use of CO2 pellets as a cleaning medium has been employed since the 1950's. Its use as a generator cleaning tool has been well-documented but long-term insulation loss must be weighed against the benefits of this surface cleaning method.
Turbo generators are expected to function for decades with minimal intervention, and between maintenance cycles the stator windings may be exposed to oil and other lubricious substances. There is a strong motivation to clean these surface films as they tend to attract contaminants and thus reduce the insulation resistance, increasing the propagation of corona and ultimately winding failure. CO2 pellets offer the promise of a cleaning medium without the challenges associated with chemical cleaning, and have been proven to remove dust, carbon, oil, and other buildup from generator windings and other irregular surfaces.
The high velocities used in CO2 cleaning processes create a risk of damage to the insulation systems of generator windings. When improperly used or mis-applied, the particles will damage the brittle mica and other materials used in winding tapes, and this has the reverse effect of that intended by the maintenance process.
In addition, the cleaning medium is limited by the line of sight from the nozzle and significant areas of the generator winding may not receive direct benefit from this method. By reviewing a series of case studies and sample cleaning methods for typical insulation systems, contamination media, and a range of velocities, the criteria for preventing damage to windings are provided as a guide to the end user. The circumstances where CO2 cleaning is justified and those where it is potentially-harmful will be highlighted. The purpose of this paper is to provide a comprehensive experimental basis for the use of CO2 cleaning and the parameters which may negatively impact the remaining insulation life of a high voltage winding. Experimental results and sample test data shall be provided.
Key Takeaways for Users
Users will learn about the potential hazards of CO2 blasting, and effective and safe alternative techniques for cleaning their legacy generator winding. High-speed videos of the CO2 blasting process will be shared, and discussion made about the nature of Mica insulation and how to protect generator insulation systems.
Presenter
Sean Orchuk, B.A.Sc., M.S., P. Eng. Field Service Manager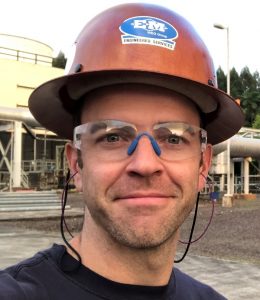 Sean came to Electric Machinery in 2009 after working at Rolls-Royce Turbines. While working for Electric Machinery, Sean has traveled to 92 countries and installed or serviced over 200 large turbine-generators. Sean has authored a number of IEEE and other technical papers and is currently working on a Ph.D. in Mechanical Engineering at The University of Toronto.
Contacts
Jim Skaggs
Engineered Services Business Development Manager
WEG Electric Corp. | Electric Machinery-WEG Group
859-270-7377
jskaggs@weg.net
Sean Orchuk B.A.Sc., M.S., P. Eng.
Field Service Manager
Electric Machinery-WEG Group
+1 236 333 8381
sorchuk@weg.net
About Electric Machinery
WEM was founded as a service shop in 1891. Manufacturing began in 1897. For over 100 years, WEM has earned its reputation for designing, manufacturing, and servicing large, custom-engineered electrical motors and generators in the U.S. and worldwide. WEM services oil and gas, power generation, nuclear, pulp and paper, mining and general industrial markets. WEM has earned a reputation for design innovation by developing the:
First high-starting-torque synchronous motor.
First solid-state brushless excitation system.
First vertical, self-contained hydrogenerator.
First automatic starting system for synchronous motors.
First large 2-pole induction motor design to operate below its first critical speed.
WEM pioneered its Duraguard™ insulation system in the early 1970's. Today, WEM's Duraguard™ process, using epoxy resin tape, and vacuum/pressure impregnation (VPI), is recognized as the benchmark of the insulation system for large machines. WEM's installation list includes over 250,000 units installed throughout the world.
In December of 2011, Electric Machinery became the newest member of the WEG Group. Since its introduction, WEG Electric Machinery (WEM) has seen numerous improvements at the factory in Minneapolis through process improvements and replacement of aging machines with new state-of-the-art technology. WEG has fully embraced Electric Machinery by bringing expertise from WEG headquarters in Brazil as well as the support of a world-wide sales structure, together these changes have resulted in explosive growth since the merge.
Applications include synchronous and induction motors to drive pumps, reciprocating and centrifugal compressors, blowers, fans, and ball mills. WEM generators are driven by a wide variety of gas, steam, and hydro turbines, and reciprocating engines. WEM's line of magnetic-drive, variable speed couplings are used with fans and pumps to 2500 HP.
WEM customers are served from WEM's Minneapolis facility, which compromises approximately 425,000 square feet. Confirmed by ISO 9001 certification, we're the company you can trust for delivering excellence and commitment worldwide. WEM's sales offices in key cities are complimented by a network of sales representation organizations. Our service organization is staffed with experienced service engineers ready to support our customers' aftermarket requirements worldwide. WEM's commitment to quality ensures that our reputation with our customers is for the highest levels of quality, durability, and reliability, and will be the cornerstone of our second century of success.
Products and Services
Turbo Generators
2-Pole (Turbine) Turbo Generators WEM two-pole turbo generators provide high quality and reliability along with low maintenance and long life. They are designed to be used with a wide variety of steam and gas turbine drives. Accessories and features can be provided to meet demanding customer specifications.
WEM two-pole turbo generators offer customers many advantages including:
Brushless excitation
WEM Duraguard™ class F VPI insulation
Low vibration levels
Flexibility of application
Bracket (end shield) bearing construction
Brushless Exciters
Electric Machinery Brushless Exciters WEG Electric Machinery's (WEM) brushless excitation system consists of a high frequency AC generator (armature & field) and rotating rectifier bridge. WEM's brushless excitation system provides high reliability through elimination of brushes, collector rings and carbon dust, which in turn greatly reduces inspection and maintenance costs. Rotating rectifier redundancy with detection of diode failure which in operation allows for more convenient maintenance intervals. WEM is the industry leader in brushless excitation for 2 pole turbine generators with over 500 units installed. WEM brushless exciters are used by generator manufacturers worldwide to meet brushless requirements.
WEM brushless exciters offer customers many advantages including:
Series redundant diode designs and parallel fused diode designs are available to ensure continuous service
Various designs are available to match current voltage and shaft mounting arrangements
No exciter outboard bearing is required which eliminates alignment problems associated with three bearing arrangements
The shaft driven permanent magnetic generator pilot exciter provides a reliable source of exciter field power that eliminates bulky power transformers and dependence on station battery for field flashing
Short circuit sustaining capability provides fault current support
No heavy bus work or cable connections are required between excitation cubicles and the generator, thus simplifying installations
Large expensive field field circuit breaker and field discharge resistors are not required
Compact voltage regulator hardware for installation and control panel or switchgear eliminates large excitation cubicles
Website
Address
800 Central Ave NE
Minneapolis, MN 55413
United States