HARV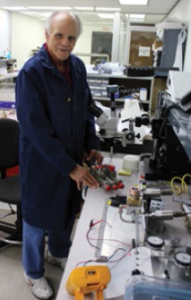 Harvey Byron Jansen was as much a star in the engineering world as members of the Brazilian World Cup team are in soccer. He, too, came to be known by his first name. If you said "Harv" to many of those knowledgeable about servos, actuators, valves, and combustion systems in aerospace and land-based gas-turbine applications, they knew immediately you were referring to the smart, effervescent guy in the lab coat with a resemblance to Dr Emmett Brown of Back to the Future fame.
Harv was CEO of Tempe-based Jansen's Aircraft Systems Controls, known to most readers by the acronym JASC. He founded the company in 1990 and over the next 24 years built a firm with an exemplary reputation for innovation and high-quality engineered flow-control products. He was 76 when he succumbed to cancer on the fifth of July, but mentally still in the prime of his professional career. Many would be inclined to say, "He will be missed." For Harv, that trite phrase would be a gross understatement.
The editors visited JASC on several occasions over the years. The first time we were overwhelmed by all the disassembled products Harv had spread out on the conference room table. Like most power engineers, we were comfortable talking about large gate and globe valves for water and steam service that give the appearance of having been manufactured by a blacksmith. JASC products were at the other end of the spectrum, what precision parts for an artificial heart might look like.
Harv and Engineering Manager John Calleja spent several hours explaining how all the parts work and fit together. They also discussed some of the exotic materials used for these flow-control devices and the high-tech applications for them—including the Hyper-X, NASA's X-43A, USAF's X-51A Waverider, and others. We drew a blank on those and other aerospace vehicles mentioned, but Harv had models and artist renderings of all. Mindboggling stuff to a landlubber.
We departed appreciating the design simplicity and quality of JASC products—made to the most exacting standards of the aerospace industry—that Harv and his team had adapted for land-based applications. Perhaps what made the biggest impression in the blizzard of information was the leak-tightness of JASC valves. Harv spoke casually about leakage rates that few, if any, in the power industry had ever specified.
Harv understood the editors' analytical limitations and on the second visit we spent most of the time in the shop, looking at products under development, learning more about sophisticated QC techniques, and observing products being tested. JASC's water-cooled check valve just happened to be in a test rig that day. You've undoubtedly have had Schuyler McElrath and Marla Evangelista show you this valve at the JASC booth during user-group vendor fairs.
The editors believe it certainly meets expectations. Harv opened a 500F oven and said, "Touch it. . .with your bare hand." "You gotta be kidding," we said. "Go ahead and touch it," he repeated, "or you don't get lunch." Harv was like a kid in a candy store when he was in the shop, explaining the next five things on the agenda to help make life easier for others. He always asked, "What challenges are powerplant personnel facing? JASC can help."
We stopped by JASC a couple of times after that—social calls, mostly. Harv was a great storyteller, a born entertainer. We got to talking about exercise one time and he said he believed in it and rode his bike on weekends. He then took out a picture of himself on his bike. There was Harv on a 1950s-style truck bike with very low-tech sneakers. Then came the stories about crazy drivers and near collisions. He was as "regular" a guy as anyone could possibly be.
Harv never backed away from a challenge, but he was a realist above all. He knew his sickness was incurable with today's medical technology and wanted JASC to keep moving "onward and upward" after his passing. He wanted the company to remain intact, putting in place a succession plan that included the appointment of Dave Hayward, a mechanical engineer with "excellent business acumen" as president/CEO in June 2014.