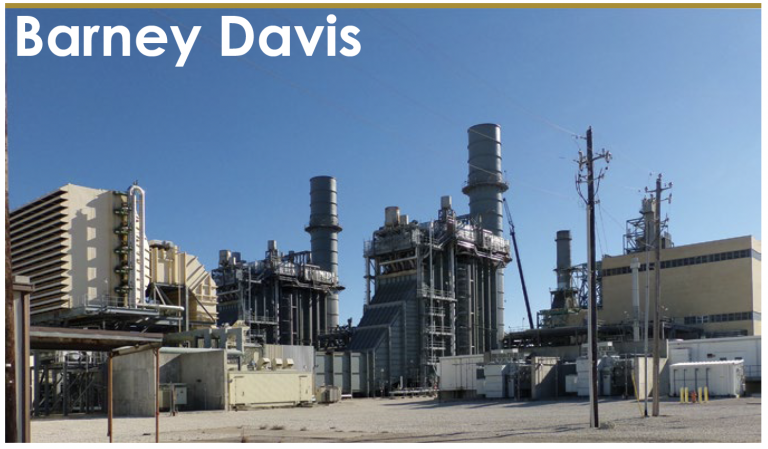 Barney Davis Energy Center, Owned by Talen Energy
Operated by Consolidated Asset Management Services (CAMS)
670-MW, gas-fired, 2 × 1 combined cycle located in Corpus Christi, Tex
Plant manager: Jay Langley
KPI index for water chemistry
Challenge. Improve plant water chemistry.
Solution. Barney Davis Energy Center implemented an EPRI-recommended water-chemistry KPI (key performance indicator) index. The plant's original analyzers were updated and more instruments were installed. Two dissolved-oxygen analyzers were added, plus one sodium analyzer; four silica analyzers were replaced (Fig 1).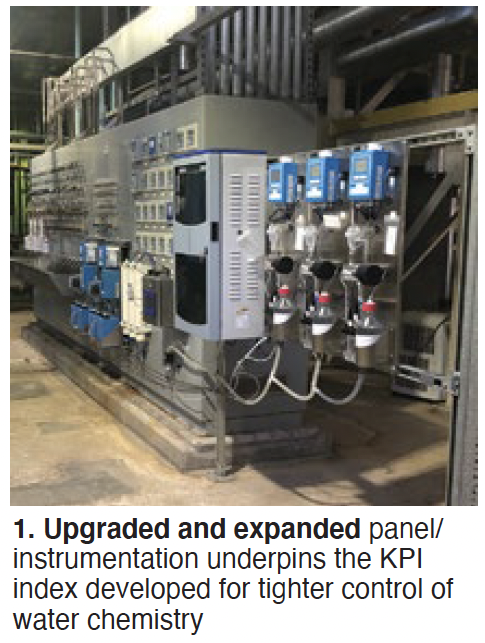 All of the new analyzer readings were added to the DCS. KPI index recommended-action alarms, Levels 1 and 2, were added to the DCS in accordance with EPRI recommendations. An action plan was developed to guide operators when an alarm level is reached.
When conducting water-chemistry tests with manual grab samples, the number of samples and tests performed increased. Grab-sample data added plant rounds documentation which is imported into the data historian via a hand-held device.
Results. After readings are entered and uploaded they are imported to an Excel file where the KPI scoring system is applied. It gives the plant an indication of where it needs to go regarding water chemistry. The score sheets are archived to allow quick reference to previous scores and to identify developing trends.
Project participants:
Jay Langley, plant manager
Garrick Alexander, O&M tech
Chris Nelson
Replace haz-gas detector without compartment entry
Challenge. Make replacement of turbine-compartment hazardous-gas detectors safer by eliminating the need for personnel entry into the compartment to perform this task. The compartment is extremely hot immediately following shutdown and requires cooldown to allow entry. Also, scaffolding is required to access the compartment ceiling. All this takes time and costs money.
Solution. The modification described here makes replacement of haz-gas detectors easier and requires little downtime, primarily because no scaffolding is required. Detector replacement, which takes place from the roof, can be performed in a few minutes—during an overnight shutdown, for example, without impacting unit availability (Fig 2).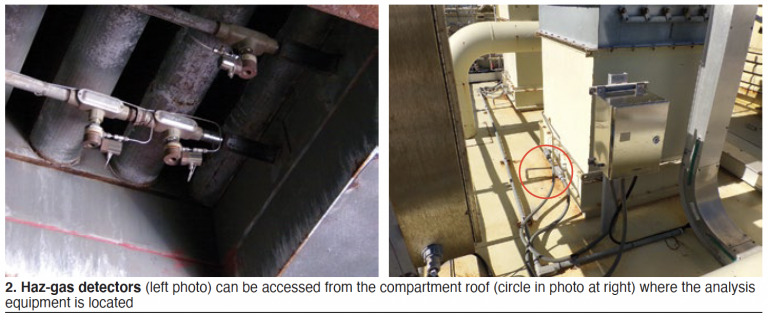 When a detector must be replaced and the unit has been removed from service the change can be made. Following completion of site LOTO and safety procedures, the rail that contains the bad detector can be unbolted by removing four small bolts. Disconnect the calibration gas compression fittings and remove the rail. The flex conduit allows rail removal and its placement on the roof.
Steps:
Gain access to the bad detector conduit LB and cut the wire.
Disconnect and remove the remote calibration-gas assembly.
Remove the bad detector.
Insert wire for new detector into the conduit fitting and feed through to conduit LB.
Attach wire of new detector to existing wire and pull through the conduit—all the way into the main junction box.
Verify detector tightness and reattach the cal-gas assembly; verify tightness.
Reinstall rail, making sure it is resting in the cradle.
Reinstall the small bolts and tighten.
Reconnect cal-gas fittings.

Connect new detector to the terminal block.
Results. The process to change out a detector went from 24 hours to 20 minutes. The cost dropped by several thousand dollars because scaffolding is no longer required for access. Employee safety also improved because staff is no longer exposed to the high compartment temperature.
Project participants:
O&M technicians Garrick Alexander, Chris Soliz, MacKenzie Mackey, and Lance Jones