N2 packing, casing cracking, side ripple-spring migration among hot topics at first meeting
By Patricia Irwin, PE, Consulting Editor
The Steam Turbine Users Group (STUG, www.stusers.org) recently formed by the 7F Users Group (www.7fusers.org) to focus on issues associated with combined-cycle steam turbines and generators, held its inaugural conference and vendor fair in Richmond, Va, August 19-21. The event brought together 62 owner/operators from the US, Canada, Mexico, and Peru. The steering committee (photo) balanced scheduled technical presentations with roundtable discussions, during which attendees contributed to the dialog. The meeting summary that follows will be supplemented with in-depth articles on key presentations in upcoming issues of CCJ.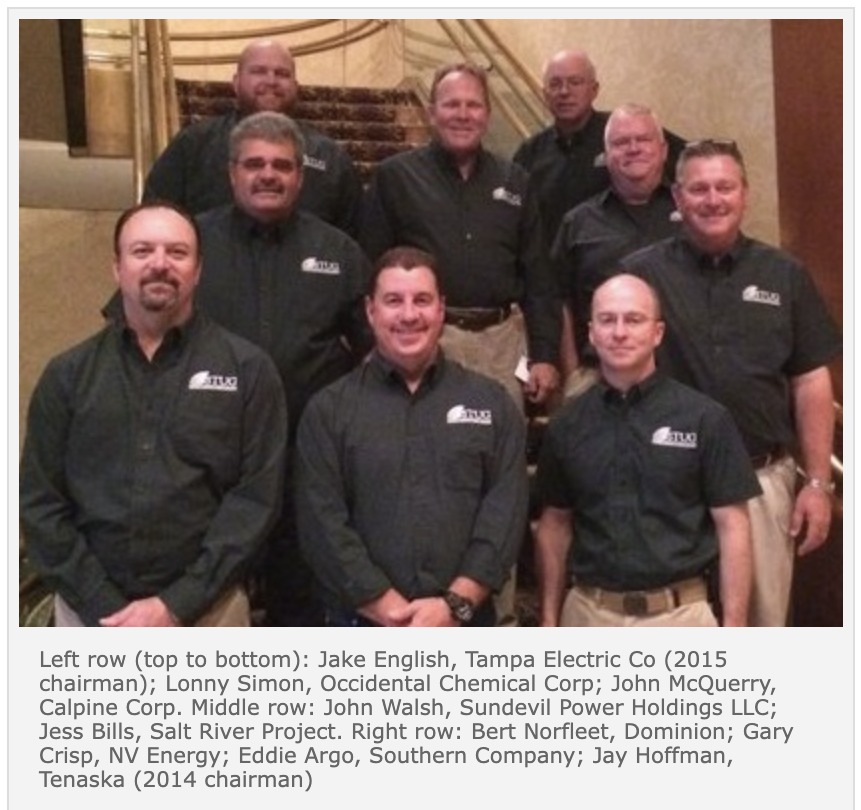 The event was enhanced by instant polling. It works like this: At the registration desk, each attendee is loaned a quick response pad (looks like a small, thin calculator) that hangs on the lanyard behind the name tag. During the meeting, questions can be posed, responses entered, and tabulated in under a minute. Both yes-and-no and multiple choice questions can be asked.
Some polling questions were planned ahead (Example: Did you go on the Alstom tour? Yes, 80%), but others were spontaneous. Quick polling allows anyone, including audience members, to pose a question and get a meaningful answer quickly. A conference staff member creates and displays a PowerPoint slide, with the question on it.
Participants push the appropriate response button and the results appear on the screen. Some of the spontaneous questions included: "How many of you have found the N1 packing rolled over?" Yes, 77%. "Do you use GE's Miniature Air Gap Inspection Crawler (Magic) or pull the field during a major? Magic, 59%; pull the field, 41%.
After the first few questions, everyone caught on and, since the polling is anonymous, attendees were willing to answer. This was the first time this editor had seen polling used during an industry conference; it is a valuable tool.
Day One
The first day was dedicated to Alstom, a sponsor of the conference. Fifty attendees spent the morning touring the company's Workshop Operations facility in Richmond. Escorted to the site by bus, the tour started in a conference room with coffee, a safety briefing, and opening remarks. The visitors divided into groups and rotated through key areas of the facility—including the machine shop, mechanical assembly, generator winding, and high-speed balance. For many, the highlight of the tour came next: Attendees were given the opportunity examine a disassembled D-11 turbine.
Back in the meeting room, Alstom representatives presented information on several topics. Here are a few notes:
1. D-11 service overview. Plan ahead and get as much done as possible during a scheduled outage. Have all the parts you will need, on hand, before the outage.
2. Rotor straightening experience. Rotors rarely get a full-length bow; typically, the rotor is bent or kinked. This type of deformity usually is caused by mechanical stresses, rubbing, water induction, thermal changes, or creep damage. A bent rotor can be straightened and/or repaired in multiple ways.
3. N2 packing housing solutions. Cracking on the HP side of the HP/IP shell and gland housing has been reported. Analysis of the problem shows that the housing and gland typically function well during steady-state conditions, but there are problems with creep and with transients.
There are a few repair options. Shallow cracks can be removed when the sharp corner is ground out to create a circular opening. Deeper cracks can be repaired by welding. Large cracks require significant repairs. The presenter pointed out that these repairs will extend a turbine's life, but once cracking starts, you would need to replace the case to get the full, anticipated life-span.
4. Diaphragm dishing repair/replace solution. Permanent plastic deformation (or creep) is caused by higher-than-design flows and excessive pressure and temperature, over time. If a turbine exhibits more than 1% creep, it needs extensive repairs or should be replaced.
5. Model 7FH2 and 324 generator inspections, rewinds, and repairs. The presenter discussed the procedures Alstom uses to evaluate a generator. The process takes two days with the rotor removed. Also, Alstom is now doing robotic inspections of GE 7FH2s.
6. Support services capabilities for steam turbines and valves. Fast stator rewinds for air- and hydrogen-cooled generators (with stator out, less than 18-kV) can be performed in about 23 days.
Day Two
The second day's program began with a brief discussion of the STUG website and then dove into user presentations and roundtable discussions. Real-world experience was shared both by the presenters and by the audience.
HP, IP, and LP turbines. Led by Southern Company's Eddie Argo, several diverse topics were covered in the opening session as users related their experiences. Gary Crisp of NV Energy presented "Experiences from Three D-11 Major Outages" and SRP's Jess Bills "Steam Turbine Vibration Issues." Less-formal presentations also were made. At times, there were lively discussions between presenters and the audience—including some clear recommendations and differences of opinion. A few of the points made follow:
Make sure all cranes are carefully evaluated before a lift; scrutinize after-market modifications.
D-11s are not all the same. There are many variations, which makes sharing parts a challenge. Also, problems can vary from version to version.
One presenter found he could not get an aluminum oil deflector repaired. The plant had to replace the deflector with a steel one.
One attendee discussed GE's Magic robotic inspection. He said he would rather use the robot and risk missing something than run the risk of having something break while opening the unit. Others in the audience disagreed. They would rather pull the field and make sure everything was in good working condition.
One attendee brought to the floor the industry issue of overheating failures in turbine-valve drain lines. At his plant, acoustic diffusers were installed in drain pipes believing the problem might be related to acoustic resonance. However, this fix was not successful and no attendee offered a panacea. Possible next steps included replacing the motor-operated valves, moving the drain location, installing a larger drain pipe. Discussion will continue in the group's online forum and at the 2015 meeting.
There was a serious exchange about stop-valve freedom testing and how often it should be performed. A suggestion was to follow the OEM's operating instructions. If you are doing it less often than recommended, failures might not be covered by insurance.
A few attendees noted they have found the N1 packing material rolled over. No one was sure why this is happening. The group was surveyed and 77% have found the N1 packing rolled over.
Casing cracks. There was considerable interest in two user presentations on casing cracks. The first involved a plant that, in 2007, discovered a significant crack wrapping half-way around a D-11's N2 packing box. Because of the location, the crack would not have been visible during a borescope inspection. The crack caused the vibration levels in the No. 1 bearing to increase. Result was a 6-mil permanent bow in the rotor. The crack was welded shut, but six months later vibrations on the bearing went up again to 5.9 mils. During a major inspection, the plant found that the weld had cracked all the way through the wall.
A second presentation on cracking came with excellent pictures. The plant suspected cracking, so personnel sandblasted the casing. Significant cracks were revealed, most 0.75 to 1.5 in deep. These were repaired by welding; process required post-weld heat treatment. The presenter pointed out that this was not a simple repair. The casing has to be braced and insulated before and after the welds were made and they had to bring in a generator to power the heating elements. When they tried to put the casing back together, it did not fit. The treated casing had humped, making reassembly difficult.
Generator. Two presentations dealt with how to evaluate generator problems. First Bills, making his second appearance at the podium, talked about major inspections in "Experiences from a D-11 Generator Major Inspection." This was followed by Lonny Simon's (OxyChem) "Experiences from a Generator Outage," which included a discussion of side-spring migration problems and solutions.
Valves and auxiliaries. In the afternoon session, Bert Norfleet of Dominion stumped everyone regarding the root cause of turbine stop-valve stem erosion. High-resolution photographs illustrated the baffling problem. On two units at one plant and on one at another facility, valve-stem erosion seems to occur at random. Serious erosion is found one year, but not the next. Serious erosion is found on the left one time and on the right the next.
Norfleet summarized his findings: Erosion at the base of the stem seems to continue until stem diameter hits 1.4 or 1.5 in., then the erosion moves up the stem. The number of starts does not seem to impact erosion, but the number of running hours apparently does. He is now inspecting stems every 15,000 hours and keeping spare parts in stock. There was an extended group discussion about this problem and several possible causes were suggested by attendees.
Turbine lubrication. The session finished up with a presentation by Dr Dave Wooten on turbine lubrication. Wooten said he has identified 70 different types of chemical processes that can lead to varnishing. He came with pictures of varnish in a rainbow of colors.
Vendor breakout sessions. Finishing the day were two sets of vendor presentations. Each set consisted of two presentations running simultaneously in separate rooms:
"Expedited Straightening of a Bowed A-10 Frame HP Rotor" by Mechanical Dynamics & Analysis;
"Running Assessment Generator GRADE" by Turbine Generator Maintenance.
"The Care and Feeding of Fluid Film Bearings by Pioneer Motor Bearing Co;
"Non-Varnishing PAG Lubricants" by American Chemical Technologies Inc.
Vendor fair. A vendor fair with 22 booths was held in the evening. Hors d'oeuvres stations were set up in the exhibition area, creating a casual atmosphere for both socializing and technical conversations.
Vendor fair. A vendor fair with 22 booths was held in the evening. Hors d'oeuvres stations were set up in the exhibition area, creating a casual atmosphere for both socializing and technical conversations. Here is a list of the attending vendors:
AGT Services
Alstom
American Chemical Technologies
Barry Sibul Co
C.C. Jensen, Oil Maintenance
Cutsforth Inc
EthosEnergy
Groome Industrial Services Group
HPC Technical Services
Hy-Pro Filtration
JASC-Controls
Mechanical Dynamics & Analysis (MD&A)
Millenium Power Services
Orbital Tool Technologies
Pioneer Motor Bearings
Sulzer
The Gund Co
Toshiba
Turbine Controls and Excitation Group
Turbine Generator Maintenance
TurbinePROs
Viking Turbine Services
Day Three
The final day of the meeting was reserved for GE, which had numerous presentations. A keynote address by Bill Girzone and Bernard Norris started the program. This was followed by a "TILs and Maintenance Update" and a presentation on "Operability." After a break, the discussion turned to repairs and outage planning. After lunch, sponsored by GE, there were six presentations: "M&D Analytics," "Inspections," "Steam Path Audits and Evaluations," "New Products and Technology," "Generators," and "Predictivity Solutions." The conference wrapped up with concluding remarks, followed by a GE-sponsored reception and product fair. CCJ