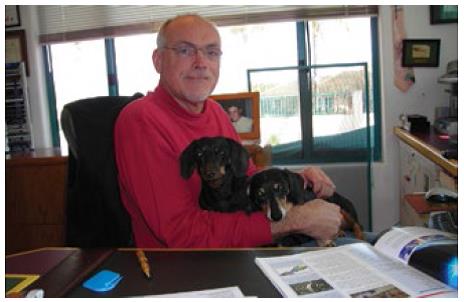 Every engineer worth his salt wants to know how things work—and how to make them work better. For those whose job it is to keep a powerplant running and electricity flowing, it is critical that they know how to keep the turbine shaft turning. That's what Western Turbine Users Inc is all about, Jim Hinrichs told the editors in a recent interview. Jim knew. He was a founding member of WTUI and served as its president for 17 years.
"When the first LM2500 packages were installed," Hinrichs recalled, "the guys at the plants were facing similar problems, but there was no mechanism for sharing solutions or even determining if your problem was one-of-a-kind." At the time, the OEM wasn't providing all the guidance needed, so the LM2500 pioneers decided to do it themselves.
Hinrichs continued, "At first we'd meet at the plants and sit around a conference table with one goal—to brainstorm, troubleshoot, share issues, and solve problems. Although GE had a service organization, these machines were brand new in land-based service and the OEM was on a learning curve just as we were." In 1991, the founders made the decision to incorporate with regular by-laws and membership procedures, and that decision set the tone for the future of the group. It started as an all-volunteer organization and still is.
Another turning point resulted from GE's temporary withdrawal of technical support for the conference, Hinrichs recalled. "That hole in our program was promptly filled by the licensed depots. The depots tackled the job of preparing detailed technical presentations to the users, a task central to the annual conference," he said. "Witnessing competing depot engineers sitting side-by-side editing each other's notes and PowerPoint slides is a phenomenal sight and a testament to the WTUI camaraderie," Hinrichs added.
Still, the heart and soul of WTUI is the dedicated users who understand that helping a fellow user is an investment in their own company and expertise because "what's Joe's problem today, could be mine tomorrow." Through the years, WTUI has grown beyond Hinrich's expectations, but it remains true to its focus: solve users' problems, period.
Some of the people who knew Hinrichs best share their thoughts below. Two, Wayne Kawamoto and Mike Raaker, also were founding members. Jon Kimble followed Hinrichs as WTUI president, Chuck Casey is the current president. Mark Axford and Sal DellaVilla, non-users, have been an integral part of the organization's activities since its first official meeting in 1991.
No one has done more to ensure my professional success than Jim Hinrichs. I was a plant I&E tech for only one year following learning experiences in the US Navy and GE, when Jim tapped me to manage PurEnergy LLC's Colton Power project—eight GE10B1 peaking units at two four-unit sites in California. That experience was a springboard to what has been an extremely rewarding career. I look forward to passing on to my grandchildren what Jim taught me.

Chuck Casey, Utility Generation Manager, Riverside Public Utilities; WTUI President
I've known Jim since his appointment to fulfill WTUI's first president's vacancy bac

k in 1992. Throughout his position as president until his retirement in 2008, I've gotten to know Jim as a great fellow associate, husband, and personal friend. We all looked up to Jim because of his friendly nature, ability to communicate well, and his cheerful personality to enjoy life. Both he and Susan have been the cornerstone in the growth of the WTUI. We will all miss him at our conferences.
Wayne T Kawamoto, Plant Manager, Corona Energy Partners Ltd; WTUI Treasurer
Jim Hinrichs was the soul of WTUI. All of the great things that WTUI has accomplished are due in large part to Jim's passion and vision: To create and grow an independent forum for aeroderivative gas turbine professionals. Other GT user groups have been set up to replicate WTUI but none have come close to reaching the platinum standard set by Jim Hinrichs.

Mark Axford, Axford Turbine Consultants LLC
There are a lot of titles that come to mind when I think of Jim Hi

nrichs: manager, leader, professional, teammate, mentor, friend. I imagine anyone who worked with Jim would agree. I particularly admired his ability to communicate, his sense of organization, his energy and real love for what he was doing. Jim once described work in the power industry as "fun" and you could feel that when you were around him. I was honored when Jim recruited me to work with him as a member of the WTUI Board of Directors. I recall being surprised—overwhelmed—later, when Jim asked me to consider succeeding him as the organization's president. Those of you who knew Jim know he was persuasive, his zeal was infectious; I accepted. I'll always be grateful for his nomination.
Jon Kimble, WTUI President Emeritus
Everyone who knew Jim, knew him as a friend, and "oh by the way," he was president of WTUI. His sense of humor and inability to say anything negative about anyone, even me, made him a special guy and the right person to lead the organization. Our discussions over the years evolved from engines, schedules, contracts, regulations, etc, to wives, families, dreams, and plans for the future. I am very proud to say I was Jim's friend and sidekick for the last 30 years. Charlene, Ida, and I will miss Jim and the times we spent with him and Susan, especially our "not so quiet" lunches and dinners. In case you didn't know, Jim had a very infectious laugh. We were always the loudest table.

Mike Raaker, Raaker Services LLC; WTUI VP Emeritus

Today I received some very devastating and unbelievable news: the passing of a good friend, Jim Hinrichs. The mark of any man is how he has touched the lives of others. Jim touched so many others, and in so many ways, he will never be forgotten. WTUI is heading toward 25 years; Jim left his indelible imprint all over Western Turbine. Those of us who knew and worked with Jim know the measure of his contribution. Those who never had the opportunity to meet Jim, and today participate in WTUI, reap the benefit of his hard work. Rest in a well-deserved peace, Jim.
Salvatore A DellaVilla Jr, CEO, Strategic Power Systems Inc