The COMBINED CYCLE Journal and the steering committees of the industry's leading gas-turbine users groups—including 7F, 501F, 7EA, Western Turbine, Frame 6, 501G, 501D5-D5A, AOG, and V—collaborate to expand the sharing of best practices and lessons learned among owner/operators of large frame and aeroderivative gas turbines.
Fifty plants participated in the 2020 Best Practices Awards program with eight selected by industry experts for Best of the Best honors profiled here. Details of the Best Practices submitted by the remaining entrants will be published in future issues.
CCJ launched the industry-wide Best Practices Awards program in late 2004. Its primary objective, says General Manager Scott Schwieger, is recognition of the valuable contributions made by plant and central-office personnel to improve the safety and performance of generating facilities powered by gas turbines.
Industry focus today on safety and performance improvement—including starting reliability, fast starting, thermal performance, emissions reduction, and forced-outage reduction—is reflected in the lineup of proven solutions submitted this year.
Green Country Energy, owned by J-Power USA and operated by NAES Corp, is an 801-MW generating plant in Jenks, Okla, equipped with three gas-fired 1 × 1 combined cycles powered by GE 7FAs. Plant Manager Danny Parish and station personnel shared these best practices:
Replacement of the Kato Engineering brushless exciter on a 9A4 generator.
Safe entry into gas-turbine compartments protected by CO2 fire protection systems.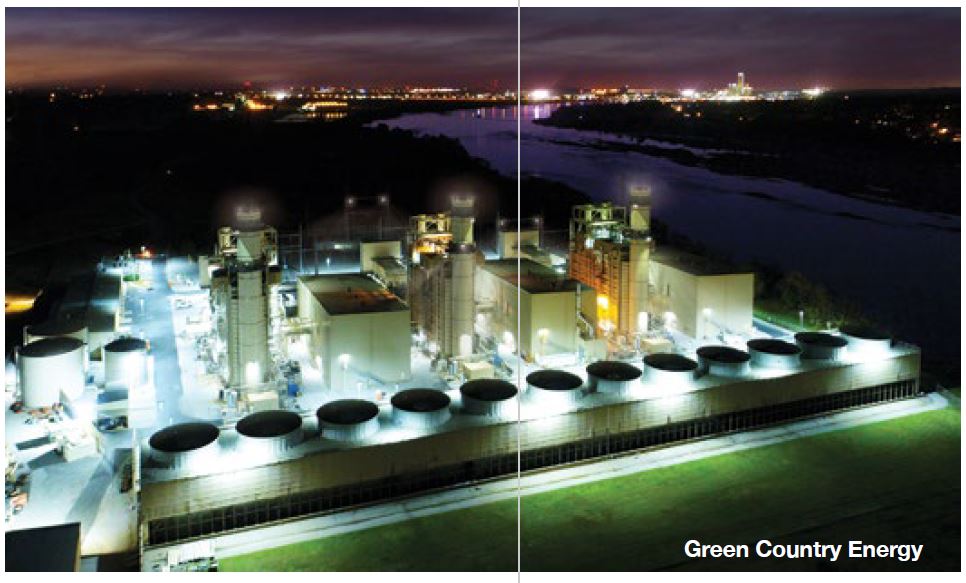 Hermiston Generating Plant, owned by Perennial Power Holdings and PacifiCorp and operated by the former, is a 500-MW gas-fired combined cycle in Hermiston, Ore, powered by two GE 7FAs. Best practices submitted by Plant Manager Brad Knight and his staff:
Hydrogen purge remote activation.
Personal ownership leads to 25 years of no lost-time accidents.

River Road Generating Plant, owned by Clark Public Utilities and operated by GE, is a 250-MW, 7FA-powered, 1 × 1 combined cycle in Vancouver, Wash. Plant Manager Robert Mash and his team shared these experiences:
Non-chemical algae control.
Combining JSAs and operating procedures.
Lube-oil conditioning and real-time monitoring.
Hydrogen-detection flange tape.
Cooling-tower oil boom.
Klamath Energy LLC, owned and operated by Avangrid Renewables, is a 536-MW, gas-fired, combined-cycle cogeneration plant in Klamath Falls, Ore, equipped with two Siemens 501FD3s. Plant Manager Dennis Winn and his staff submitted three best practices:
Evaporative-cooler improvements.
Gas-turbine fire-suppression upgrade.
Cooling-tower cell platforms.
Milford Power LLC, owned by Starwood Energy Group and JERA Co, and operated by NAES Corp, is a 204-MW, gas-fired 1 × 1 combined cycle in Milford, Mass, powered by a Siemens 501D5. The best practice submitted by Plant Manager William Vogel and his staff describe the additions and enhancements—such as wet compression, duct burners and SCR catalyst, HP steam turbine—made to increase plant output by more than 50 MW. Note that JERA is a joint venture between two Japanese generating companies, TEPCO Fuel & Power Inc and Chubu Electric Power Co.
Crete Energy Venture, owned by Crete Energy Venture LLC and operated by Consolidated Asset Management Services (CAMS), is a 330-MW peaking facility located in Crete, Ill, equipped with four simple-cycle GE 7EAs. Plant Manager Brad Keaton provided these three best practices:
Instrument-air reliability upgrades.
Generator PT relocation.
Demin-water-tank insulation.

PSEG Peakers, owned and operated by PSEG Fossil LLC, is the name given to the simple-cycle units at Kearney (10 GE LM6000PCs), Burlington (four LM6000PCs), Linden (four GE 7EAs), and Essex (one 7EA) Generating Stations, together rated more than 1050 MW. Plant Manager Clint Bogan and his staff manage these assets efficiently using the "Maintenance and outage share file" described in their best practice.
St. Charles Energy Center, owned by Competitive Power Ventures (CPV) and operated by Consolidated Asset Management Services (CAMS), is a 745-MW, gas-fired combined cycle in Waldorf, Md, powered by two GE 7FAs. Plant Manager Nick Bohl and his staff submitted these best practices:
Brush maintenance program leads to increased generator reliability.
Job status board helps keep staff informed and safe during maintenance events.
Vision screen promotes operational excellence.
Improving visitor tracking and management, and internal cyber controls, in complying with CIP-003-7.
Cooling-tower fan-gearbox mod aids in monthly oil sampling and oil changes.
Other plants submitting best practices that will be shared with users are the following:
7FAs

Barney Davis Energy Center
Bastrop Energy Center
Calhoun Power Co
Central Eléctrica Pesquería
Effingham County Power
Essential Power Newington
Hunterstown Generating Station
Marcus Hook Energy Center
MEAG Wansley Unit 9
Plant Rowan
Rathdrum Power
Woodbridge Energy Center

Aeroderivatives

Energía del Valle de Mexico I (EVM I)
Exira Station
Greater Toronto Airport Authority Cogen
Lawrence County Generating Station
Nesharim Leading Energy
Nevada Cogeneration Associates No. 1
Orange Cogen
Orange Grove Energy
Pinelawn Power
Worthington Generating Station

501F

CCC Tuxpan II & V
CPV Valley Energy Center
Dogwood Energy Facility
Lea Power Partners
Monroe Power Company

501G

New Athens Generating
Middletown Energy Center
New Harquahala Generating
Shepard Energy Centre

7EA

Doyle Energy Facility
Elwood Energy
Lincoln Generating Facility
Mulberry Cogen

501D5A

Blackhawk Station

SGT-800

Holland Energy Park

Diesel

AES Levant Holdings BV