The technical agenda for the 7F Users Group's 2017 conference, May 15-19, at the La Cantera Resort & Spa in San Antonio, Tex, is gas-turbine-focused and robust, and offering diversity of subject matter to address the many O&M challenges facing plant management today.
Recall that the program for last year's 25th anniversary meeting was changed to drill deeper into engine topics, moving in-depth sessions on heat-recovery steam generators, steam turbines, and generators to the Power Users program in late summer where that equipment could be covered in greater detail.
Unfamiliar with Power Users? It is the umbrella organization for managing and coordinating the technical programs for the 7F, Combined Cycle, Generator, and Steam Turbine Users Groups. For more information, visit www.powerusers.org.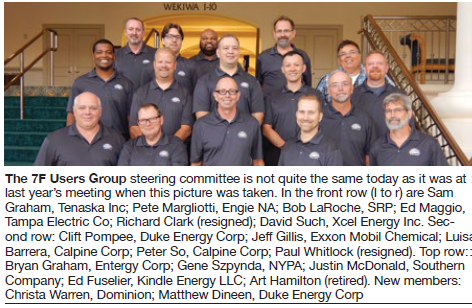 2017 agenda
Monday (May 15) starts off easy enough: The annual golf tournament is conducted from 8 a.m. to 1 p.m. in parallel with tours of PW Power Systems Inc's nearby facility specializing in 7FA component inspection/repair/manufacturing. Busses leave the hotel lobby at 9, 10, and 11; the tours each take about an hour and a quarter.
Remainder of Monday (2 p.m. to 6) is set aside for technical sessions presented by PW Power Systems. Features and benefits of the third-party supplier's commercial offerings—some of which you may not have associated with PWPS™ previously—dominate the content descriptions for those sessions posted at www.7Fusers.org.
In the editor's view, a nugget in the supplier's program of value to virtually all plant O&M personnel, and especially those at plants self-performing maintenance, is the "7F Scrap Clinic." Given today's razor-thin margins in the generation business, you likely do not want to scrap repairable components.
Tuesday and Wednesday are the "meat and potatoes" of the meeting, offering perhaps a dozen or more presentations by owner/operators and open discussions on a variety of topics that impact plant performance, safety, etc. You can expect about 250 users to attend these closed sessions, from 8 a.m. to 3:30, p.m., ready to share their experiences—both good and bad.
Sessions running from about one to two hours each focus on the compressor, combustion, and turbine sections of the engine, safety, performance and controls, auxiliaries, and 7F Top Issues and best practices.
The 7F Best Practices Awards program is a collaborative effort between the user group and CCJ. Presentations of the 2017 awards will be made at the conclusion of the Top Issues discussion Wednesday afternoon. Finalists this year are the following plants:
Barney Davis Energy Center.
Calhoun Power.
Effingham County Power LLC.
Faribault Energy Park.
Green Country Energy LLC.
Nueces Bay Energy Center.
Nuevo Pemex Cogeneration.
Plant Rowan.
Rathdrum Power LLC.
Thomas A Smith Energy Facility.
Vandolah Power.
Woodbridge Energy Center.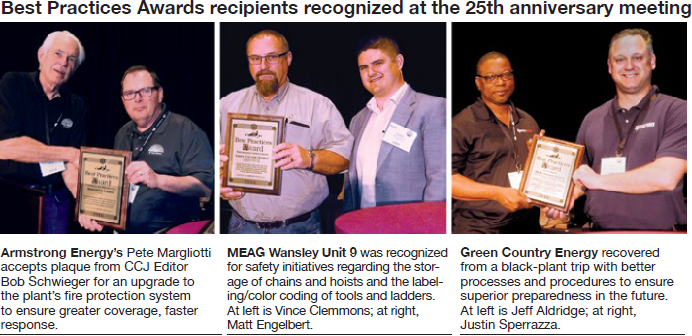 Special vendor presentations are incorporated into the program from 3:45 to 5 both days, just ahead of a three-hour vendor fair beginning at 5:30. There are two 45-minute supplier sessions, each with three companies presenting in parallel. It's virtually impossible not to find at least one topic of interest. Here's a rundown:
Tuesday, Session 1:
Repair of platform cracks on 7FA.03 first-stage buckets, Dr Warren Miglietti, ProEnergy
7FA diffuser-duct insulation and liner system upgrade to improve reliability and performance,
Lester Stanley and Scott Olson, HRST Inc, and Jeff Wilkinson, Alliant Energy
Benefit of stacking inlet cooling technologies for power augmentation, Chris Mieckowsi, Stellar Energy
Tuesday, Session 2:
Emergent generator repairs required because of increased cyclic duty, Jamie Clark, AGT Services
7F product offerings for enhanced operational flexibility, Dr Peter Stuttaford and RuthAnn Rawlings, PSM
Impact of GT upgrades and increased cycling requirements on catalyst systems, Andrew Toback, Environex Inc
Wednesday, Session 1:
Machinery protection and monitoring, Jim Fenton, Alta Solutions Inc
Mitigating the impact of weather conditions on GT operations, Adam Jeffries, AAF International
7F turning-gear design, operation, and maintenance, Tim Connor, Koenig Engineering Inc
Wednesday, Session 2:
Advanced ultrasonic inspection methodologies for aft compressor-wheel cracking, Kevin McKinley, Veracity Technology Solutions
The changing landscape for combined-cycle operation, David Cicconi, Emerson
Condition-based maintenance of the generator, bus, and transformers, James Timperley, Doble Engineering Co
The OEM owns Thursday and Friday.Program arrangement this year mirrors that of 2016 with appropriate subject-matter breakout sessions. This avoids the mesmerizing effect of a seemingly endless parade of speakers that one can experience with a single-platform format, the old standard. The new format allows users to drop out of a session without disrupting other attendees and return invigorated, not having had to listen to a presentation of little or no interest.
Thursday begins with a two-hour general session, half of what it was last year, and transitions to five 45-minute breakout sessions with 15-minute breaks between. Each breakout period features presentations on four topics arranged in parallel. A 45-minute feedback session closes out the classroom activities with both users and the OEM participating. The busy day ends with a three-hour product fair from 6 p.m. to 9.
The Thursday breakouts promise a blend of information of value to users with less than three years in the industry as well as those with a decade or more of experience. Topics include the following:
Compressor, including lessons learned from flat-bottom inspections.
Combustion, including an update on DLN 2.6+ fleet experience and NOx spikes.
Turbine, including experience with AGP and repairs of cracked third-stage buckets.
Exhaust-frame enhancements.
Rotor-life-management best practices and latest life-extension results.
Accessories and controls, including best practices and troubleshooting recommendations.
Electrical systems, including maintenance best practices and impacts of cyclic operation.
Digital solutions, including analytics for improving reliability.
Repair operations: New service shop network for keeping owner/operators involved throughout the repair process.
05 and beyond, including fleet experience, best practices, information-sharing with Dot-05 users, and technologies in development.
Important to note is that several of the 45-minute presentation/discussions are offered twice, so you have a couple of opportunities to attend sessions of greatest interest.
7F Grad School is the theme for Friday's program. The grad-school idea was introduced by GE last year and was well-received. Subject matter is broader than offered in the Thursday program and allows attendees the opportunity to develop a deeper understanding of "why things are the way they are." It's also a way to decompress from the onslaught of technical material received the first four days of the conference and gain valuable perspective.
Program arrangement is the same as for the Thursday program except that there are only three breakout sessions on Friday before the meeting concludes shortly before noon. Here are the topics:
Market dynamics for engineers and the impacts they have on operations. Factored into the presentation/discussion are the effects of renewables, fuels and their prices, energy storage, expiring PPAs, etc.
Controls 101. Demystifying modern control systems for the mechanically inclined.
Repairs 101: Session will answer such questions as, "Why are you proposing to do that to my parts? Can I weld single-crystal buckets? How firm are the recommended intervals?" and any that you want answered.
Aeromechanics 101 includes an overview of airfoil design, blending considerations, the hazards of running with cracked airfoils, etc.
"Make my plant better" is a strategic discussion session involving plant-level considerations, uprate opportunities, and oft-overlooked mods capable of maximizing site performance.
O&M zeroes in on outage planning and execution best practices, inventory management, minimizing variable costs, etc.
Faces
User groups are particularly valuable to O&M personnel "stranded" in plants who need avenues of communication to reach colleagues capable of providing meaningful advice. Don't call top management; they hired you to give them the answers.
It is unlikely that any problem you face has not been experienced by at least one other user. The challenge is finding that person. If you're new to the generation business, the first step might be to ask your questions in an online forum serving your engine model. The 7F Users Group operates what is widely considered one of the industry's most effective forums; if you're not using it, you are missing a real opportunity. Join today at http://www.powerusers.org/.
Think of communications as a three-legged stool. The online forum (pixels) is one leg. Publications (print) are another. Reading about the experiences of others can help avoid problems in the first place. Face to face is the final leg, enabled by attending a meeting focused on your model of gas turbine. You need all three legs to stand on your own and grow.
Building a personal network of subject-matter experts is particularly important today given retirements of knowledgeable personnel and the trend to smaller and smaller staffs in a time when increasing demands are being heaped on you by an ever-widening range of federal/state/regional/local regulations. The all-volunteer steering committee is well aware of your challenges because its members, active 7F owner/operators all as required by the organization's bylaws, face the same ones.
To illustrate: Several of the most experienced committee members recently opted to retire from their day jobs; others have transitioned to the so-called "dark side." In the last couple of years, Jim Sellers of Entegra Power, Paul White of Dominion, Bob Holm of OxyChem, and Art Hamilton of Emera Energy retired. Hamilton is the most recent addition to that club. Those leaving their plants for better opportunities, and resigning from the committee as required, included the affable Richard Clark, now with GE, and Paul Whitlock, now with Mitsubishi Hitachi Power Systems Americas' M&D Center.
Holm was recognized in 2016 for his many years of very active participation as a discussion leader during the annual conferences and as a regular and valuable contributor to the forum. He was always ready to help all whom he could. Impromptu remarks by committee members during presentation of a special career award characterized the unsuspecting Holm as an example for others to emulate and as a great role model.
Handed the microphone, Holm urged all attendees to participate in 7F User Group activities and share their experiences—successes and failures—both in person and on the forum. He also stressed the need for those just starting out to find a mentor.
The loss of so many leaders in a short period of time might have some wondering about the committee's capabilities going forward. Don't. With a quarter of a century of experience running what is believed to be the largest user group in the world serving a specific frame, the committee always has a ready reserve of capable recruits. In the last year, for example, it added Christa Parren of Dominion and Matt Dineen of Duke Energy.
Today the 15-person steering committee has good balance between senior and junior members. Six members have eight years or more of committee experience (Pete So of Calpine Corp is the most senior with 18); nine have four years of service or fewer. The members represent companies with 249 7F engines, or about 30% of the global fleet.
User presentations
If you want a crash course in 7F issues and solutions the 7F Users Group conference and vendor fair is where to learn from informed colleagues. Haven't attended previously? Don't know what to expect? Have to convince management on the value of participation? One way to get these answers is to peruse the presentations made by owner/operators last year and available to users, like you, on the "shelves" of the 7F Library at http://www.powerusers.org/.
Perhaps you're not confident and think you might not "fit in" among the experts. Not true. Last year, about half of the attendees were first-timers, by show of hands.
To help encourage your visit to the 7F Library, here are thumbnails of two user presentations made last year:
Flat-bottom-slot compressor wheel repair. Unfamiliar with the indications found in the flat-bottom slots of compressor wheels 12-17 in some units so equipped? Obtain a copy of the OEM's Technical Information Letter (TIL) 1972-R1 and come up to speed. Cracking in the slots is attributed to thermal cycling: compressive stresses are imposed on the wheels during startup, tensile stresses during shutdown.
Check points suggested by the OEM are 1700 and 2200 actual fired starts. The first is when the experts say indications would have propagated sufficiently to be measured, the second is when you might expect to find indications large enough to potentially cause an event.
Given that an accurate audience poll using the user group's electronic voting system indicated 79% of attendees had units with flat-bottom slots (the remainder, round-bottom), there was high interest in this user's experience. Here are the highlights:
An hours-based major was conducted when the machine had fewer than 1200 starts, and the owner decided to mag-particle check the R17 slots at that time. Indications, found on 25 of the 60 slots, were 0.25 in. or less, which were "acceptable" according to the OEM. A measurement of 0.375 in. would have been of concern.
The R17 slots were rechecked a few months later when the engine was opened to deal with a third-stage bucket failure. There was no change in the indications.
In another three months (round number), a forward stub shaft issue dictated a rotor swap; recheck of R17 slots again revealed no changes in the indications.
The original rotor was rebuilt by GE and a new stub shaft installed. A Package 5 upgrade (new R0 through R8) was done at that time and the flat-slot-bottom indications were blended. The refurbished rotor was installed in another machine. No problems were identified by visual inspection of that unit after 10,000 hours of service and nearly 150 starts.
Conclusions drawn by this user suggested it's likely unnecessary to replace wheels if you find indications that do not exceed the OEM's guidelines; blending can extend life, although the manufacturer would not guess as to what the extended timeline might be.
Another user in attendance offered his knowledge on four units having indications from R11 to R17. He said crack propagation can be estimated based on start data and that growth can be minimized by avoiding forced cooling. Yet another user said he had four units (two 7231s and two 7241s) with from 60,000 to 90,000 hours of service and found cracks from R13 aft, but not on all the units. Indications were blended and the units continue to operate.
Someone else said additional motivation for eliminating forced cooling was to avoid HRSG tube-to-header cracking. An OEM engineer cautioned against making changes to startup and shutdown procedures before evaluating their impacts on fuel cost and air-permit requirements.
FlameSheet a commercial success. A utilities maintenance manager at a major chemical producer called PSM's FlameSheet™ a "remarkable technical success" in his presentation.
Prior to installing FlameSheet, he said, the plant could operate both of its 7FAs to maximize output, but that exposed the company to the consequences of low demand and low power prices. When operating one engine, the plant could satisfy the owner's requirement but was unable to ramp quickly enough to capture high market pricing. FlameSheet, the speaker continued, extended GT turndown, enabling the cogen plant to increase market participation with its full capability while minimizing exposure to unfavorable market conditions.
Briefly, FlameSheet is retrofittable in both 7FAs and 501Fs, ideal for minimizing spares in mixed fleets. It enables the F-class GE and Siemens engines to operate down to 30% of their rated outputs while maintaining single-digit NOx and CO emissions. The combustion system is designed to burn a wide variety of fuels and to operate up to 32,000 factored hours between inspections.
Among the other topics covered by users in formal presentations and available in the 7F Library include the following:
Compressor pitting and corrosion requiring replacement of blades through Row 8 and a change in washing procedures and filters to mitigate the problem, which is still under investigation.
S14 tip liberation attributed to high-cycle fatigue, but the root-cause analysis was unable to identify the cause of HCF.
Fleet-wide compressor (flared and unflared) experience based on findings from nearly 90 borescope inspections and a dozen and a half unplanned events.
Experience with non-OEM controls on 7FAs. CCJ