Permit poster offers quick access to key numbers
Faribault Energy Park/Minnesota River Station
Owned by Minnesota Municipal Power Agency
Operated by NAES Corp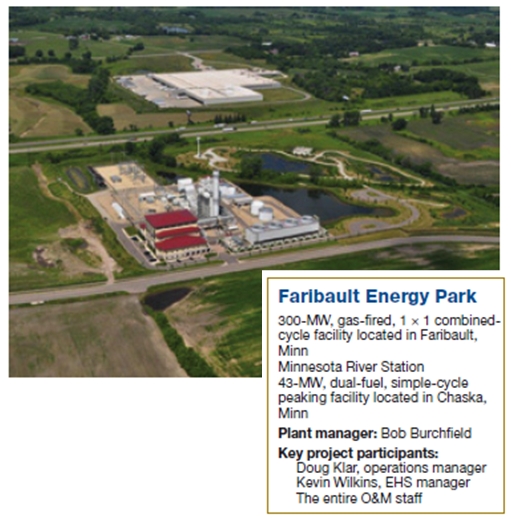 Challenge. While performing job duties in the field, plant personnel routinely need quick access to just a few key numbers found in the facility air, water, and waste permits. Each of these documents may contain 50 or more pages and can be filled with volumes of information infrequently needed by an operator performing chemistry, or a CRO at the DCS. Routine classroom training doesn't necessarily equip an employee with the sufficient tools and knowledge to remember every key permit limitation or set point.
Solution. Staff came up with an simple and effective solution: Create a poster containing pertinent permit information, make copies of the poster, and display the posters in areas where most needed, such as the control room and chemistry lab.
Do it yourself: Extract the key limits and set points from the permits for display on a highly visible and easy-to-read poster (Fig 18). The purpose is to provide quick access to select information that is needed while in the field.
Exercise restraint and enter only information that helps personnel make informed decisions in the course of performing daily routines. Provide technicians with the parameters and information only within their control—listing too much information can "muddy the waters" and may reduce the usefulness of the tool.
Results. The poster serves as a training handout and reduces the chance of violations by empowering staff with the knowledge and numbers they readily need to make informed decisions. Operators and technicians appreciate not having to interrupt a job to locate a number buried in a permit to determine whether the CEMS alarm they just received or chemistry result they just viewed is within the permit limits.