The Electric Power Research Institute's Turbine Generator User Group (TGUG) hosts two meetings annually—one in winter and the other in summer. The 2020 schedule is in the accompanying box. If you've never attended one of these conferences, which offer independent turbine and generator tracks conducted in parallel, perhaps you will next year.
Electric Power Research Institute's
Turbine Generator User Group (TGUG)
2020 Meetings
January 13-14
Omni Amelia Island Plantation Resort
Fernandina Beach, Fla
August 10-14
Venue to be announced
Chicago, Ill
For more information, visit www.epri.com or email
Bill Moore, PE Technical Executive, Electrical Generators
This article focuses on the generator track, managed by Bill Moore, PE, EPRI's technical executive for electrical generators, and offers good reasons for both engineers new to the industry, and veterans, to attend. Primary among them is meaningful content.
TGUG meetings run from Monday through Friday morning and will introduce you to subject matter on equipment design, operation, and maintenance that you may not get at other industry conferences. One reason is the majority of invited speakers are from owner/operators and relatively small firms with expertise in specific areas of generator technology.
The Monday and Tuesday programs are arranged in an open workshop format; OEM presentations are on Wednesday; extensive roundtable discussions by EPRI members are conducted on Thursday; specialized SME (subject matter expert) training is on Friday morning.
To pique your interest, Moore has provided short summaries below of seven of the nearly two-dozen presentations at last summer's TGUG meeting in Albuquerque, NM. The remaining presentations, identified by title and author, follow the abstracts. Important: All of these presentations are available at no cost to EPRI Program 65 members and to those who attended the meeting.
Mike Young, SRP (Salt River Project), discussed outside spacer block (OSSB) migration in a GE 324 generator. This was the first reported event of this failure mechanism occurring on this type of generator. The unit had been cycled off and on in summer, twice daily, for about 10 years. The OSSB penetrated the bottom stator bar insulation 1/8 in. as shown in Fig 1. A decision was made to rewind the stator and restack the ends of the stator core to correct the problem. OSSB plates were staggered and additional wedges were added in the dovetail slots on the OSSB.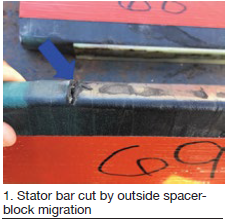 Gregory Howard, Exelon Corp, presented on the use of a hipot test and infrared thermography to identify dc leakage in a stator-winding cooling water hose. The B phase of this 1355-MVA, 25-kV generator first tripped at 50 kVdc, then failed with a subsequent test at 27 kVdc. The B-phase voltage was reapplied again to produce a small amount of heating in the cooling-water hose, the suspected source of the trip. FLIR thermography was used to view through an open manway and identify the localized heating that was producing the leakage and failing the hipot test (Fig 2). The hose was removed, dissected, and the source of the contamination causing the leakage was eliminated.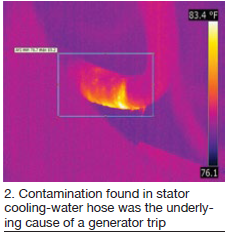 Mike Bresney, AGT Services Inc, talked about a repair on a generator flex connection. Recall that flex connections are the copper-laminated flexible links that connect the stator winding and the bushings. On some units, they are located vertically above the stator winding, on others vertically below. There have been at least two major flex-link failures in recent years, so this component is getting increased inspection, maintenance, and repairs. Major issues include overheating attributed to loose bolting and lack of flatness, causing insufficient electrical contact and resistance heating (Fig 3). In some cases, fatigue and fracture of the copper-laminated link occurs.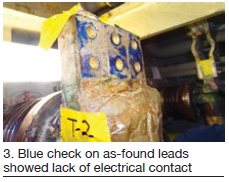 Bill Moore, PE, updated workshop attendees on an EPRI-sponsored project led by Matt Svoboda and Thomas Bauer of SvoBaTech. Focus of the research: identification and communication of the proper layup procedures to prevent oxide plugging (Fig 4) in water-cooled generators. The EPRI report on this work, #3002016241, scheduled for publication in November 2019, is available at no cost to members of the research organization's Program 65 (Steam Turbines, Generators & Auxiliaries).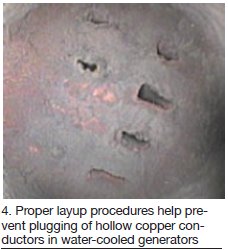 Chris Suprock, Suprock Technologies LLC, covered the inherent risks and wide band of uncertainty related to calculation of shaft torsional resonances. He cited EPRI report #1013460 (publicly available at www.epri.com) which discusses 11 major industry failures (turbine and generator) related to torsional interaction between the grid and the turbine/generator.
Suprock shared the details of a turbine diagnostic monitoring system (TDMS)—self-powered and shaft-mounted—for measuring torsional and lateral vibrations and acceleration (Fig 5). He said measurement of these parameters significantly reduces the band of uncertainty, and suggested that a TDMS be installed when a turbine or generator is replaced or modified.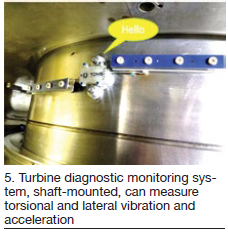 Steve Reid, TG Advisers Inc, offered three case histories on important lessons learned when rewinding generator rotors. One project involved unusual copper rotor turn blistering as shown in Fig 6. Blistering was not observed until after the rotor turns were removed and in the process of refurbishment for re-insulation and re-installation. Another example included a rotor shaft severely arc-damaged from negative sequence currents. In some cases, events like these are unforeseeable, and no amount of preplanning can eliminate significant outage delays.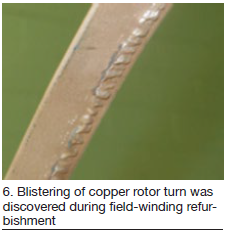 Dr Lyle Branagan, Pioneer Motor Bearing Co, provided a tutorial-type presentation on generator and exciter bearings. He covered the fundamentals of generator and exciter bearing design and operation, including some case histories of bearing failures (Fig 7).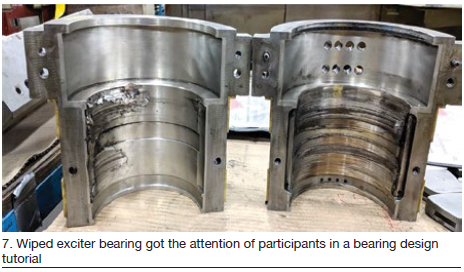 Other presentations at the Albuquerque meeting included the following:
"Shaft Cracking from Grid Disturbances," Neil Kilpatrick, GenMet LLC.
"Advanced Pattern Recognition and Model Development," Aaron Hussey, PE, Integral Analytics LLC.
"NERC PRC Reliability Standards Pertaining to Generators," Jon Gardell, Patterson Power Engineers LLC.
"Stator Water Challenges," Colin Rickets, Exelon Corp.
"AEP Field Trial of H2 Leak Detection Tape," George Yeboah, AEP (American Electric Power Co).
"Large Generator Winding Specifications in the Renewable Age," Reza Soltani, Powertech Labs Inc.
"Rotor Slot Liner Cracking," Sachin Sehgal, TC Energy.
"Speed Sensitive Field Ground Investigation, Diagnosis, and Repair," Jamie Clark, AGT Services Inc.
"Rotor Turn Insulation Failure," Tyler Foutz and Joey Martinez, EthosEnergy Group.
"Preparing Generator Rotors for Cyclic Duty," Mark Crittendon, MD&A.
"AVR Failure Modes, Upgrades, and Repairs," Gene Asbury, Basler Corp.
"Pressurized Air-Cooled Generator Factory Test Results," Mike Zborovsky, Siemens Energy.
"Solving Inherent Safety and Reliability Problems with H2 Cooled Generator Purging," Andy Shurtleff and Andrew Slaugh, Airgas, an Air Liquide company.
"Palo Verde Generating Station Flexible Lead Inspection and Modifications," Douglas Withers, John Myers, and Scott Miller, APS (Arizona Public Service Co).