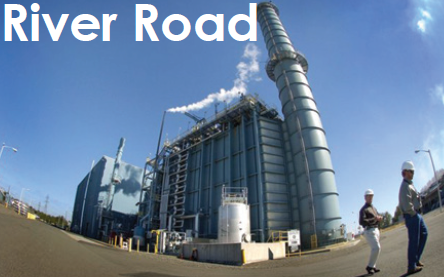 Recognized for its Best Practice in O&M and Safety
Retrofit air-inlet filter house for emergency egress
River Road Generating Plant (RRGP), 1 × 1 F-class combined cycle operated by GE for Clark Public Utilities and managed by PM Todd Gatewood, was built in 1996-1997. The legacy four-level air-inlet filter house was installed with no emergency egress. During outages, personnel occupy the filter-house space during filter removal and replacement. Fleet experience has demonstrated that filter media and the dust collected by the filters can be highly combustible.
Had a fire started, the only escape path was via internal ladders from one platform level to another, then through a 2 × 3-ft manway exit on the lowest level. This represented a significant safety issue for anyone involved in the filter replacement process, the control room personnel directly adjacent to the filter house, and the personnel in the office space below.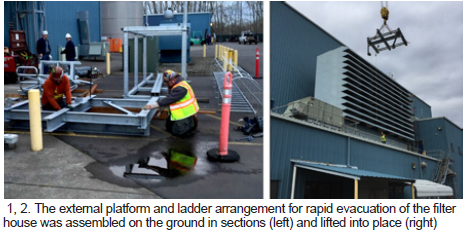 The challenge was to determine the best method of egress, taking into consideration the limitations presented by the existing structure—including office space directly below the filter house. The entire RRGP team was involved in brainstorming sessions. Some ideas were rejected outright because of code or practicality considerations—including emergency zip lines and doorways on each platform with access to a "fire pole".
The decision was made to proceed with a project that included cutting doorways at each level, plus an external platform and ladder arrangement in combination with an intumescent coating on the interior wall and doors of the filter house. The challenge was designing and building a structure to suit the plant's safety needs while designing around existing structures below the filter house (Figs 1 and 2).
Following an extensive fire safety code and structural engineering analysis, a custom emergency egress was designed, pre-fabricated, assembled, and installed (Fig 3). This reduced the personnel concern regarding rapid egress. The retrofit external platform and ladder assembly eliminated the safety hazard of the internal "trap door and ladder" access system supplied with the original filter house.
A process failure-modes effects analysis (FMEA) was completed. Prior to the retrofit, the total risk priority number (RPN) was 784. Following completion of the retrofit, the RPN was 150.