Turbine-compartment roof handrails promote safety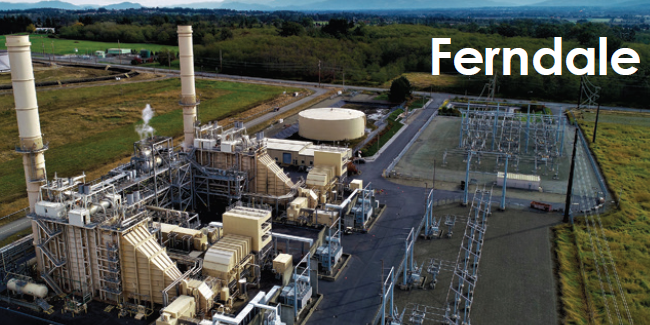 Ferndale Generating Station
Owned by Puget Sound Energy
Operated by NAES Corp
270-MW, gas-fired, 2 × 1 combined-cycle cogen plant located in Ferndale, Wash
Plant manager: Tim Miller
According to the National Safety Council, slips, trips, and falls are among the most common and costly workplace incidents across all industries. They account for 35% of incidents, 36% of emergency room visits, and 65% of lost workdays. Additionally, and more staggering, OSHA says slips, trips, and falls account for 15% of all accidental deaths, second only to automobile fatalities.
When it comes to falls in the workplace, OSHA's focused efforts help prevent disabilities and deaths. Disabilities often come with many large expenditures. It is estimated that more than $61 billion is spent annually on disability claims in America with $15.57 billion (25.1%) resulting from falls. Interestingly, two-thirds of the falls are to the same level, one-third to a lower level. Also noteworthy, slips and trips without falls cost $2.35 billion (3.8%).
Adding to this cost is that an employee suffering from a slip, trip, or fall incident misses an average of 38 workdays, costing millions of dollars to organizations in lost productivity while also driving up insurance costs.
OSHA and plant safety procedures require a fall arrest system be used when working on something other than a walking/working surface where there is a potential fall hazard of greater than 4 ft.
At Ferndale Generating Station, each gas turbine's compartment roof, approximately 12 ft from ground elevation, is accessed frequently to maintain equipment. Without handrails in place, fall protection harnesses and lanyards would be required.
Tie-off points for the lanyards are limited, given plant configuration and type of equipment. Plus, once lanyards are attached to appropriate anchorage points, new hazards are introduced—including tripping on the lanyard and limited accessibility.
Plant staff performed a root cause analysis using "Think Reliability's Cause Mapping Tool" in a "What if?" approach to determine potential hazards and possible solutions to eliminate or reduce the identified hazards.
Several corrective actions were recommended, but not selected—including the following: installing an overhead cable as an anchoring point, using a man lift for inspection, and installing railing on top of turbine-compartment vent fans.
The plant safety committee chose to implement the following corrective actions: Restrict the use of self-retracting lanyards to overhead connections only and add handrails on the turbine-compartment roof.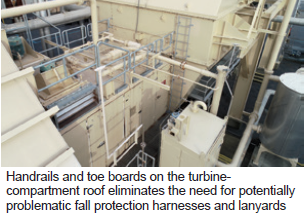 Working with a third-party engineering and fabrication company, a railing system was designed and installed on the roof (Fig 1), eliminating the need for fall protection while working aloft. A system was installed with adequate handrails and toe boards to meet the regulated requirements. The total cost was approximately $8000 per gas turbine. In 2018, several maintenance tasks were completed without incident or need to use fall protection equipment to ensure safety.