The COMBINED CYCLE Journal and the steering committees of the industry's leading gas-turbine users groups—including 7F, 501F, 501G, 7EA, 7/9HA, Western Turbine, Frame 6B, 501G, 501D5-D5A, AOG, and V—collaborate to expand the sharing of best practices and lessons learned among owner/operators of large frame and aeroderivative gas turbines.
Thirty-five plants listed below participated in the 2022 Best Practices Awards program with eight selected by industry experts for Best of the Best honors. Details of the Best Practices submitted will be published in future issues.
CCJ launched the industry-wide Best Practices Awards program in late 2004. Its primary objective, says General Manager Scott Schwieger, is recognition of the valuable contributions made by plant and central-office personnel to improve the safety and performance of generating facilities powered by gas turbines.
Industry focus today on safety, outage management, and performance improvement—including starting reliability, fast starting, thermal performance, emissions reduction, and forced-outage reduction—is reflected in the lineup of proven solutions submitted this year.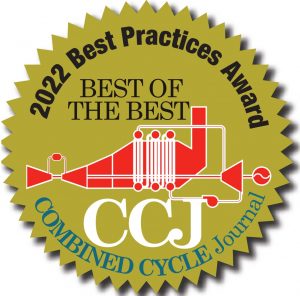 2022 Best of the Best GT-based Plants
CPV Towantic Energy Center
Owned by Competitive Power Ventures
Operated by NAES Corp
Significant implementation of insurance recommendations reduces facility risk and annual cost of insurance premium increases
Cost-effective solutions to achieve SPCC certification, minimize spill risk and increase site safety
Custom weather protection for collector house assembly eliminates nuisance trips and moisture damage
Remaining ZLD without the initial infrastructure
C.T. Genelba
Pampa Energía S.A.
Predictive maintenance on SGT5-2000E gas turbine combustion chambers
Empire Generating Co LLC
Owned by Empire Acquisitions LLC
Operated by NAES Corp
Fall protection system continuous improvement project
Fairview Energy Center
Owned by Competitive Power Ventures
Operated by NAES Corp
Selection and optimization of remote monitoring and diagnostics
Enhanced DCS monitoring screens designed to improve starting reliability
Installation of redundant ammonia injection equipment reduces the probability of NOx exceedance
McIntosh Power Plant
Lakeland Electric
HRSG modifications to increase back pressure capability increase MW output
Mitigation efforts to protect 501G combustion turbine rotor through bolts
On-line monitoring and non-destructive testing to monitor the condition of steam turbine blades
St. Charles Energy Center
Owned by Competitive Power Ventures
Operated by Consolidated Asset Management Services
Improving safety and reliability with active wireless high energy piping monitoring

2022 Best Practices GT-based Plants
Amman Levant Power Plant
AES Jordan PSC
LFO day tank overflow shutoff valve improvements
Anson and Hamlet Generation Plants
North Carolina Electric Membership
Repair of PWPS FT8-3 dual-fuel nozzles
Athens Generating Plant
Owned by Kelson Energy
Operated by NAES Corp
Plant safety improvements
Water treatment enhancements
BASF Geismar
BASF Corp
Increased equipment protection using duct burner firing overrides
Central Eléctrica Pesquería
Techgen
Collector brush enhancement upgrade
Improved generator grounding brush system
UF 1500 module valve actuator upgrade
Dewatering pumps retrofit project
Redundant heat exchanger improves ZLD system operations
CPV Valley Energy Center
Owned by Competitive Power Ventures and Diamond Generating Corp
Managed by Competitive Power Ventures
Operated by DGC Operations LLC
Implementation of mobile electronic logging for operations, maintenance, and compliance
Employee-driven lighting enhancements for improved visibility at an indoor plant
Reduced outage time by implementation of steam turbine fast cooldown logic and procedures
Severe winter weather operations
Energía del Valle de México I
Owned by EVM Energia del Valle de Mexico Generador SAPI de CV
Operated by NAES Corp
Implementation of system to optimize gas chromatographs reduces consumables and maintenance costs
Essential Power Newington LLC
Owned by Essential Power LLC
Operated by Cogentrix Energy Power Management
Electronic contractor safety orientation program
Auxiliary boiler online instrumentation
Cooling tower chemical injection automation
Overhead door warning lights
Griffith Energy
Owned by Griffith Energy LLC
Operated by Consolidated Asset Management Services
Control-valve trim retrofit project yields significant savings
Kings Mountain Energy Center
Owned by Carolina Power Partners LLC
Managed by CAMS
Operated by NAES Corp
Steam turbine EHC fluid conditioning system
Remote user cybersecurity
Kleen Energy Systems, LLC
Owned by EIF Kleen, LLC
Operated by NAES Corp
Generator breaker moisture intrusion mitigation project
Lawrence County Generating Station
Owned by Hoosier Energy and Wabash Valley Power Assn
Operated by NAES Corp
Operator rounds software streamlines site O&M
Liberty Electric
Vistra Corp
Easy SDS file access enhances operator and contractor safety
Magnolia Power Project
Owned by Southern California Public Power Authority
Operated by Burbank Water and Power
Remaining agile in a changing generation landscape
Mid-Georgia Cogen
Owned by Rockland Capital
Operated by IHI Power Services
Combustion turbine fuel gas DP transmitter failure logic
Combustion turbine evaporative cooler supply water modification
Milford Power LLC
Owned by Starwood Energy Group and JERA Co
Operated by NAES Corp
Repurposing unused plant equipment for new service
MPC Generating
Owned by Mackinaw Power
Operated by Cogentrix Energy Power Management
Hydrogen cooling system upgrade
Pleasant Valley Station
Great River Energy
Fuel oil unloading piping modifications for faster offloading, extended fuel oil run times and increased resiliency during extreme cold weather events
River Road Generating Plant
Owned by Clark Public Utilities
Operated by General Electric
Hazard hunt program
Benefits of keeping a spare set of gas turbine inlet filters
Remote electronics for hotwell level transmitters
Ammonia piping upgrade project
MOV additions to manual steam valves
Rolling Hills Generating LLC
Owned by Eastern Generation LLC
Operated by Consolidated Asset Management Services
Excitation transformer termination cabinet humidity monitoring
Rumford Power LLC
Cogentrix Energy Power Management
Providing value through energy efficiencies
Hot-start efficiencies providing value
Salem Harbor Station
Owned by Footprint Power Salem Harbor Development, LP
Operated by NAES Corp
Winter readiness testing upgrades
Saudi Aramco Power Generation Sites
Saudi Aramco
Benchmarking a large gas turbine fleet to streamline O&M
Sentinel Energy Center
Diamond Generating Corp
State Line Power Station
Owned by Liberty Utilities and Evergy
Operated by Liberty Utilities
Walton County Power
Owned by Mackinaw Power
Operated by Cogentrix Energy Power Management
Gas room ventilation upgrade
Water wash system upgrade
Washington County Power
Owned by Gulf Pacific Power LLC
Operated by Cogentrix Energy Power Management
Electric fire pump testing procedures
Whitewater Cogen
Owned by LSP Whitewater LP
Operated by NAES Corp
Operational tag program identifies systems status
Worthington Generation Station
Owned by Hoosier Energy Rural Electric Co-op
Operated by NAES Corp
LM6000 package fan pulley/belt guards