Permanent monitoring system cuts time, cost of vibration analysis
Background. Klamath Energy's mechanical-draft counterflow cooling tower was built by Balcke-Dürr in 2000 without vibration probes installed on its gearboxes. The CT is of fiberglass-reinforced polyester (FRP) construction with eight cells, each 48 ft wide × 48 ft long. The tower's fans are driven by 200-hp, two-speed motors. The single-piece, full-floating composite horizontal drive shaft transmits drive-motor torque to Flender right-angle gearboxes.
Challenge. Direct vibration readings of the gearboxes were cumbersome at best, a process involving the following steps:
Operations to approve the cell being removed from service. Decision-making required consideration of generation load and weather conditions.
A LOTO and confined-space permit were required for cell entry.
Remove the fan cowling access panel.
Install scaffolding and/or personnel safety systems for cells with no provision for gearbox access.
Enter cell and install two vibration probes—one on the input shaft, one on the output shaft.
Route wires from the probes to the cell exterior by zip-typing the wires to supports/piping/railing, and attach the wires to the monitoring device.
Reinstall the cell cowling.
Remove the LOTO to make the cell available for testing.
Start and monitor the motor and gearbox vibrations at both high and low speeds.
10. Secure the cell from vibration analysis.
Reapply the LOTO.
Remove the fan cowling access panel.
Enter the cell and remove the vibration probes, wiring, and zip ties.
Remove scaffolding and/or personnel safety systems.
Reinstall the cell cowling.
Remove the LOTO and make the cell available for normal operation.
Bear in mind that staff had to repeat the process seven more times to analyze vibrations in all cells. This typically took three days (approximately three hours per cell) and involved two mechanics. Total cost of the analyses: $4200.
Mechanics also attempted to get reliable indications of gearbox vibrations by recording readings from the motor mount and support tube to the gearbox. But analysis of vibrations analysis using this method was unreliable.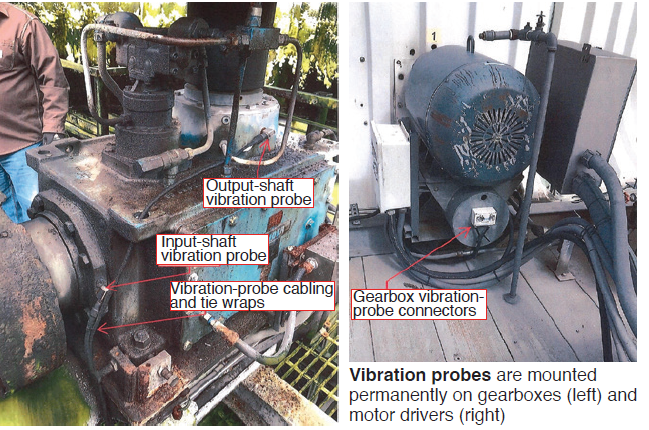 Solution. Install a permanent vibration monitoring system. All components were installed, wired-up, and commissioned with a crew of three in two days during the spring outage (photos). Hardware and installation costs totaled $12,000 ($8500 for parts, $3500 for labor). Vibration analyses are conducted semiannually, so payback was approximately a year and a half.
Results. Today, the checking of gearbox vibrations is a simple one-person task done this way:
Operations confirms that a cell can be manipulated from high- to low-speed and then returned to normal service.
Analysis of vibrations is next, a process that takes about 25 minutes per cell.
The positive effects of permanent probe installations for analysis of vibrations are the following:
Only one person is required for data acquisition.
No LOTO and/or confined-space permits are required.
An analysis easily can be repeated at any time if further investigation is required.
The cost today for analyzing vibrations in all cells is only $300.
Project participant:
Doug Hudson, maintenance supervisor
Klamath Energy LLC
Avangrid Renewables
536-MW, gas-fired, 2 × 1 combined-cycle cogeneration plant powered by 501FD3/6 gas turbines, located in Klamath Falls, Ore
Plant manager: Greg Dolezal