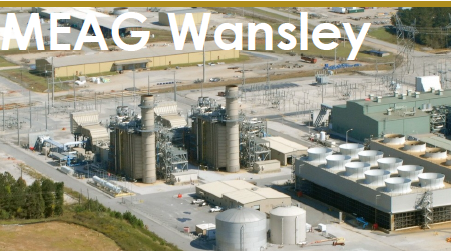 MEAG Wansley Unit 9, a 520-MW, 2 × 1 combined cycle in Franklin, Ga, is owned by the Municipal Electric Authority of Georgia and operated by NAES Corp. Plant manager is Timothy Williams.
LOTO upgrade facilitates maintenance of chemical feed pumps
Challenge. The plant has two chemical-feed panels: boiler and cooling tower. Each has multiple pump motors electrically fed from their respective panels. By design, the start/stop switches are on the panel door and the motor starters are located inside.
When work on a single pump was required, this arrangement created two separate problems:
The entire panel had to be locked out and chemical injection was not possible.
An electrical technician had to disconnect the pump motor from the panel in order to work on the equipment and then restore power to the panel. In doing so, they would not have a physical lock-out/tag-out (LOTO) point on the disconnected motor.
Solution. The answer, while reasonably inexpensive, was to install through-the-door disconnect switches on the outside of each panel for every pump; the newly installed disconnect switches interrupt the line voltage to each pump's motor starter.
Results. The switches each are capable of electrical lock-out devices and may have a lock attached. The system now allows a technician to service any of the individual pumps with a correct LOTO safety device installed and allows each pump motor to be managed individually while maintaining the ability to add chemicals to the process as needed.
Project participant: Jason Land, IC&E technician
LOTO test points
Challenge. During a recent outage, staff discovered that two breakers failed to open completely while LOTOs were being installed. This prompted personnel to research a way to improve the hazardous-energy removal verification method used while implementing a LOTO on electrical equipment, while at the same time protecting employees. Having to open MCC enclosure doors to verify the de-energization of electrical equipment using a "live dead live" verification process exposes the technician to a possible arc-flash event and/or electrical shock.
Solution. By de-energizing the plant electrical system one buss at a time, it was possible to install through-the-door test points. They allow the technician/operator to perform a "live-dead-live" check for the presence of voltage and measure phase-to-phase and phase-to-ground with far less exposure to high voltage and the associated potential for an arc-flash event. In addition, on panels with multiple test points, each was labeled for rapid identification.
Results. Not only do the new test points reduce the possibility of exposing an employee to arc flash, they significantly reduce the level of PPE (personal protective equipment) required in the performance of these tasks. Previously, as high as Category 4 protection was required; now the tasks often can be performed wearing only Category 1 or 2 level protection. Thus, tasks are now completed more safely, effectively, and faster with the enclosure doors closed.
Project participant: Jason Land, IC&E technician
Do your machine guards meet current standards?
Challenge. During a site "hazard hunt" on machine guarding, plant personnel discovered that the guards for many machines were outdated, ineffective, and did not meet OSHA standards.
Solution. A complete engineering study of the site was completed, measurements recorded, and upgraded guards ordered. The new equipment was installed to provide more effective protection for employees and contractors. Rockford and International "Gotcha Sticks" were used to ensure the site met the rule and intent of the OSHA standard.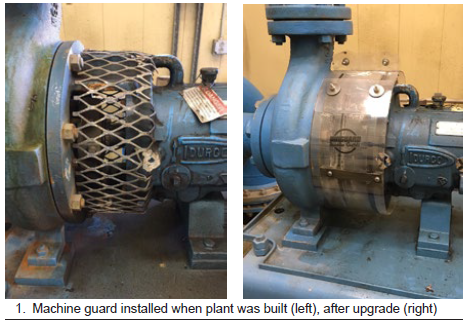 Results. The new guards were engineered to fit precisely in the affected areas, resulting in a safer and more effective system of protection (Fig 1). Detailed measurements guaranteed that the new guards fit perfectly, and in several cases provided a viewing window for equipment observation while in in operation.
Project participant: Jimmy Shehan, maintenance technician