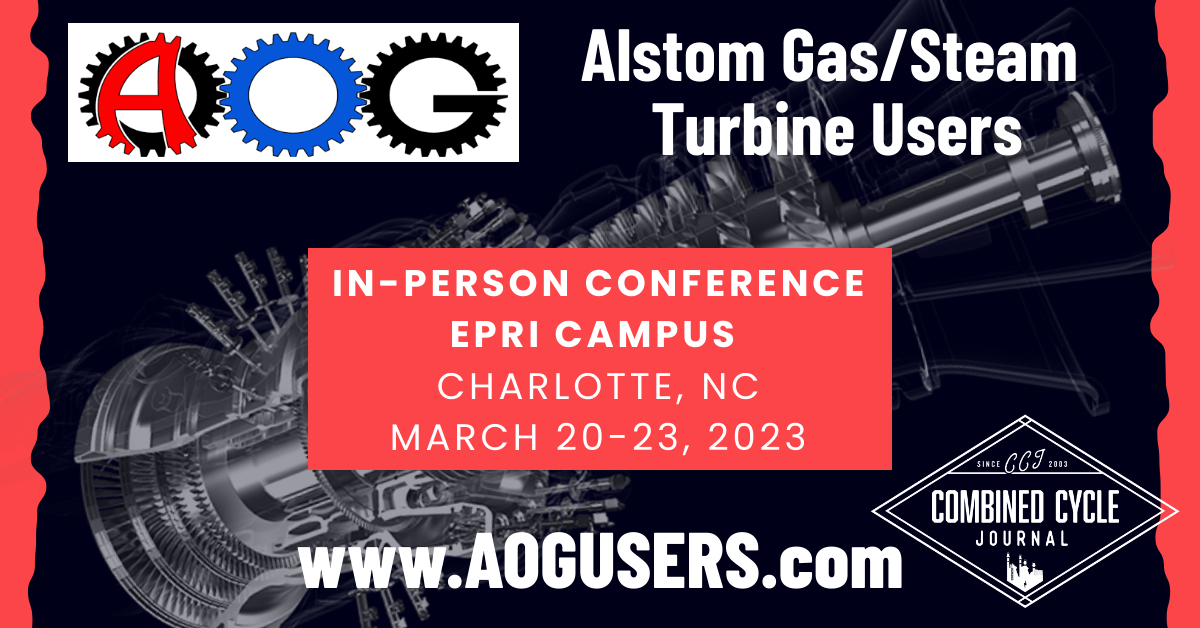 The following presentation recaps focus on Alstom gas turbines from third-party solutions providers at the 2022 AOG virtual conference. Recordings and/or slide decks of all presentations made available to the steering committee can be accessed through the group's website by registered users. AOG looks forward to welcoming the industry to its sixth annual meeting, March 20-23, at EPRI's corporate offices and training facility in Charlotte, NC. This will be the organization's first in-person conference since 2020. A preliminary 2023 conference agenda is posted at www.aogusers.com, where you'll also find registration, lodging, and other pertinent information. Contact ashley@aogusers.com with any questions.
Doosan Turbomachinery Services
GT 11NM rotor lifetime assessment and fleet management
Come up to speed on Doosan's capabilities by accessing this presentation. It begins with a short overview on the parent company's activities in the power industry and beyond. Highlights include drop-in replacements for major steam-turbine sections—such as the HP/IP.
Next is a review of Doosan Turbomachinery Services' capabilities in Houston—including gas- and steam-turbine component repair, rotor inspection and assessment, welding, heavy mechanical work, parts, onsite services, etc.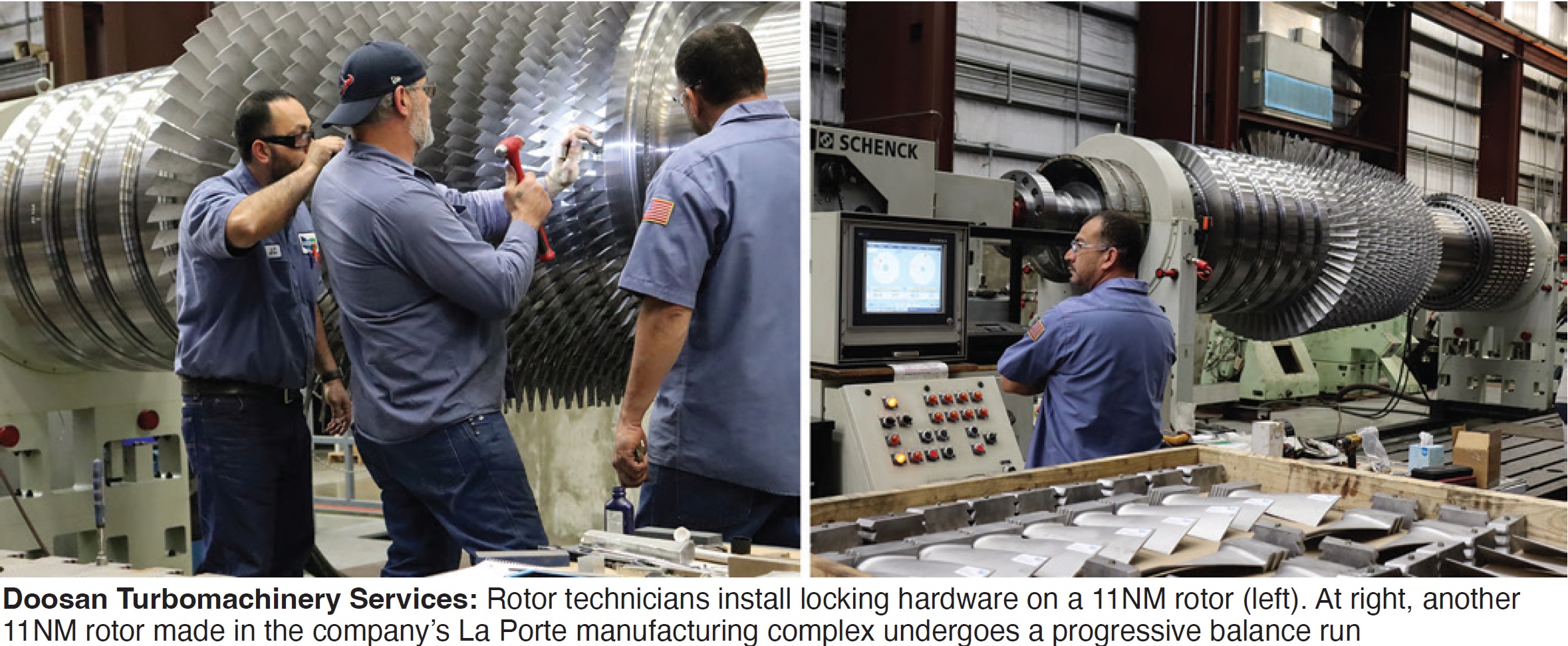 The meat of the presentation is a review of several rotor-repair case studies with a focus on C-inspections and the advance planning they require. Standard inspections and activities performed in Doosan's Houston rotor shop are reviewed next: visual, bearing journal diameter, seal diametrical inspections, and full NDE evaluation, plus rotor cleaning, rotor runout, rotor balance, and metallurgical evaluation.
Goal of the inspection effort is to find indications in critical areas that, at expected intervals, could adversely impact rotor lifetime. The company's rotor modeling and thermal-mechanical analysis capabilities provide a critical assist in this regard.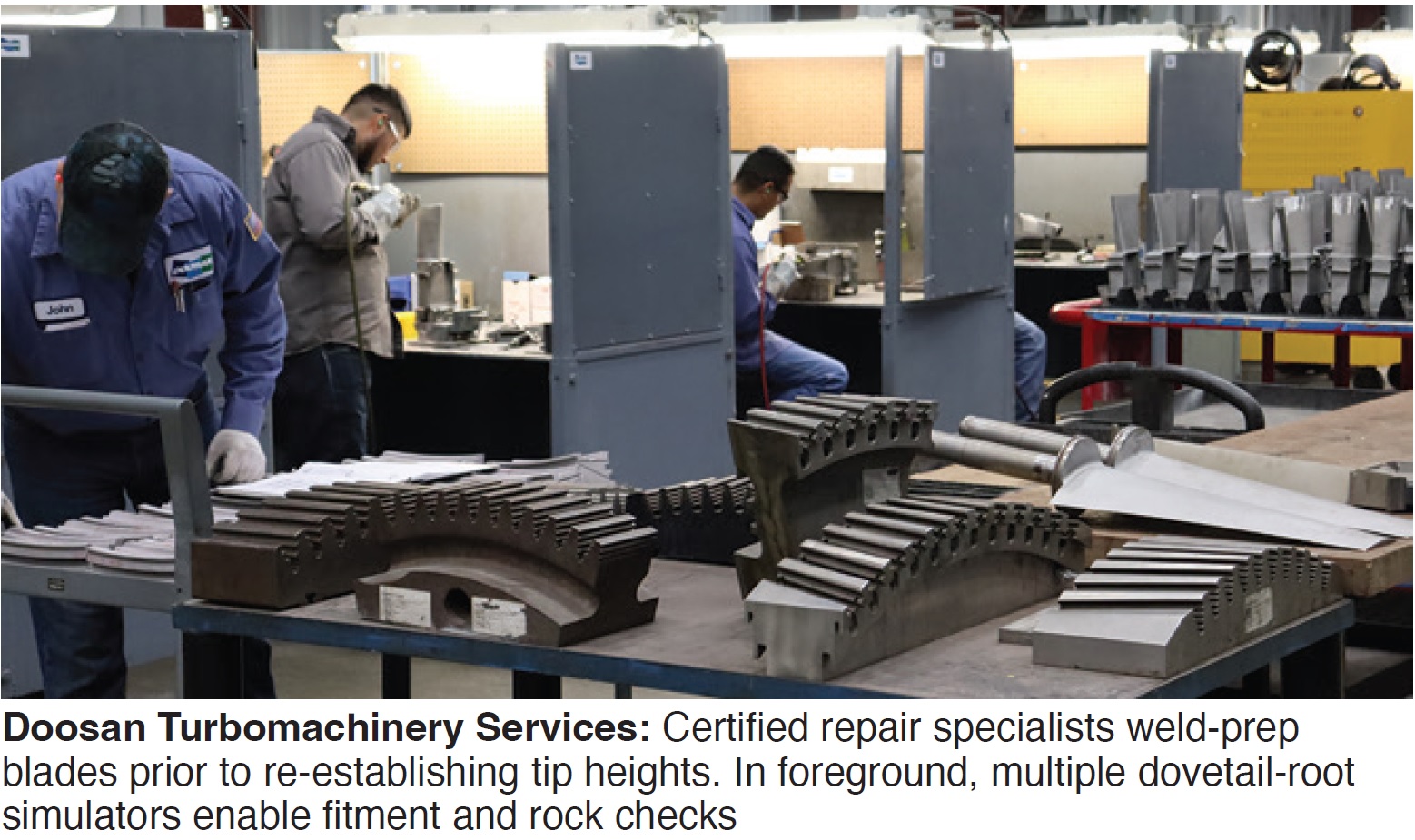 In-depth repair capabilities also are reviewed by the presenter. They include L-bore mods, indication removal, re-contouring, and transition radius adjustment.
The advantage of having access to a spare rotor was included in a brief section on optimizing the use of fleet assets.
Hughes Technical Services
Alstom gas-turbine services and solutions
HTS is a relatively new company, founded in 2014 by former ABB/Alstom engineers, most recently acquired by the AP4 group and its suite of complementary business units serving the CCGT market. If you want to know what Hughes can do for you regarding plant commissioning and maintenance, listen to Fernando Velez's presentation.
The company specializes in control-system service, upgrade, and retrofit, and excitation and frequency conversion. Plus, gas- and steam-turbine services, along with balance-of-plant solutions. It also offers tools for monitoring pulsations and blowoff valves, which owner/operators mentioned as being of concern to them (see section with user presentations).
Liburdi Turbine Services
User-driven reverse engineering of GT components: Practicality of new technologies and strategies
Doug Nagy, manager of gas-turbine component repair, and four colleagues told attendees that successfully reverse engineered gas-turbine components can provide cost savings and/or alleviate supply-chain issues. But it's important for owner/operators to understand the key characteristics of a component, its production processes, and the various costs and lead-times involved.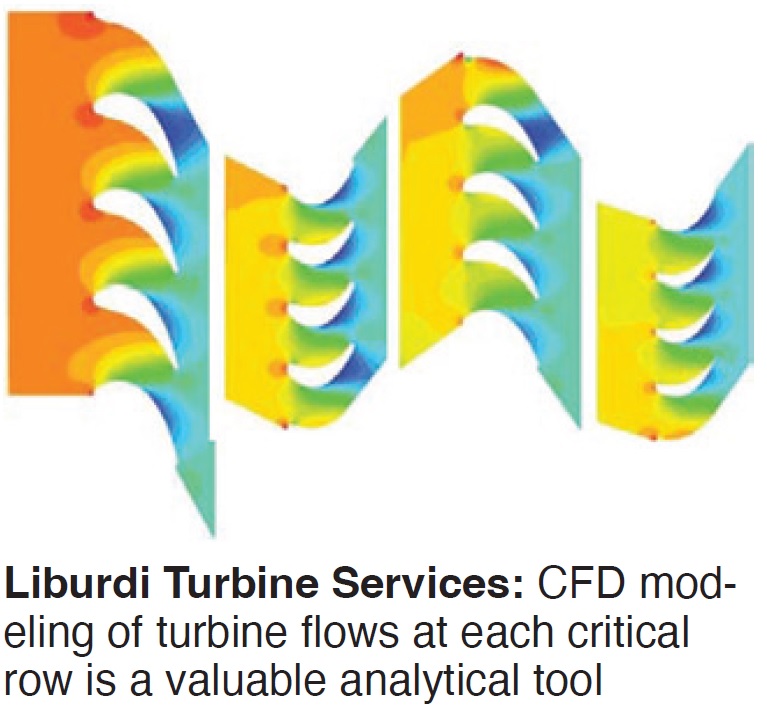 The presentation team assured users that the repair industry already possesses many of the skills required to reverse engineer critical parts. They have been developed over the years to better understand the component designs to address their repair needs and implement upgrades as appropriate. The tools and analyses required for successful reverse engineering are detailed in the slide deck.
ST Power Services
GT lifecycle and plant obsolescence management
Presentation begins with a list of general challenges facing owner/operators of powerplants powered by gas turbines—such as rising O&M costs, evolving pricing models, aging technology and workforce—and spends the remainder of the podium time discussing the company's portfolio of solutions and services for Alstom GT8, GT11, GT13, and GT24/26.
PSG Power Services Group
Recent field-service projects
Mike Lake, VP sales, began his presentation by introducing key company personnel formerly associated with Alstom and summarized PSG's considerable experience in the inspection and repair of Alstom gas turbines (GT8 and GT11) and steam turbines.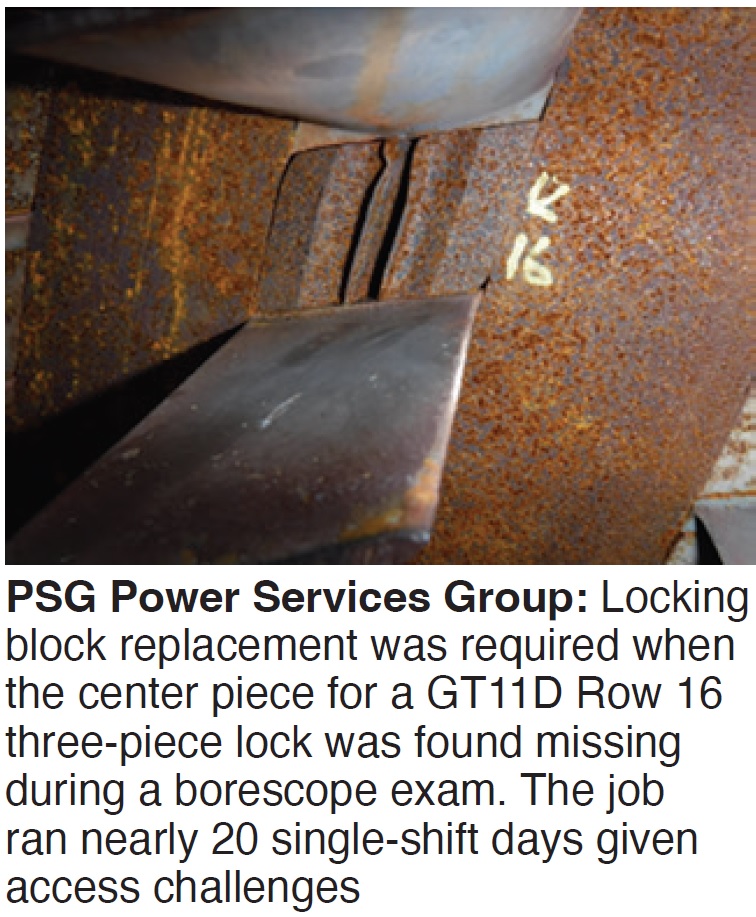 Then he dove into specific recent projects to validate the company's capabilities. They included the following:
A-inspections on the bearings and HP/IP/LP stop and control valves for a 479-MW STF60 commissioned in 2018, plus LP crawl-through and HP/IP borescope. Photos and notes provided give details.
B-inspections on the IP stop valves for a 190-MW STF. Planning for C-inspection in 2023 was included in the work scope.
A/B-inspections on a GT11N1 included work to secure the unit's inner gas ring.
B-inspections and repairs to key components of a GT11N2 (hot-gas casing upper intake, flow separator).
Locking-block replacement for a GT11D found missing the center portion of its block during a borescope inspection.
Vibro-Consult AG
Vibration analysis and balancing
Fabio Massaccesi, senior vibration expert, described the capabilities of this small enterprise with extensive knowledge and experience in the area of measurement and vibration technology for rotating power generation equipment and industrial machines. Pertinent to user members of the Alstom Owners Group, Vibro-Consult has helped owner/operators with solutions for the GT8, GT9, GT11, GT13, and GT24/26, plus single- and multi-shaft combined cycles with both air- and hydrogen-cooled generators.
Specific services include the following:
Root-cause analysis and advanced troubleshooting.
Vibration investigation and analysis.
Condition monitoring.
In-situ balancing of rotor trains during operating periods and after major inspections.
Vibration training.
Multi-plane rotor balancing.
Computer-aided balancing.
Höganäs AB
Introduction to TBC and Höganäs' REO-SZ low "K" TBC
David Sanson's presentation begins with a crash course on standard thermal barrier coatings (typically 7-8% yttria partially stabilized zirconia, used effectively for more than 50 years) and their morphologies and microstructures. He then reminded attendees that conventional TBCs may be challenged at today's high firing temperatures, pointing to numerous recent patents for advanced coatings.

Sanson then discusses the benefits of his company's low-kappa REO-SZ (Amperit® 808.006), a product users might want to investigate. Data presented include thermal conductivity, thermal-shock-test results, and SEM and phase analysis (EDS and XRD). Höganäs offers a wide range of powders that meet Alstom specs.