ARNOLD Group is well known worldwide for its gas- and steam-turbine insulation solutions; in Europe and Asia also for its powerplant rotating-equipment and valve field-services capabilities. The company's history in gas-turbine insulation, the focus of this report, goes back nearly a quarter of a century to the installation of the first Arnold 3D single-layer system on a V64.3A (SGT-1000F) machine at EnBW Energie Baden-Wuerttemberg AG's 1200-MW Altbach/Deizisau combined heat and power plant (Fig 1).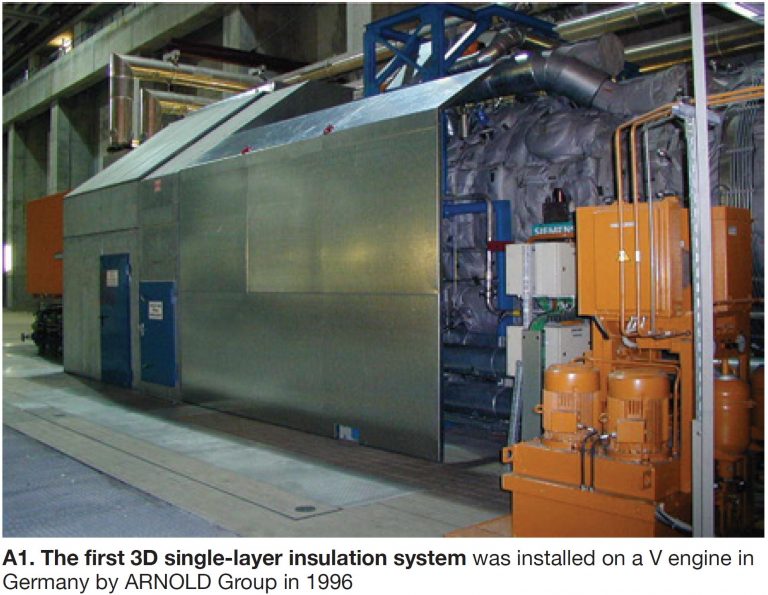 Since then, more than 300 V-type engines—most V94/84.2s and .3As—in Europe, Asia, Africa, the Middle East, and the Americas have been insulated by Arnold. These units were manufactured by Siemens or its licensees—including Ansaldo Energia (Europe and Asia), Shanghai Turbine (China), and LMZ (Russia). Many other models of gas turbines also wear Arnold.
Revisiting Altbach, in more than two decades of service only 14 blankets have required replacement on that unit. Having an Arnold technical field advisor onsite during outages is said to have contributed significantly to this excellent service history: The TFAs made certain that the hundreds of numbered insulation blankets required for a typical E- or F-class gas turbine to assure easy access to critical instrumentation, borescope holes, etc, were removed, handled, stored (temporarily), and replaced correctly.
To date, Arnold has replaced the insulation on seven SGT6-2000E gas turbines in the US (Fig 2), with a few more projects in the pipeline for 2021. No SGT6-4000F machines have been refurbished in North America yet, but several SGT5/6-4000Fs in South America have been.

Key steps in insulation replacement
The success of any engineering project depends on rigorous planning. Pierre Annsman, a member of ARNOLD Group's management team, told the editors at a recent user conference that a good first step in an insulation replacement project is a photo session with the candidate turbine.
A laser scan allows the company's design and manufacturing personnel to adjust existing shop patterns for a particular engine model to the unit being reinsulated. Bear in mind that in-package piping and equipment arrangements vary.
Adjustments to the manufactured blankets may be required in the field to accommodate such things as flange positions, thermocouples, borescope inspection ports, etc. This work is done by experienced technicians—think of them as tailors—equipped with the proper sewing hardware.
The most economic scheduling for insulation replacement is about 20 single-shift weekdays with two TFAs and six local insulators. Calendar time can be reduced, of course, by working weekends, increasing the number of TFAs, and running double shifts. Turbines typically are reinsulated during major or hot-gas-path inspections in parallel with mechanical work. Insulation is not on the outage critical path.
Work begins when the turbine is cold and proper scaffolding is installed, if necessary. Insulation is removed by a local contractor, typically in a day and a half, and plant I&E technicians remove all instrumentation. About another two days is required to cut off all pins installed to accommodate the original insulation system, grind the pin stubs smooth with the casing, and brush/vacuum the unit and package clean.
Respiratory protection is highly recommended during this work. It's also a good idea to have a health and safety engineer to measure the concentration of dust in the package to assure safe working conditions.
Installing the retention brackets and studs (photo) required to position and attach the new insulation is the next step. If the casing is forged steel, these components can be welded to the casing; if cast, drilling and tapping are required. Both procedures are done in accordance with the OEM's recommendations. At this point, may be a good idea to laser scan the unit again to pin-point the location of all attachments, just in case.
Final steps: Install the new insulation system, have I&E techs replace the instrumentation removed previously, and dismantle temporary scaffolding.
Why replace insulation? Pierre Ansmann, global head of marketing for ARNOLD, says it's only a matter of time before the economics of electric power generation suggests US owner/operators consider seriously replacement of the original insulation on their SGT6-4000Fs and other SGT6-2000Es.
Loss of earnings results from poor design/installation of turbine insulation and/or premature wear and tear of blankets. A plant's balance sheet can be impacted negatively by reduced power production, contractual penalties, damage to mechanical and electrical equipment and instrumentation, and shorter outage intervals.
Insulation can wear out faster than you think, he says, particularly that installed on gas turbines with issues dictating frequent removal of their upper casings. If your unit was purchased during the "bubble" of 1999 to 2004 and still has its original insulation, Ansmann recommends conducting a thermal survey (Fig 3) to evaluate its effectiveness, keeping personnel safety in mind.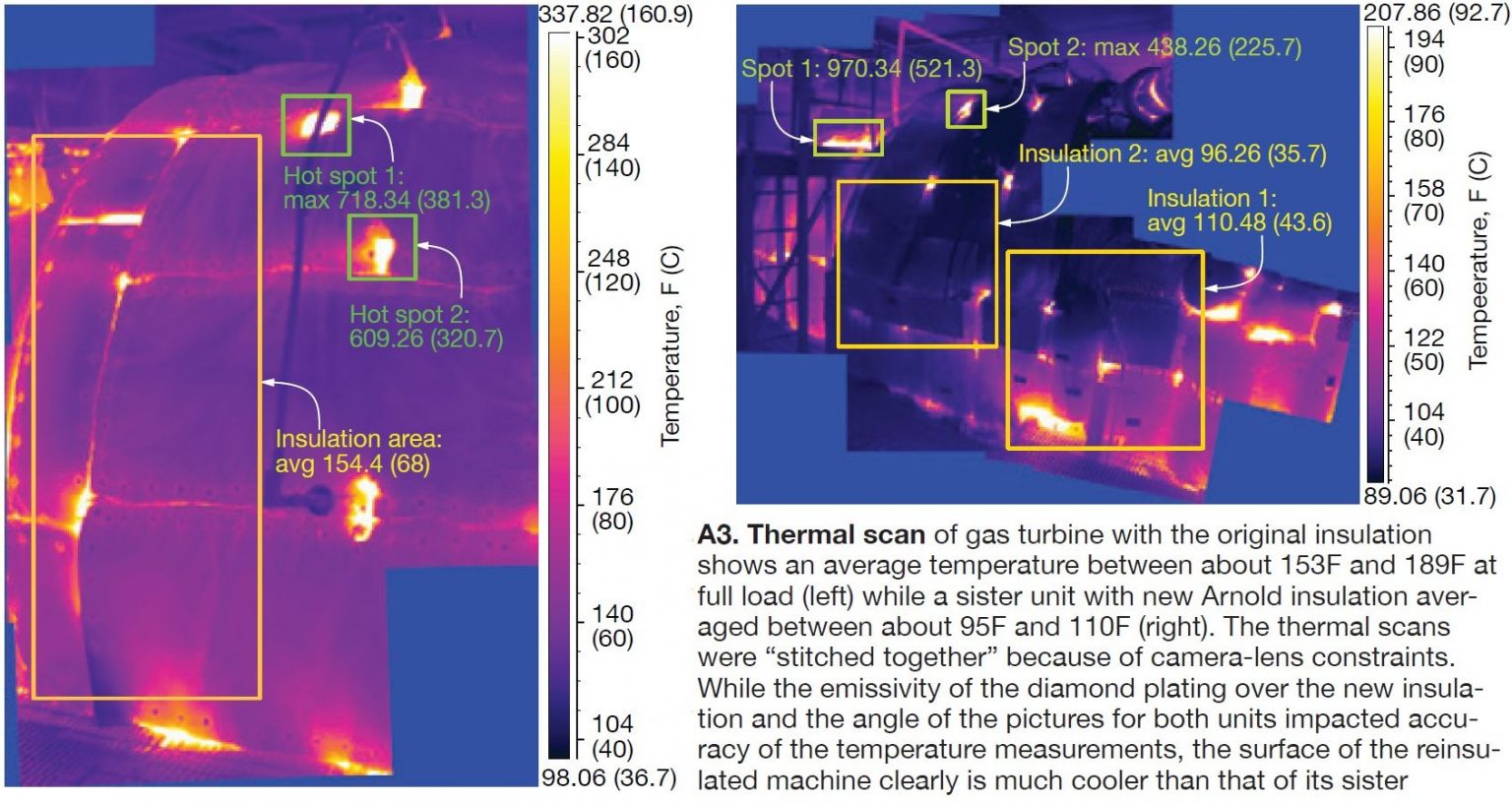 Benefits of replacement typically include less heat loss, less noise in the enclosure, a reduction in insulation removal/replacement time during outages, greater flexibility in maintenance scheduling, and longer lifetimes for in-package equipment—especially heat-sensitive motors, wiring, and instrumentation sometimes associated with unit trips.
Note that all the V engines in the US that have upgraded their machines with Arnold insulation began commercial operation during the bubble. They reported having done extensive repairs to the original blankets, or replacing them, during every outage. As-built performance remained elusive, however. In these cases, marginal materials of construction, and the use of blankets well beyond their design durability limits, made the decision to replace a relatively easy one.
As a rule of thumb, Ansmann figures standard insulation systems typically perform as-designed for three to five off/on cycles, not close to Arnold's guarantee of 15 cycles when removal and reinstallation are done correctly. After about five outages, he says, users with insulation made by others often find blankets difficult to reinstall properly—especially where they overlap.
This is particularly true when blankets must be held in place by pins welded to the casing. Pins are not used in the Arnold insulation system: Rather, interlocking high-temperature-resistant blankets, cut to conform to the turbine surface (Fig 4), are held in place by industrial Velcro® and a unique support system that is secured by studs welded to the casing. You may recall that pins sometimes are removed during maintenance for safety concerns, or otherwise; if not replaced, there's little chance of getting blankets tight.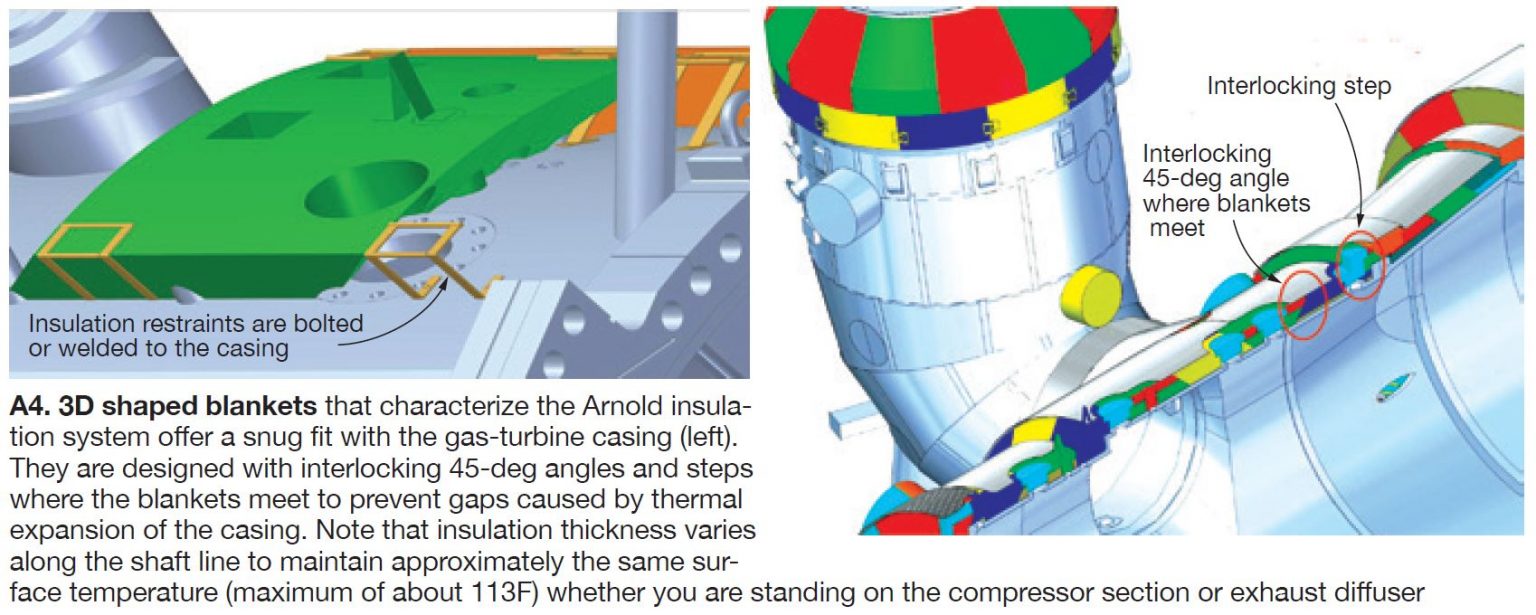 Other concerns of plant personnel regarding marginally designed and ageing insulation systems, in Ansmann's experience, include these:
Insufficient protection for thermocouples, borescope inspection ports, and instrumentation (Fig 5).
Activities that require walking on insulation can move blankets out of position and/or release fibers—a possible health threat. Arnold's aluminum deck-plates-style step protection system reduces the possibility of insulation damage during maintenance (Fig 6).
Sagging of insulation can cause uneven thermal expansion of the casing.